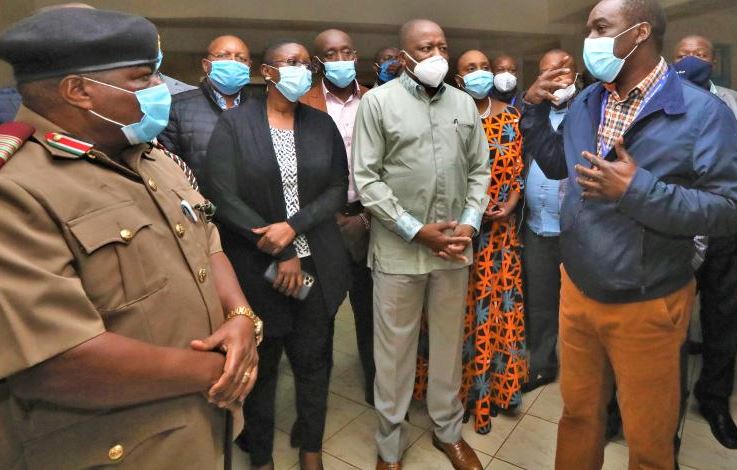 Kenya
The government has succumbed to public pressure and outlawed night burials of people killed by Covid-19.
The government has succumbed to public pressure and outlawed night burials of people killed by Covid-19.
At the same time, 137 new cases of Covid-19 have been confirmed in the last 24 hours, and three more deaths recorded, raising the death toll as a result of the disease to 103.
During yesterday's briefing, the government further announced that 32 more patients had been discharged from hospitals, bringing the number of those who have recovered from Coronavirus to 1,253.
Health Director General Patrick Amoth said he would send a circular to counties to remind them of the protocols on burial of Covid-19 victims.
SEE ALSO: These budget proposals will make struggling Kenyans' lives harder
Speaking in Nyeri County, where the Covid-19 updates were released, Dr Amoth said as long as a body had been preserved well, there was no need of burying hurriedly, and especially at night.
The protocols, as released by the Ministry of Health in April, dictate that a body of a person who succumbs to Covid-19 should be buried within 48 hours.
However, the government has been openly flouting these guidelines, whether the person dies from suspected Covid-19 or not, with the latest case being of Ohangla musician Abenny Jachiga, who was hurriedly buried on Friday night, sparking public outrage.
"If you look at the transmission of Covid-19 against other infections, there is very little likelihood that one stands a chance of getting infected from a body, if treated well," said Amoth.
Amoth said with good preservation, safety was higher with a corpse of a Covid-19 victim compared to those of other illnesses such as Ebola, hence the need to allow dignified send-off as per the given protocols.
SEE ALSO: What flying in the age of Covid-19 might look like
"If the culture dictates that we do not bury at night, let us hold on for another 12 hours so that the family gets to bury the following day," said Amoth.
He said he would be sending an alert to counties to remind them to adhere to the protocols.
"What we need to put in place is to be cognizant of our cultural practices. As long as the body has been taken care of by public officers, the body is safe," he said.
During yesterday's update on the country's status at Othaya Hospital (Kenyatta Annex) Health Cabinet Secretary Mutahi Kagwe said 137 new cases of the disease had been confirmed in 24 hours. Up to 3,167 samples were tested.
"The cumulative number of tests conducted so far is now 115,336, and the total case load in the country is 3,594. All the positive cases (yesterday's) are Kenyans, with 102 being males and 35 females. According to age, the youngest is one year and the oldest 82," said the CS.
SEE ALSO: We must now combat corona social stigma
Of the 137 positive cases were Nairobi's 92, Mombasa's 16 and Kajiado's 15. Busia and Kiambu counties each had four, with Kilifi, Nakuru, Nyamira, Uasin Gishu, Siaya and Murang'a each recording a case.
Kagwe said non-communicable diseases (NCD) such as high blood pressure, diabetes and cancer were weighing heavily on the country's heath system.
The NCD, he noted, had contributed to one in every three deaths and accounted for half of all hospital admissions reported.
Credit: Source link