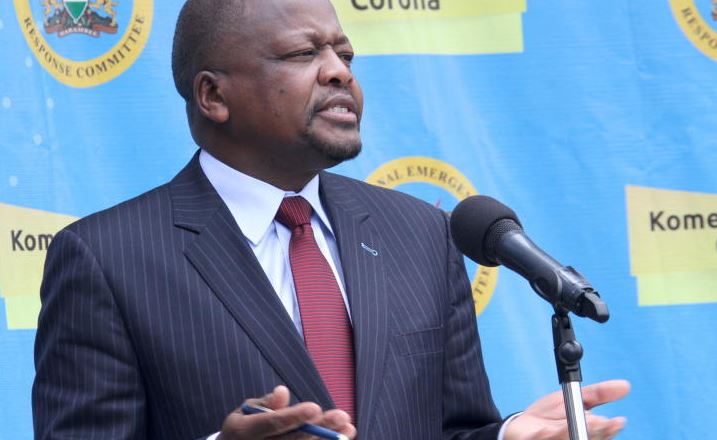 Kenya has registered 260 new coronavirus cases today, the highest record in a day.
The country is also marking 100 days since the first case was confirmed in Mid-March, both with milestones and shortcomings.
In his briefing on Sunday, Health CS Mutahi Kagwe (pictured) acknowledged the far the country has come saying, "We have come a long way. We were ill-prepared to deal with the disease at the beginning, but we have put in the work and will continue to do so."
SEE ALSO: Trump holds fiery rally but crowd disappoints
Currently, 40 of 47 counties have confirmed cases of the coronavirus, which the CS moved to thank for the manner in which they have committed to ensuring that the vulnerable groups are well taken care of by increasing bed capacity at select facilities.
"We remain confident that in the next two weeks, all counties will have at least 300 isolation beds as directed by President Kenyatta," he said.
CS Kagwe said that the ministry will also ensure that appropriate PPEs are available in all facilities and to health and community workers.
The ministry further alluded to a significant increase in testing capacity over the months, which has aided in identifying those with the virus.
This month alone, Kenya has tested 59, 958 samples with 2,717 turning positive, according to CS Kagwe.
SEE ALSO: US halts test of Trump-touted hydroxychloroquine
"We will ensure that the capacity is holstered even more in the coming weeks," he said.
Despite the achievements, the country has also suffered some losses majorly weakening the economy and unforeseen challenges like depression.
"We are sensitive to this and putting in place systems that respond to it," said Kagwe re-assuring the affected.
New Covid-19 infections
According to the Health Ministry, another 260 people have tested positive for the coronavirus, the highest record in a day.
SEE ALSO: Serbians head to polls in Europe's first post-lockdown election
This now brings the tally to 4,738 confirmed cases.
The ministry tested 3,651 samples in the last 24 hours. The total number of samples tested so far is 140,000.
It has also discharged 21 more patients as it looks into launching the home-based care system for recovering patients.
Two more people have however succumbed to the disease, now raising the death toll to 123.
254 of the new cases are Kenyans and six are foreigners.
SEE ALSO: Tea farmers stare at low yield after fertiliser cut over coronavirus
176 are male, while 84 are female.
Nairobi and Mombasa counties continue to lead the pack with 157 and 42 new cases respectively.
Credit: Source link