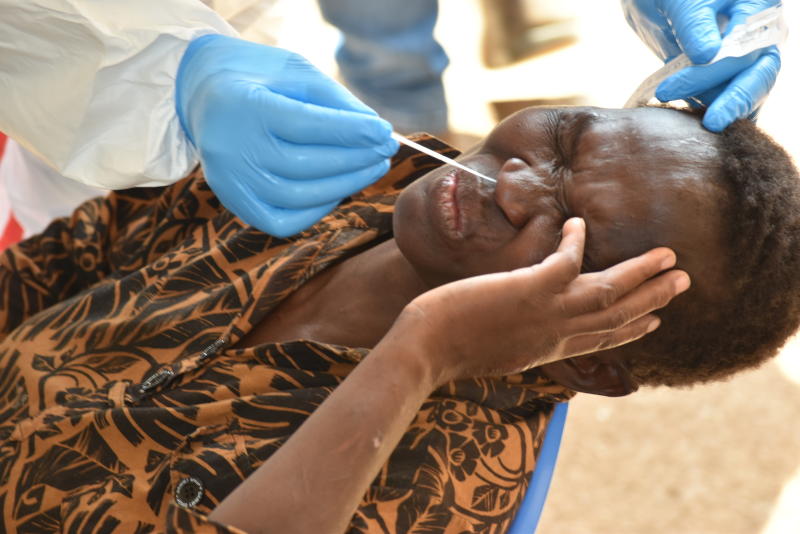 Health & Science
Eastleigh was sealed off with 58 cases, but Kenya's largest slum is still open even after climbing to position two.
The government appears hesitant to put Nairobi's Kibra estate on lockdown despite increased number of Covid-19 cases that now stand at 151.
This figure is more than the cases recorded in Eastleigh and Mombasa's Old Town which are on lockdown until June 6, 2020.
The two areas were put under lockdown by Health Cabinet Secretary Mutahi Kagwe on May 6 after recording 58 and 67 cases, respectively.
So far, Eastleigh has 121 and while Old Town has 91 cases.
SEE ALSO: 151 cases, but Kibra isn't on lockdown
Issuing yesterday's Covid-19 update where he announced 143 new cases, Health Chief Administrative Secretary Rashid Aman said informal settlements in the country were on the government's radar.
"We have seen increasing concern around Kibra partly because of extended testing," said Dr Aman.
Aman announced that surveillance teams were focusing on Kenya's largest informal.
"If these numbers continue to increase, necessary interventions have to be taken," he said.
The number of Covid-19 cases in Kibra have been increasing steadily.
SEE ALSO: Coronavirus found me at home, says Bishop Wanjiru
Between May 21 and May 28, the area had 99 cases. The adjacent Lang'ata area had 31 cases, most of which the ministry said were from Kibra.
From yesterday's figures, where 143 people tested positive across the country, Kibra came second after Makadara estate in Nairobi.
Out of the 86 cases in Nairobi, 45 were from Makadara while 21 were from Kibra. Embakasi South come third with six cases. Langata had one case. There was no reported case from Eastleigh.
Health Director General Patrick Amoth said densely populated informal settlements have become hotspots for the disease.
"It is practically difficult to ensure social distancing. The only measure left (in informal settlements) now is hygiene and use of masks," said Dr Amoth.
SEE ALSO: Insurance industry settles Sh108m Covid-19 claims
According to the Director General, lack of access to clean water has played a role in the disease's rapid spread in informal settlements.
Apart from Kibra, Eastleigh and now Makadara, Mathare is the other informal settlement which has registered more cases, the highest being 33.
So far, the disease has spread to 33 counties, the latest being Kericho which reported one case in Ainamoi area.
Uasin Gishu reported 11 cases, all truck drivers.
August peak
SEE ALSO: Address job losses from virus before trend gets out of hand
The peak of the disease in Kenya is expected to be around August and September when the Health ministry predicts a daily tally of 200.
"By then, we will be at 4,000 or 5,000 cases and by our fatality ratio, we will be at 160 or 180 deaths then," said Amoth.
Up to 63 people have died so far from the disease, majority being those with underlying health conditions like asthma, hypertension, diabetes and heart conditions.
Majority of the dead were more than 55 years old, prompting the Health ministry to issue caution on unique symptoms of the disease among the elderly.
The common symptoms synonymous with Covid-19 are cough, fever, difficulty in breathing and cold.
SEE ALSO: Why travelling and holidaying abroad will never be the same after Covid-19
"The elderly may have different symptoms that include lethargy, diarrhea, confusion, anxiety, unexplained strokes, loss of taste or brain inflammation," said Amoth.

Credit: Source link