It's Monday, time for another edition of Ariel Helwani's MMA Show, which airs live starting at 1 p.m. ET on Twitter and YouTube. After it ends, you can listen to the show via the ESPN podcast center.
---
The UFC is back in Western Canada this weekend, with UFC 240 going down Saturday from beautiful Edmonton, Alberta, also known as the "City of Champions."
You might not know this, but Edmonton's relatively new Rogers Place might just be the nicest arena in North America. It's exquisite. (Also, cheap plug: The 30 for 30 on the Wayne Gretzky trade — "Kings Ransom" — is one of my favorites ever. I highly recommend it.)
More on that event in a bit. But first, here are some random thoughts on the week that was and to come in MMA:

The main event at UFC 240 features dominant featherweight champion Max Holloway defending against veteran Frankie Edgar, who at 37 might be competing for a title for the final time. In the co-main event, Cris Cyborg aims to bounce back from just her second career defeat against the unbeaten Felicia Spencer.
UFC 240: Holloway vs. Edgar
• Saturday, Edmonton, Alberta
• Early prelims: ESPN+, 6:30 p.m. ET
• Prelims: ESPN, 8 p.m. ET
• Main card: ESPN+ PPV, 10 p.m. ET
Subscribe to ESPN+ to get exclusive live UFC events, weigh-ins and more; Ariel and the Bad Guy; Dana White's Contender Series; and more exclusive MMA content.
1. I am very curious to see what the UFC does with Leon Edwards next. Truth is, he should be in line for a title shot right now. He should be in talks to fight Jorge Masvidal next, too. I mean, the guy has won eight fights in a row against some very tough opponents. So why do I feel like he won't be fighting welterweight champion Kamaru Usman or Masvidal next?
This is one of the quietest winning streaks in recent memory. Unfortunately for Edwards, the likes of Colby Covington and Masvidal seem much closer to a title shot than he does, and it feels like the train has already left the station on the Masvidal grudge match. The time to make that fight seems to have come and gone … for now.
I said last week that Edwards had to do three things to get a big fight next: win, get a stoppage and call out Masvidal on the mic immediately afterward. Well, in the end, he did two of the three on my list. While you could tell he felt a bit uncomfortable calling out Masvidal, that was pretty much as good as it was going to get from Edwards. And, seconds later, there was Masvidal's Twitter shutting it all down with a witty retort. Momentum halted. Back to square one, it felt.
Big difference between putting top ranked opponents to sleep and putting fans to sleep #bum #whoru

— Jorge Masvidal UFC (@GamebredFighter) July 21, 2019
Problem is, Edwards doesn't have the people banging the drum on his behalf. Is it because he's too soft-spoken? Is it the recent string of decisions? Maybe. Did you see how he dominated Rafael dos Anjos on Saturday night? Did that not impress you? What about his victory over Gunnar Nelson? Donald Cerrone? Still not good enough? Don't answer. I know the answer. Some have it, and some, sadly, don't. The fight game has never been just about winning. We all know that. You must have it. You all know what it is, right? It's that thing that makes people want to pay to watch you fight. That thing that gets people emotionally invested in your journey. Edwards just doesn't seem to have it right now. And that's a shame, because he's a really good fighter who has come a long way professionally and personally.
But you know what could help Edwards? An event in Birmingham, England, his adopted hometown. Look at what a hometown fight did for Darren Till last year. Or what it did for Conor McGregor five years ago last week. Or Stipe Miocic back in 2016. When a fighter goes back and gets a hero's welcome, it translates on TV. He needs that backing, that rub. That's what he needs next. He needs to be presented as "the man." Not some random Englishman fighting in Texas. That does him no good.
I suspect it will become apparent to Edwards and his team very soon that a title shot or a Masvidal fight aren't in the cards next. Once that happens, shift the focus right away. Campaign for a main event fight in "Brum." Then watch what happens. Trust me on this one.
1 Related
2. My partner Chael Sonnen said last week that RDA has had the toughest UFC schedule ever. At first I thought, "No way." But after thinking about it for a while, it's hard to disagree. RDA has fought them all — Khabib Nurmagomedov, Donald Cerrone, Kamaru Usman, Robbie Lawler, Colby Covington, Tony Ferguson, Anthony Pettis and Eddie Alvarez, for example — and has never really complained along the way. He's always a tough out, too. Respect.
3. Well, that Greg Hardy vs. Juan Adams fight was rather underwhelming, wasn't it? After everything Adams said going into that fight, I couldn't help but feel very unsatisfied afterward. I just wanted to see, I dunno, a little more, I guess. Make no mistake about it, the stoppage was the right call. You can't eat that many punches in a row and expect the ref to keep the fight going. We all thought Adams would present Hardy with his toughest test to date, but in the end that wasn't true. It was a rather easy night for Hardy, who appears to be getting a whole lot more comfortable in there.
I see a lot of people calling for a big step up in competition next. I don't see that happening. The UFC is going to continue to bring Hardy along as slowly as possible. He's still very raw and it thinks it has something in him. Adams had his chance to be the hero who kicked him out of the UFC for good, but alas, the Greg Hardy experiment continues, whether we like it or not.
4. Is Hardy the most unanimously disliked fighter in UFC history? I can't recall another fighter who doesn't appear to have a single person cheering for them when they fight. It's pretty amazing. Question is, is it "I want to pay to watch you lose" hate or "change the channel" hate? For now, it kind of seems like somewhere in the middle, but leaning toward the former.
5. Other than Edwards, the star of what was a relatively forgettable card was Dan Hooker. What a performance by the New Zealander. I wrote last week that I was curious to see how he would rebound from that loss to Edson Barboza in December, and boy did he rebound. Not only was his knockout of James Vick supremely impressive, but his callout to anyone willing to fight him on Oct. 5 (most likely in Australia) on the same card on which his teammate Israel Adesanya faces Robert Whittaker for the UFC's middleweight title was phenomenal. Felt like a soldier wanting to do anything to be on the same card as his fellow soldier. Loved it. I saw Al Iaquinta volunteer his services on Twitter, and I'm all-in. That would be a great addition to that card.
I love it down under https://t.co/siPVRtyzgV

— A1 Iaquinta? (@ALIAQUINTA) July 21, 2019
6. It's time for Vick to test the waters at 170. At 6-foot-3, he is one of the tallest lightweights ever. In fact, according to research by ESPN's stellar Stats & Information group, the late Corey Hill, who stood 6-4, is the only UFC lightweight fighter on record to be taller than Vick. Take some time off, add some weight and start fresh. It's been a tough go as of late.
7. Remember two years ago, when Andrei Arlovski lost his fifth consecutive fight? Or how about eight years ago, when he was viciously knocked out in three of four fights? If you would have told me during either losing streak that he'd still be winning brawls in 2019, I honestly would not have believed you. I didn't see this third (or is it a fourth?) chapter from Arlovski. Good on him.
8. So nice to see Ray Borg get his first win in over two years, with his son and wife in attendance. I can't imagine what the Borg family has been through over the past couple of years. In case you didn't know, Borg's son, Anthony, was born with hydrocephalus, which is an abnormal buildup of fluid in the brain, and has undergone a number of surgeries as a result. In the midst of that, Borg has battled weight issues, fight cancellations for a number of reasons (he was on the bus in Brooklyn, New York, that Conor McGregor infamously attacked) and his own health problems. Through it all, he never seemed to give up. That's why he was so emotional Saturday during his postfight interview. I'm glad he finally got to taste victory again.
9. Walt Harris' past two wins have lasted a combined 52 seconds. Not bad. He'd be on a four-fight winning streak if not for a positive drug test last year. I'm told Derrick Lewis is close to getting medically cleared again after knee surgery earlier this year. I like the idea of that matchup.
10. I enjoyed reminiscing about Affliction: Banned and that magical 2014 UFC: Dublin show last week. Both events enjoyed anniversaries. Those are two of my favorite nights ever. If you haven't read Petesy Carroll's piece on the latter, do yourself a favor and check it out. One memory I'll never forget from that trip was meeting a bunch of kids outside the open workouts, which were held at the Irish Museum of Modern Art. I recall bike-riding kids asking me why we were there. When I told them we were there to cover a Conor McGregor fight, their eyes lit up. They told me he was one of them and that he was the man. That always stuck with me. McGregor gave those kids hope. You see, when you cover MMA, you don't meet a lot of kids on the street who are inspired by fighters. The sport just isn't there yet. So to meet these youngsters, who couldn't have been older than 13 or 14, and see how much they looked up to McGregor made me realize just how big of a deal he was and could be. Great times.
11. Donald Cerrone vs. Justin Gaethje is no doubt a fun fight on paper. I disagree with some online who are claiming it's the best main event of 2019, though. That's crazy talk. But anyway, I'd be shocked if this is a boring fight. I am a tad surprised Cerrone is coming back so soon after the loss to Tony Ferguson last month. I know we should never be surprised by Cerrone coming back so quickly, but did you see that eye?
12. Myles Jury is the kind of fighter the Professional Fighters League should be signing right now. Instead, he went to Bellator. I think PFL needs to take a hard look at its roster before Season 3 and to consider freshening things up. This season feels a lot like a replay of Season 1, with a lot of the same fighters in the mix and not many new faces emerging.
13. My favorite part about the upcoming Bellator featherweight tournament is the lottery seeding after the first round. That's a brilliant idea. I would televise that live, if I were in charge, perhaps immediately after the Sept. 28 card.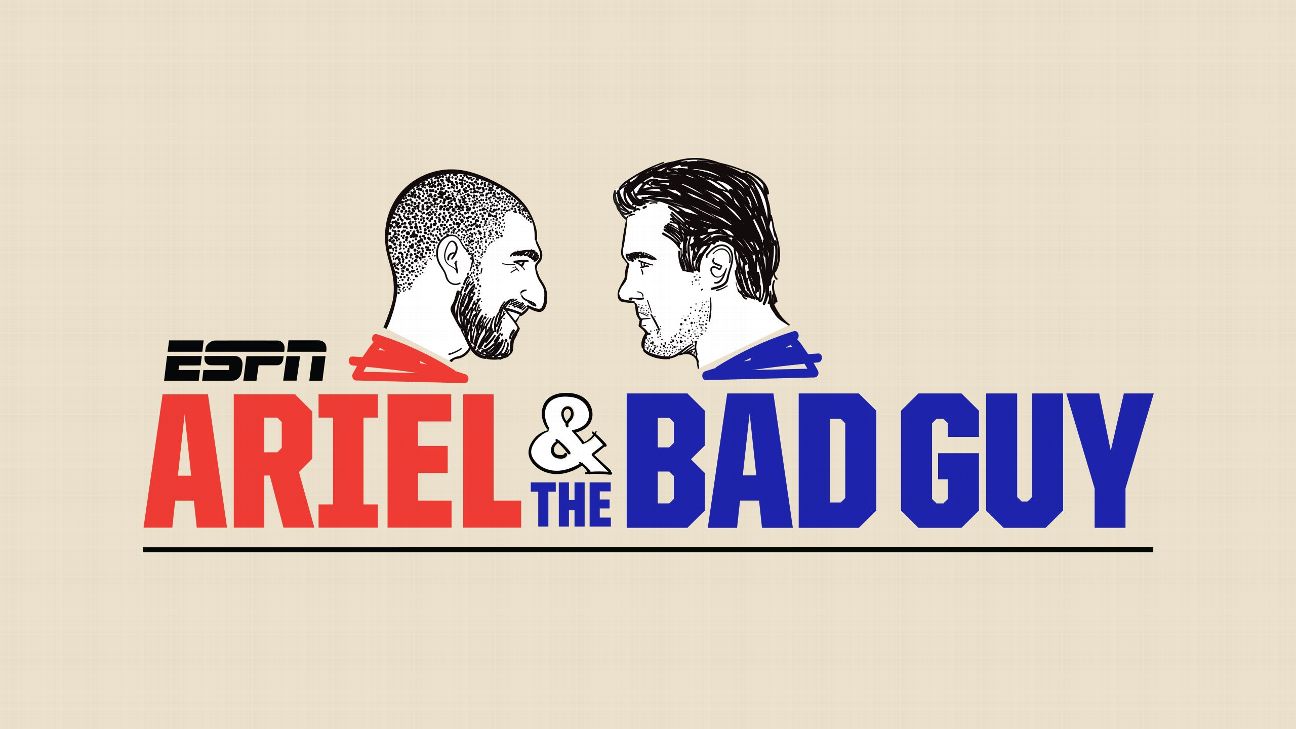 The best insider in the sport, Ariel Helwani, and best personality in the sport, Chael Sonnen, break down the MMA weekend and look ahead to the biggest cards.
Watch on ESPN+
14. Here's hoping Darren Till is serious about finally moving up to middleweight, as he alluded to on Instagram last week. I've tried to confirm his plans multiple times since that post, but no response yet. He's an elusive one.
15. Henry Cejudo actually saved the flyweights. Like, an entire division. I feel like this should be a bigger deal.
16. While the entire card might be a tad thin, the top two UFC 240 fights — Max Holloway vs. Frankie Edgar and Cris Cyborg vs. Felicia Spencer — are supremely interesting to me. How will Holloway respond coming off April's loss to Dustin Poirier? (Fun fact: Holloway is the first champion since BJ Penn at UFC 101 to go into a title defense coming off a loss.) How will Edgar compete in what could very well be his final title fight? Will this be free-agent-to-be Cyborg's final UFC fight? Is Spencer being pushed too soon? There's a lot there.
---
Monday's Helwani Show lineup:
1 p.m. ET: Weekend recap
1:05 p.m.: Walt Harris
He will recap his win over Alexey Oleinik this past weekend.
1:20 p.m.: Marc Goddard
The veteran referee and native of Birmingham, England, will talk about Leon Edwards' rise to prominence.
1:35 p.m.: Leon Edwards
Edwards will look back at his victory over RDA and discuss what's next for him.
1:50 p.m.: Myles Jury
He will discuss why he signed with Bellator.
2:05 p.m.: Chad Mendes
Mendes will talk about why he retired.
2:25 p.m.: Joanna Jędrzejczyk
The former strawweight champion will preview her upcoming fight against Michelle Waterson.
2:45 p.m.: Steve-O
The TV star will discuss his love for all things MMA and his recent night out with Jorge Masvidal.
3:05 p.m.: Michael Bisping
The UFC Hall of Famer will discuss the release of his new book, "Quitters Never Win."
3:25 p.m.: Felicia Spencer
She will preview her UFC 240 fight against Cris Cyborg.
3:45 p.m.: Dan Hooker
Hooker will talk about his knockout of James Vick and what's next for him.

Credit: Source link