217 people are in need of oxygen in various hospitals across the country due to Covid19. Out of these, 36 are in the Intensive Care Unit (ICU) on ventilatory support, the number of patients in ICU having also gone up to 137.
1,270 patients are admitted to various hospitals countrywide and 4,620 are on Home Based Isolation and Care.
Today, 902 people in Kenya have tested positive for Covid-19 from a sample size of 3,395 tested in the last 24 hours. The positivity rate of 26.6 per cent is the highest recorded since the pandemic struck.
The Ministry of Health noted that "this is not very good news" as the arising statistics show that medical oxygen has emerged as one of the essential commodities in the management of Covid-19.
Health CS Mutahi Kagwe has urged County Governments to prioritise interventions aimed at enhancing oxygen capacity in healthcare facilities.
"Availability of oxygen remains low in public health facilities at 16 per cent and where available, the supply is not optimal and lack the necessary distribution and delivery infrastructure," said Health CS Mutahi Kagwe.
Some 20,000 empty oxygen cylinders are still held up in people's homes and health facilities, curtailing the fight against Covid-19.
Speaking at Afya House today (March 29), the Health CS called on Kenyans to return the cylinders to respective plants.
He also noted the burden placed on manufacturing industries as they prioritise life-saving medical gas, at the expense of other industrial gases and urged the industries to improve their manufacturing capacities to serve various sectors of the economy.
Kenya has 75 oxygen plants but not all are operational. CS Kagwe said that in conjunction with World Bank, Kenya is looking to ensure all the oxygen plants are up and running.
Last year, the country's demand for oxygen was 410 tonnes, in January, it moved to 560 tonnes, and moving forward it could go to 880 tonnes. The Health docket chief said as it is, the operating plants cannot meet that demand.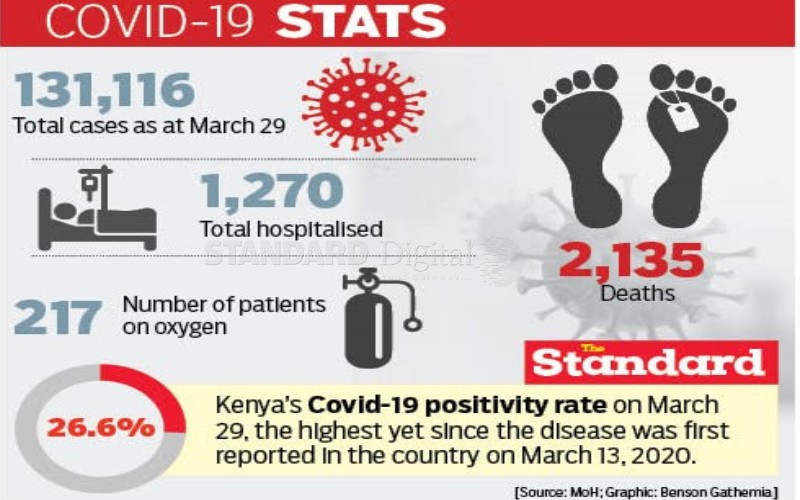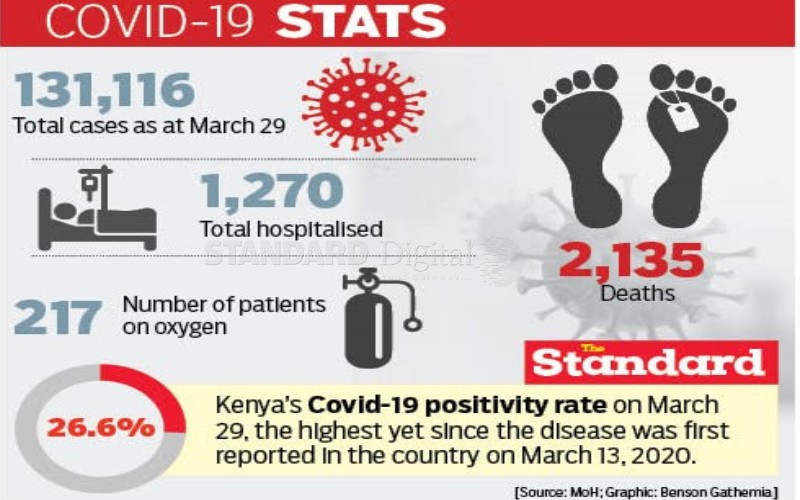 The total confirmed positive cases now is at 131,116 and cumulative tests so far conducted at 1,472,230.
From the 902 Covid-19 cases confirmed today, 829 are Kenyans while 73 are foreigners, with 484 males and 418 females. The youngest positive case is an 11-month-old baby while the oldest is a 96-year-old individual.
Nairobi County still leads with the most number of confirmed positive cases (707), followed by Nakuru (40), Uasin Gishu (39), Machakos (29) and Kiambu (21).
407 patients have recovered from the virus in the last 24 hours, 237 from Home Based and Isolation Care, while 170 from various health facilities. The total recoveries in Kenya now stand at 92,161.
18 deaths have been confirmed in the last 24 hours, pushing the cumulative fatalities to 2,135.
Credit: Source link