It's Monday, time for another edition of Ariel Helwani's MMA Show, which airs live starting at 1 p.m. ET on Twitter and YouTube. After it ends, you can listen to the entire show via the ESPN podcast center.
---
The UFC has a rare weekend off coming up, which is especially strange because there always used to be a major Las Vegas event during Memorial Day weekend (more on that later).
Nevertheless, there's still plenty of MMA action to be had this holiday weekend, highlighted by PFL's second event of the season on Thursday.
In the meantime, here are some random thoughts on the week that was and to come in MMA: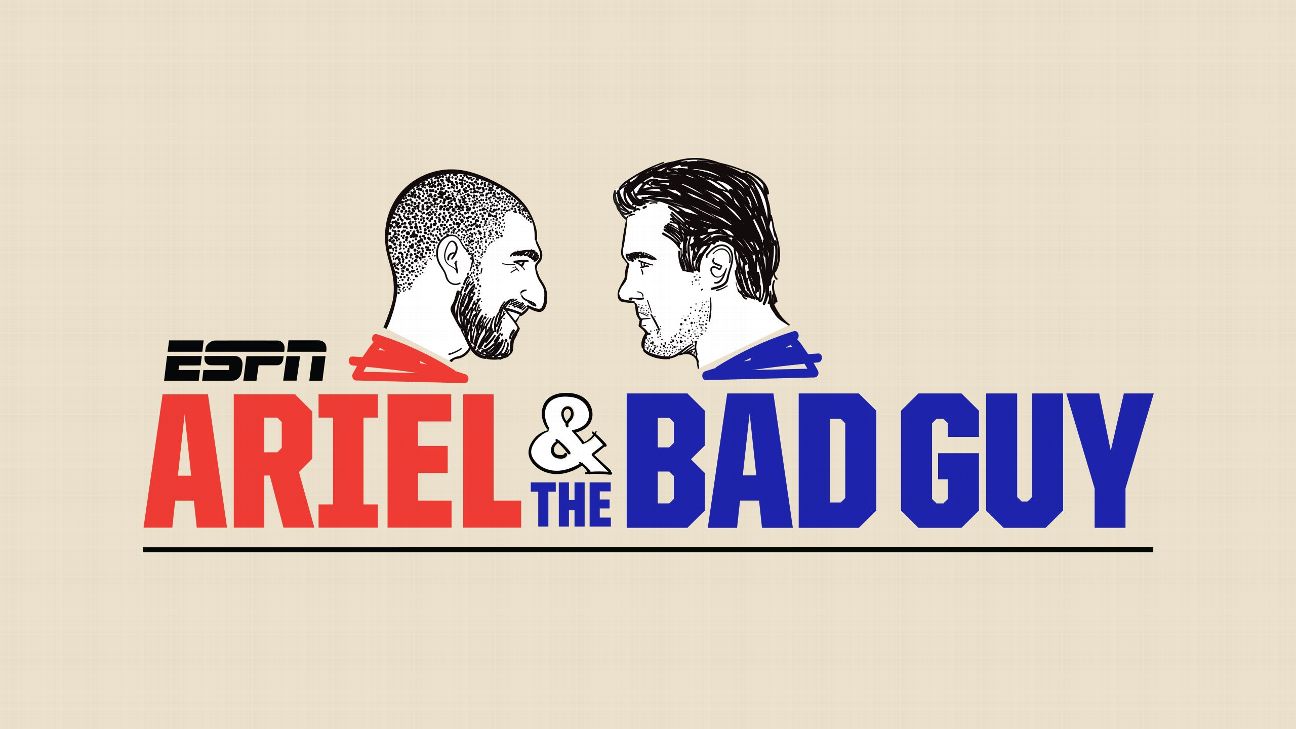 The best insider in the sport, Ariel Helwani, and best personality in the sport, Chael Sonnen, break down the MMA weekend and look ahead to the biggest cards.
Watch on ESPN+
1. At first glance, Rafael dos Anjos, Cole Miller and Andy Ogle don't really have much in common, right? All three come from different parts of the world and the latter two aren't even in the UFC anymore. But they do. They hold the dubious distinction of once being booked to fight Conor McGregor, only to have the bout canceled after they withdrew due to an injury. They are the only three fighters who can claim that from McGregor's UFC run.
For Ogle and Miller, the prospect of fighting McGregor probably doesn't sting as much because they were booked to fight him long before he was a real draw, and, as I just mentioned, they're no longer active UFC fighters.
However, for dos Anjos the "what if" has to still nag at him. Remember, dos Anjos, then the lightweight champion, was scheduled to fight McGregor at UFC 196 back in 2016 in a champ vs. champ fight. Unfortunately for dos Anjos, a broken foot forced him out of the fight less than two weeks before the event. Nate Diaz stepped in, and the rest is history.
But here's dos Anjos, who is just 34 years old yet feels a whole lot older, still thriving in the UFC almost 11 years after he debuted. The Brazilian looked great in his victory over Kevin Lee this past Saturday in what felt like a crossroads fight for him. He had lost two in a row — both against wrestlers — and a third loss felt like it would forever cripple his chances of making one last run at a title.
That's ultimately what he wants: one last run at a title. But what about one last run at McGregor? The UFC actually tried to make the fight last May for the interim welterweight title, believe it or not, but the bus incident in Brooklyn halted those plans. McGregor, as he has been known to do these days, tweeted about RDA moments after his win on Saturday. Does that mean he's interested in giving it another go or just looking for attention? Hard to say these days, but it would be a nice story if those plans are revisited before RDA's career is all said and done. He has earned that shot.
2. I thought Kevin Lee looked great in the early minutes of that fight. Unfortunately, he ran out of gas later on. Still, I want to see him stay at 170 for now. He told me on Friday that the weight cut was a breeze. He had to cut only one pound Friday morning instead of the usual 12 when he fought as a lightweight. That's a drastic difference. Let's give him some time. After all, he's only 26.
3. All of a sudden, Montreal's Felicia Spencer has emerged as Canada's best hope to win a UFC title in the foreseeable future. The former Invicta FC featherweight champion looked slick in her debut against Megan Anderson Saturday night. And while I appreciate her willingness to fight the Cyborg's of the world right away, I'd like to see the UFC build her up a little slower. Problem is, there aren't many options at 145 these days. Perhaps Macy Chiasson goes back up to featherweight to meet her next? I'd like that.
1 Related
4. Speaking of Cyborg, contrary to the chatter out there, she has not signed a new deal yet with the UFC. She does have one fight left though, hence the Spencer call-out for the Edmonton card.
5. Vicente Luque needs a step up in competition. It's time to see just how good he really is.
6. Aspen Ladd is quite the enigma. She looks and acts like a Girl Scout out of the cage, but in there she is an absolute beast. She should be one win away from fighting for the 135-pound belt. I think a fight against Ketlen Vieira or Germaine de Randamie would make sense for the undefeated Ladd next.
7. Michel Pereira. Holy smokes. It has been a while since someone had a debut quite like that. From the crying before the fight to the dance moves during the intros to the flashy moves en route to the first-round KO … wow. And just like I mentioned last week regarding Jessica Andrade, someone needs to get him some English lessons pronto. Also, I have no idea how he makes 170 pounds. I was told he weighed 198 during the fight. Can't wait for his next one.
8. The Tony Ferguson vs. Donald Cerrone promo that aired during the broadcast was great. I like the fact that the UFC gave it the main event treatment even though it isn't the main event. Oh, and don't bother asking for permission on using my People's Main Event moniker, guys. That one's on the house.
9. Beautiful moment seeing Rashad Evans learn he was getting inducted into the UFC Hall of Fame in Rochester, New York, which is not too far from where he grew up in Niagara Falls. You could tell how much that announcement meant to the former UFC light heavyweight champion. I was told Evans had no idea he was being inducted, by the way. The announcement totally caught him off guard.
10. Tyron Woodley's withdrawal from his June 29 rematch against Robbie Lawler is a blessing in disguise. Woodley's hand is really banged up and the fight is just too soon after his loss to Kamaru Usman in March. I was surprised when he accepted it a month after the loss and after telling us on the show that he was depressed after losing his belt (perhaps that explains why Woodley never signed the bout agreement). Also, Woodley beat Lawler so convincingly and spectacularly in 2016 that it will be near impossible to top that performance. I never liked the fight for him anyway. Take some time, heal up, clear your mind and come back at the end of the year, Tyron.
11. As for who might replace Woodley versus Lawler, that's entirely up to Lawler. There's a laundry list of people calling him out, but I'm told that Lawler isn't interested in some random fight that doesn't get him excited. He really wanted the Ben Askren rematch, first and foremost. Once that was off the table, the Woodley rematch was the only fight that tickled his fancy. I wouldn't be surprised if he opts to wait for Woodley (or Askren), though I bet the UFC will try its hardest to convince him to fight someone, anyone.
12. I am being completely serious when I state this: Sage Northcutt might just be the nicest human being I have ever met in my life. He is sweet as can be. He doesn't have an evil bone in his body. So when you see him get knocked out the way in which he did Friday by Cosmo Alexandre in his ONE Championship debut and then see people celebrate because they are jealous of whatever attention he gets, it disgusts me. I hope those people felt extra guilty when Northcutt posted on social media that he had to undergo a nine-hour surgery to repair eight facial fractures, as a result. In hindsight, perhaps having him fight at 185 against a kickboxing veteran wasn't the best idea for his first ONE fight.
13. On that note, why does it seem like every time the UFC refuses to re-sign a relatively big name, that big name goes on to stumble in his or her first couple of fights outside the UFC? It's the darnedest thing. Either their timing is always impeccable or they put a voodoo hex on these fighters on the way out. (Kidding about the latter, of course. Sorta.)
14. ONE Championship atomweight champion Angela Lee watched her brother Christian Lee win the promotion's welterweight title this past Friday. I believe that's the first time a promotion has a brother and sister as champion. Pretty cool.
15. I know he's not an MMA fighter, but can we just talk about how great Deontay Wilder is? He's must-see TV. Not since Mike Tyson has boxing had an American heavyweight who could hit like him … and talk like him, too. I love his interviews, his demeanor, his fighting style … the whole package. Oh, how great it would be if the Boxing Gods could figure out how to finally give us Wilder vs. Anthony Joshua or Wilder vs. Tyson Fury 2. I am looking forward to asking Fury what he thought about that victory later today on the show.
This Deontay Wilder KO is even better in slow motion ? (via @Showtime) pic.twitter.com/Y8sNsIwkhs

— ESPN (@espn) May 19, 2019
16. KSW might just be the best promotion you've never heard of. Do yourself a favor and go out of your way to watch their 50th event on Sept. 14. They put on one heck of a show. It's fun, dramatic, grandiose and different. The Polish-based promotion is on a roll these days.
17. I feel like I've said my piece ad nauseam on the whole Volkanovski/Edgar title shot topic. I'm moving on. I'll only add it's remarkable how well Volkanovski seems to be taking the news coupled with his emergency hospitalization in Chile on his way home from Brazil. Here's hoping he gets what he deserves later this year.
18. Congrats to Dustin Poirier for being given the key to Lafayette, Louisiana, last week. Considering how proud he is of his hometown, I know that meant a lot to him. Remember when he called out Daniel Cormier for forgetting his Louisiana roots last month on the show? Well, without divulging too much, I've been blessed to be included on a text thread with them as they try to one-up each other in the battle for who is the true king of Lafayette. It's quite entertaining.

The UFC is now on ESPN and ESPN+. Subscribe to ESPN+ to get: exclusive live UFC events, weigh-ins and more; Ariel and the Bad Guy; Dana White's Contender Series; and more exclusive MMA content.
19. Wondering where Kron Gracie has been? There was actually some talk of him fighting Urijah Faber on July 13 in Sacramento, but those talks never materialized. I expect to see him back this summer, though.
20. Faber is back in action this weekend, by the way, in the main event of Polaris 10 versus jiu-jitsu wunderkind Nicky Ryan, who is just 17 years old. Yes, I said 17. The 40-year-old Faber vs. 17-year-old Ryan in a grappling match on Saturday. Fascinating.
21. Speaking of grappling phenoms, how about Garry Tonon? He improved to 5-0 on Friday with a beaut of a heel hook. I saw him tweet he wants to be the greatest featherweight ever and the greatest pound-for-pound fighter ever. Lofty goals, no doubt, but I'm not betting against him. He's that good.
22. Do yourself a favor and check out some of the photos and videos Israel Adesanya has been posting from his trip to Nigeria. Wonderful scenes with the youngsters. We're lucky to have Adesanya as one of the fresh faces leading the way.
Israel Adesanya transfers knowledge with the Nigerian youth (via @stylebender) pic.twitter.com/uSXmoDD05M

— ESPN MMA (@espnmma) May 19, 2019
23. What's your favorite Memorial Day weekend UFC memory? So many to choose from, right? Quinton Jackson knocking out Chuck Liddell, BJ Penn blitzing Sean Sherk, the birth of the Machida era and TJ Dillashaw's shocker against Renan Barao all come to mind. But I tell ya, I'll never forget former Marine Brian Stann dropping to his knees in the middle of the Octagon after beating Jorge Santiago at UFC 130 in 2011 and being showered with "USA, USA" chants. I don't usually love those chants, but it felt right that night.
---
Today's lineup + times
1 p.m.: Leon Edwards
Edwards will discuss his desire to fight Robbie Lawler and not getting the Jorge Masvidal fight next.
1:25: Petr Yan
Yan will preview his UFC 238 fight against Jimmie Rivera.
1:45: Tyson Fury
The heavyweight boxing star will preview his June 15 bout against Tom Schwarz and discuss Deontay Wilder's incredible knockout this past weekend.
2:05: Garry Tonon
Tonon will recap his victory over Yoshiki Nakahara and discuss what's next for him.
2:25: Raymond Daniels
He will look back at his thrilling knockout over Wilker Barros earlier this month at Bellator: Birmingham.
Michel Pereira handles Danny Roberts in the 1st round of their welterweight battle. For more UFC action, sign up for ESPN+ http://plus.espn.com/ufc.
2:45: Michel Pereira
The UFC newcomer will talk about his sensational debut during the weekend.
3:00: Tyron Woodley
He will discuss why he had to pull out of his fight with Robbie Lawler and a when to expect a return to the cage
3:20: Rafael dos Anjos
He will look back at his win over Kevin Lee in the main event of UFC: Rochester.
3:35: Felicia Spencer
Spencer will talk about her UFC debut win over Megan Anderson and what's next.
3:50: Jessica Andrade
Andrade will talk about life as UFC strawweight champion and what the future holds for her.

Credit: Source link