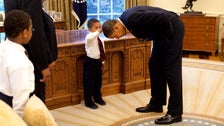 Barack Obama's White House photographer touched the hearts of viewers Friday with powerful scenes in a new documentary from an administration that feels like lifetimes ago.
The moving photos by Pete Souza in the "The Way I See It," a documentary produced by MSNBC and Focus Features that aired on the network Friday, triggered an outpouring of reactions on Twitter from tears to yearning and nostalgia — and sadness.
Photos revealed a tearful Obama embracing the parents of Sandy Hook victims, playing basketball with his daughters, letting a young Black boy touch his head to compare haircuts, and lying on his back in the Oval Office grasping a baby in a costume with floppy ears.
Souza was the official photographer for both Obama and Ronald Reagan — presidents, he said, who "respected the dignity of the office." They also made themselves available to Souza for the sake of history. That's something Donald Trump does not do, Souza complained, often agreeing only to pose for staged images.
"We need authentic moments for history," Souza said Friday in an interview with MSNBC's Joy Reid. "I always looked at my job as: Just hang around. Hang around and be there when things are happening, and photograph as they're happening. Don't direct anything, don't stage anything. You either get it or you don't."
Souza frequently speaks out against Trump on social media, often employing images of Obama in the White House to fuel his hits on the current president. He further drove home the comparison in his 2018 book, "Shade: A Tale of Two Presidents."
Twitter followers who watched the documentary totally got it.
Calling all HuffPost superfans!
Sign up for membership to become a founding member and help shape HuffPost's next chapter

Credit: Source link