Prominent city lawyer Ahmednasir Abdullahi on Sunday, July 5 responded after his name appeared on a list purportedly of DP William Ruto's preferred government appointees if he won the Presidency in 2022.
The list shared by media personality Tony Gachoka sparked a bitter squabble between Abdullahi and the Point Blank host, as Ahmednasir dismissed it as a figment of Gachoka's imagination.
Gachoka had claimed that in a Ruto administration, the Senior Counsel would become Chief Justice and President of the Supreme Court, while other Ruto allies such as Kapseret MP Oscar Sudi and former Kiambu Governor Ferdinand Waititu would become Cabinet Secretaries.
Ahmednasir accused Gachoka of being deluded before they launched into a back and forth, with Gachoka describing Abdullahi as an enabler of grand corruption in Kenya.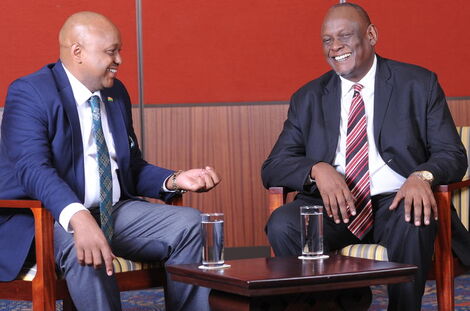 "Tony…Tony, you make this silly list when you mix chang'aa and whiskey in 60:40 proportion and take it for 72 hours non-stop. Tony, please stop drinking and tweeting. Tony, people in glass houses shouldn't throw stones. I warn you for your own good. Tony you are a friend.
"I represent many in court, I employ many, put food on the table and run a successful law firm. What have you done with your life?" he posed.
The fight turned personal as Ahmednasir further accused Gachoka of neglecting his family, allegations which Gachoka vehemently denied.
Gachoka, who makes no secret of his opposition to DP Ruto, then disclosed information on meetings he sat in with Ahmednasir and the late Jacob Juma, one of the players in the National Cereals and Produce Board (NCPB) maize scandal.
Ahmednasir was drawn into the maize saga after it emerged that his law firm received Ksh40 million detailed as legal fees transacted from the NCPB account. He, however, denied any wrongdoing.
"Senior Cousel you aide and abet corruption actors; Ruto fanatics call you a 'great mind' yet you feature in every corruption case. AA you represented Waiguru, Waluke, Deepak Kamani of Angloleasing & Weston – yet you can dare call me 'idle talk'. A corruption enabler!
"Can you confirm or deny that I have sat with you and the late Jacob Juma director of Erad Supplies who is also the partner to Eng (now jailed) John Waluke in an apartment in Westlands? Details of that meeting will follow any denial!" he stated.
The talk show host noted that he hoped an appeal by Sirisia MP John Waluke, who was sentenced to pay a fine of Ksh727 million or face 67 years in jail over the maize scandal, would shed more light on Ahmednasir's involvement.
Ahmednasir is among top lawyers in Kenya who have faced criticism from a section of the public for defending alleged corrupt and tainted individuals in the corridors of justice.
This is despite every citizen being Constitutionally entitled to legal representation regardless of the accusations against them.
Criminal lawyer Cliff Ombeta, for instance, who attracted some flak for his passionate defence of Waluke in court, sought to explain that he was only doing his job.
"Those are my instructions. If one without a job or similar reasons comes to me, i will articulate those issues and reasons that are necessary. Remember, after conviction, you can only plead or keep quiet," he noted on June 26 following the hearing.
Credit: Source link