After waiting for years, the High Court on Thursday dashed the hopes of victims of multi-billion shilling pyramid schemes to recover their money. Today, the Saturday Standard Senior Reporter Amos Kareithi reveals how thousands of gullible investors were lured into the schemes that promised quick, handsome returns but ended in premium tears.
The plan was meticulous. Not a single shot was fired yet bank vaults emptied faster than the masterminds could make the sign of the cross.
At hand to usher them from their high-end cars into banks and tastefully furnished offices were heavily armed police officers. Later they were escorted to savour expensive multi course dinners in five-star hotels.
During the day, security guards sweated for hours warding off overzealous investors from becoming too familiar with the new billionaires. The low- and middle-income earners were camping at dingy offices for days, begging for an opportunity to invest.
But 16 years after their investments fizzled out, all their hopes were dashed on Thursday when High Court judge James Makau absolved the government of any blame.
Makau dismissed the prayers of 39,108 investors that the government releases the billions of shillings in frozen accounts of 300-odd pyramid schemes, arguing that the applicants had failed to prove that the government had a duty of care.
Back in 2005, Nairobi was awash with money. Behind many street alleys lurked wannabe millionaires. And there was an endless flow of cash brought in by workers, retirees, clergymen and labourers, all who were hopping from one nest to another, begging for a chance to deposit their millions.
At times, desperate depositors were forced to recruit minions when the queues were unbearable and they could not excuse themselves from their work stations for too long.
Cabinet ministers, parish ministers, bishops, lawmakers, lawyers, politicians, brokers, gamblers and wheeler-dealers smiled at these queues, convinced they had the key to wealth.
During church services, fellowships and social gatherings over a bottle of beer or a cup of tepid tea, word spread of the newest gateway to millionaires' club.
For a small commission, some whispered the 'secret' to trusted ears. This too fueled the gathering storm, further sucking in families and friends blinded by promises of the imaginary wealth.
Suddenly, every village had its legend who had just minted money from the numerous investment groups.
This was in 2005. The stock market had opened up and inspired thousands with stories of traders who had suddenly struck it rich after investing modest cash in Initial Public Offering (IPOs) and shares at the Nairobi Stock Exchange, now Nairobi Securities Exchange (NSE).
Predictably, when the cookie crumbled, things fell apart and mayhem reigned in 45 out of 47 counties.
The panicked pyramid millionaires, their surrogates and protectors started scramming to safety.
By the time this excitement started wearing off, pensioners and traders who had taken huge loans to hand over to the miracle workers realised that they had fallen prey to Ponzi schemes, variously referred to as pyramid schemes.
The prospective millionaires were now penniless. Some depositors were left holding meaningless promissory notes and post-dated cheques.
It would later emerge that over 300 outfits had opened offices and employed agents all over the country.
The unbridled optimism was washed away by waves of desperation characterised by scores of suicides and hundreds of broken homes. Stress-related deaths would follow soon.
Sixteen years later, life has never been the same for the 148,784 investors who handed an estimated Sh8.178 billion to the bible-thumbing, sweet-talking 'investors'.
A number of victims and those behind the schemes have since died; others have gone bankrupt but some have refused to give up.
They have dusted themselves and taken the battle to their perceived enemies.
It would take one such group, National Pyramid Scheme Victims Initiative, over eight years to gather enough material and victims to present to the High Court in their bid to hold the government accountable.
They were led by one Samuel Kariuki.
And when the hearing of the case filed by Kariuki on behalf of over 39,000 people against a number of government departments started in March 2015, before Justice Mumbi Ngugi, there were heart-rending accounts of victims' journey to hell in pursuit of the promised fortunes.
But these prayers did not move Justice Makau who ruled on Thursday that the victims had failed to prove that the government had a duty of care and had neglected to protect them and their property from the predatory schemes.
A retired banker, Jane Musimbi Kimwiywi, riveted the court with her accounts of how she lost Sh31.2 million.
The veteran banker explained the deposits included a contribution of Sh7.8 million from her brother, Elphas Kimwiywi, who was a manager with Developing Entrepreneurship and Community Initiative (DECI).
Elphas was later thrown out of his office on the 8th floor of Union Towers and died.
Jane lost all her savings when the pyramid scheme bubble burst in 2007. DECI, founded by the late George Donde, had 93,485 a members who lost Sh2.4 billion.
The court was also told of the tribulations of a retired General Service Unit constable, Johnson Ivuti Ireri, whose matrimonial home in Umoja was sold by a bank after he failed to repay a Sh1 million loan he had taken to invest in Kenya Business Community Sacco, which sank with Sh780.6 million from 960 members.
A string of misfortunes struck Ireri's home.
One of his sons committed suicide after his father failed to pay his college fees. Another son went missing and has never been seen. His wife and mother died a year later as a result of stress-related health complications.
In court, Kariuki explained that his members lost Sh4.1 billion between 2006 and 2007.
Registered by AG
"My family and I lost Sh467,500 deposited in Clip (Sh320,000), Kenya Business Community (Sh100,000) Family in Need Organisation (Sh40,000) and Global Business (Sh7,500)."
The petitioner explained that the outfits started collecting money after they were vetted and registered by the Attorney General and the Ministry of Co-operatives Development.
Kariuki went to court on behalf of the 39,000 people in an attempt to prove how they were defrauded by 257-odd outfits, which had been registered by various government departments.
The petitioners, who were represented by Wanyiri Kihoro, argued that the fraud was conceived at the Attorney General's office as they started preying on the victims as soon as they were given registration certificates to operate as limited liability companies, trusts, sole partnerships, welfare associations, nongovernmental organisations and micro finance groups.
The court heard that the pyramid schemes used these certificates to open bank accounts and hoodwink depositors that they were legal entities with the capacity to pay high returns of between 10 and 18 per cent monthly interest on deposits.
The petitioners argue that the government departments they have sued were grossly negligent and were in breach of their duty of care and trust in registering outfits, which had no legitimate business to perform.
They wanted a declaration that the respondents owed duty of care and were seeking orders for the estimated Sh5 billion held in the pyramid schemes' accounts that were frozen by the Central Bank of Kenya to be distributed to the victims according to the amount each had deposited.
In the event the money was not sufficient to pay all the 40,000-odd petitioners their deposits, interest and damages, the litigants wanted the government to top up.
At the beginning of the case, CBK as a defendant, wanted it to be struck off after denying that it had frozen the pyramid schemes' accounts, but the petitioners opposed the application as premature.
They countered that CBK had issued some public warnings and had at one point indicated that 271 pyramid schemes were to be investigated even as it warned the public against investing in such outfits.
The application was however dismissed.
Kariuki testified how the pyramid schemes had wrecked families, occasioning a number of suicides, broken marriages, exposed some depositors to stress-related diseases, while leaving others in squalor and hopelessness.
"To prosecute this case, it took us eight years and we had to recruit 185 people who worked in 85 data centres. We also had 69 casual labourers. This is how we determined that there were 366 entities and not 277 reported in the taskforce on pyramid schemes by the then Kitui West MP Francis Nyenze," Kariuki said.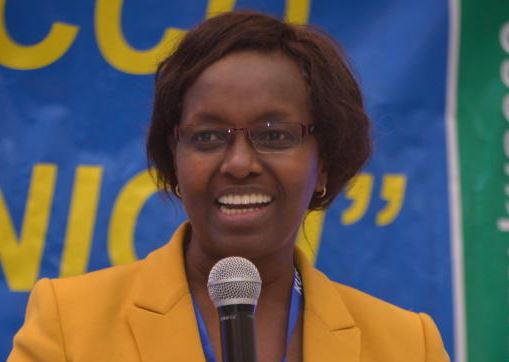 Could not be prosecuted
The court further heard that 30,770 victims had lost between Sh100 and Sh100,000 while a further 8,830 had deposited between 100,000 and Sh133,000.
The modus operandi deployed by the pyramid schemes scammers was exposed by the Commissioner of Cooperative Development, Mary Mungai (pictured).
She was giving her testimony in defense of the Ministry of Cooperatives Development, which had been sued alongside the AG and the CBK.
"I was in office when the panic hit the country in 2005. Some of the pyramid schemes were acting as cooperative societies. They were deregistered and the names of the directors forwarded to the Criminal Investigations Department," Mungai said.
Kennedy Abuga, the Central Bank head of legal department, testified that these pyramid scheme directors could not be prosecuted for committing criminal offences because they had been collecting the funds using individual accounts.
The commissioner of cooperatives expounded that a majority of the pyramid scheme accounts had nil balances by the time they were closed, adding that there was no money banked by the CBK.
According to Abuga, none of the pyramid schemes had been licensed by CBK to offer financial services and that they did not fall within the CBK's regulatory ambit.
"Although Central Bank was not regulating pyramid schemes, it had issued public statements warning the public against engaging the illegal entities. CBK also instructed banks to strictly adhere to know-your-customer guidelines and not to open accounts for the suspicious entities," he added.
Philip Nderitu Gichuki, who had acted as the secretary of the 10-man task force led by Nyenze, also testified. He said the promises made by the pyramid scheme owners were too good to be true and by the time the government started probing the matter, it was too late to help the victims.
Gichuki testified that CBK had at one time instructed banks not to receive funds from pyramid schemes and close the accounts, adding that some of the money had by then been spirited out of the country and invested in Panama and Jersey Island.
It has been five years since the case started. The two sides have given their final submissions and Justice Mutua ultimately directed the victims to meet the cost of the suit, which will be tabulated by the Attorney General, whose office was one of the defendants.
To Kihoro, the day of judgement was initially loaded with symbolism. But now the verdict will for a long time cast a dark cloud on the lives of the 39,000 victims whose last hope of restitution was pegged on the court.
Though they hoped to break the shackles of poverty, their battle has ended in premium tears.
Credit: Source link