What was the biggest story on Saturday night at UFC 249?
Was it Justin Gaethje's virtuoso performance? Or was it Tony Ferguson's 12-fight winning streak coming to a halt?
Was it Henry Cejudo's retirement? Or maybe Dominick Cruz's failed comeback attempt?
Perhaps it was Francis Ngannou's 20-second knockout?
You could make a legit argument for all five of those stories being the biggest of the night. And that's how you know Saturday was a success.
For the most part, the card delivered and gave us a lot to think about. So, without further ado …

The UFC is presenting a special Wednesday night card, featuring light heavyweight contenders Anthony Smith and Glover Teixeira in the main event. Smith has won four out of his past five fights, while the 40-year-old Teixeira has won three in a row.
UFC Fight Night: Smith vs. Teixeira
• Wednesday, Jacksonville, Florida
• Prelims: ESPN+, 6 p.m. ET
• Main card: ESPN+, 9 p.m. ET
Subscribe to ESPN+ to get exclusive live UFC events, weigh-ins and more; Ariel and the Bad Guy; Dana White's Contender Series; and more exclusive MMA content.
1. On Thursday, I reported that Conor McGregor would be watching UFC 249 closely, not only to keep his eye on the main event but also because he wanted to see how the show would play out. According to his manager, Audie Attar, McGregor had two major concerns: Could the UFC ensure the health and safety of the fighters and staff during the coronavirus pandemic? And what would it feel like fighting in an empty arena?
Well, it sounds as if he liked what he saw.
As you probably noticed, McGregor came out with guns blazing Monday on social media. He is clearly fired up. He ended the day by tweeting, "See you in July."
Does this mean he has a fight signed for July? No. But it means he liked what he saw. It means he is confident in the UFC's abilities to hold an event during these times, and he is at peace with the idea of fighting in an empty arena.
Brett Okamoto explains why Conor McGregor will eventually return to the Octagon — but not against Justin Gaethje.
That's good news for the UFC.
Now, will the UFC take a hit based on the fact that there is no live gate? Absolutely. But it can't afford to sit around and wait for that time to come, because it could be many months before thousands of fans are able to attend a sporting event again.
So, it needs to pounce on this moment: Your biggest draw wants back in. Make it happen.
2. Now the question is, who does McGregor fight? I know he targeted Gaethje on Monday — and Lord knows that would be a fun battle — but I feel like the interim champion needs to next fight the official champion, Khabib Nurmagomedov. Otherwise, there was no point in making Saturday's main event a title fight.
If Nurmagomedov can't fight in July, then I'm all for McGregor vs. Gaethje. That fight would do massive numbers. However, if Nurmagomedov is able to fight in July, as he said he could last week on social media, then I say make Nurmagomedov vs. Gaethje for the undisputed title and headline the July 11 card with McGregor vs. Nate Diaz 3. If McGregor wins that fight, give him the winner of the lightweight title fight later this year.
3. I remember talking to Gaethje following his second straight loss in 2018. He seemed a little lost. Remember, he started his career a perfect 17-0. He then won his debut against Michael Johnson to improve to 18-0, only to lose his next two fights to Eddie Alvarez and Dustin Poirier via TKO. After those defeats, people thought Gaethje hit his ceiling. Heck, I thought he did too. It wasn't that we didn't think he was great; it was that he was still fighting like a WSOF fighter. You could get away with fighting recklessly against the competition he faced in the World Series of Fighting, but that just wouldn't fly in the UFC, and it seemed like he didn't quite figure that out early on in his UFC run.
Gaethje snapped his losing streak in August 2018 when he knocked out James Vick. Great win, but was he a changed man? That remained to be seen.
I became a believer that Gaethje was a changed man after his win over Edson Barboza in March 2019. That was a smart, measured, calm fighter; Justin Gaethje 2.0 was a real thing.
And that's the Gaethje we saw against Donald Cerrone in September. And it was the Gaethje we saw on Saturday; in fact, I think that was the best Gaethje we've ever seen. I'll even go as far to say that if that Gaethje shows up against Nurmagomedov — if and when they fight — I think he has a solid chance of winning. That's how good Gaethje has looked as of late.
4. As for that fight with Nurmagomedov, it's too early to say where and when it might happen; so many unknowns at this time, given the climate we are living in. In a normal world, August or September would have been a layup. And what a fight it would be. Dana White wants it to happen this summer. Let's see if he can make that happen.
Tony Ferguson is excited to be discharged from the hospital following an orbital fracture he suffered in a loss to Justin Gaethje at UFC 249.
5. Hard not to feel for Ferguson right now. The man won 12 straight and went undefeated for eight years in the UFC's deepest weight class, and yet he doesn't have a single official UFC title fight on his résumé. Travesty. One wonders if the damage he has taken over the years, that extra weight cut three weeks ago and his age (36) are catching up to him. But for some reason, El Cucuy just wasn't there Saturday night. Make no mistake about it: He fought valiantly. His heart and chin can never be questioned. But for some reason, he was never able to take things into El Cucuy mode — which is when he gets really dangerous.
6. Henry Cejudo is willing to walk away. I believe that to be true. But I also believe that he will fight again. Allow me to explain:
A year ago, Cejudo told me he was unhappy with his pay. This was before the Marlon Moraes win. Then after beating Moraes to capture the bantamweight title, he said he would vacate both the flyweight and bantamweight titles if the UFC didn't pay him $2 million a fight. He said this 11 months ago. Well, it didn't pay him that much to fight Dominick Cruz on Saturday, but he was happy enough with the contract to keep fighting. He is back to square one now.
Also, it's important to remember that Cejudo has been training at an extremely high level for over two decades. Has he made solid money? Sure. Is it enough to set up his family with generational wealth? No. So he is tired, he just came off shoulder surgery and he is looking to get paid. Also, it has to be a strain to live the gimmick 24/7.
That's why I believe he is willing to walk away. That's what puts some weight behind his threat. But this isn't the time to do so. He is in his prime as a fighter. He is arguably one of the best pound-for-pound fighters on the planet. He is on the cusp of making the money he wants to make. Those factors, I suspect, will ultimately pull him back to MMA.
7. I also think Cejudo kind of fumbled the message Saturday night. If you're going to walk away, walk away. But the moment you say you're walking away unless you get paid, which is what he said during the postfight news conference, you sound disingenuous. Say that behind the scenes, not moments after you retired in the cage.
8. It's no surprise to hear White say the UFC is already looking at a vacant title fight. He has been in this spot many times before, most famously with Randy Couture, Georges St-Pierre and McGregor. And with all due respect to Cejudo, he currently isn't the draw those three were during their contract issues with the UFC. White doesn't take kindly to this kind of public pressure, and I won't be surprised if they move on quickly if Cejudo sticks to his guns.
9. Speaking of which, the UFC needs to beef up its June 6 pay-per-view. Right now, the biggest fight on the card is Amanda Nunes vs. Felicia Spencer for the women's featherweight title. If Cejudo really wants out, why not book Aljamain Sterling vs. Cory Sandhagen for the belt. Who would be mad at that?
10. Following Saturday's upcoming show, the next scheduled UFC event is May 23. That's the one that is supposed to be headlined by Tyron Woodley vs. Gilbert Burns. However, we are 10 days away from that fight, and the location hasn't been finalized nor has the UFC officially announced the card.
Weird, right?
I'm told the UFC is holding out hope it can hold the event in Las Vegas at the UFC Apex arena, which is located on its campus. That would make everything much easier. However, Nevada still hasn't cleared the way for combat sports events to return to the state. The promotion is waiting for Nevada Gov. Steve Sisolak to address the issue later this week. If he agrees to it, May 23 could happen in Las Vegas. But the longer we wait, it's looking more likely that the event will move to May 30 — and the UFC will hope, once again, it could happen in Vegas too. Same with June 6 and the cards moving forward.
Francis Ngannou says he doesn't want to fight just to fight out his contract and expresses frustration with the lack of a title shot.
11. Francis Ngannou is in a real tough spot. I feel for him. When you win four fights in a row like that, you should be riding high. But when I spoke to him on Monday, he seemed frustrated and tired. He said all the drama surrounding his chance for a second title shot is hurting his love of the sport. Hard to blame him there. Here's where we stand: The UFC is still hoping that heavyweight champion Stipe Miocic will be able to fight later this summer. Daniel Cormier, his challenger, is hoping for the same too. If that fight happens, Ngannou would probably wait for the winner. But what if it drags into the fall? Should Ngannou wait? I say no. Get paid, young man. Fight lesser competition, win that fight and fill up your bank account. You are wasting the prime of your life waiting for this title shot. Don't forget, Ngannou was out for 11 months prior to Saturday's win, and he was completely healthy the entire time. That's a real shame.
12. I was blown away by Bryce Mitchell's performance Saturday night. I noted during the broadcast that his suffocating grappling style reminds me of when Nurmagomedov wrestles people during fights. Mitchell was relentless. If he continues on this path, and he has shown no signs of slowing down, it wouldn't surprise me if he is in the title picture this time next year.
13. I hope this doesn't sound rude toward the fans, but I didn't mind the fact that there were no fans in attendance on Saturday, and dare I say, I enjoyed it more. I loved hearing the corners talk and the sounds of the strikes, and the storyline of the fighters crediting broadcaster Cormier for helping them during their respective fights was fun. Did I enjoy it because it was a novelty? Perhaps. But I really don't think the product is losing out on much — other than the gate, of course — with no one there. And it will look and sound even better once the UFC moves to the Apex, because that was built to be an intimate setting.
14. When I spoke to Carla Esparza on Monday, she raised an interesting point regarding fighting in an empty arena: Could the judges be swayed by the commentary? I think so. I wonder if they'll have them wear earbuds to block out the noise. I also can foresee the commentary bothering fighters, but no one has noted that yet.
15. Word in Jacksonville this week from people who have been there since prior to 249 is that the whole process regarding testing the fighters for COVID-19 has been much smoother. The first UFC event with the new protocols was always going to have speed bumps, but it sounds like a lot of the fighters on Wednesday night's card are enjoying the process so far, even though some didn't love having to do two swab tests. This time around, the fighters have had to take only one swab test.
That was the original plan last week, but something occurred with the first test that precluded the UFC from getting the results back in a timely manner, so they took them again on Friday, which is the test that showed Jacare Souza and his two cornermen were positive.
16. Outside of Wednesday's main event between Anthony Smith and Glover Teixeira, I'm most excited for Drew Dober vs. Alexander Hernandez. Dober looked phenomenal in his past two fights, and Hernandez is always game.
17. As for Saturday, I'm really curious to see how Walt Harris looks, considering this will be his first fight since his stepdaughter's murder late last year. I can't imagine how he'll be feeling when he makes that walk to the Octagon.
As for the rest of the card, I'm curious to see how Song Yadong, Mike Davis and Marlon Vera perform. Should be a solid card.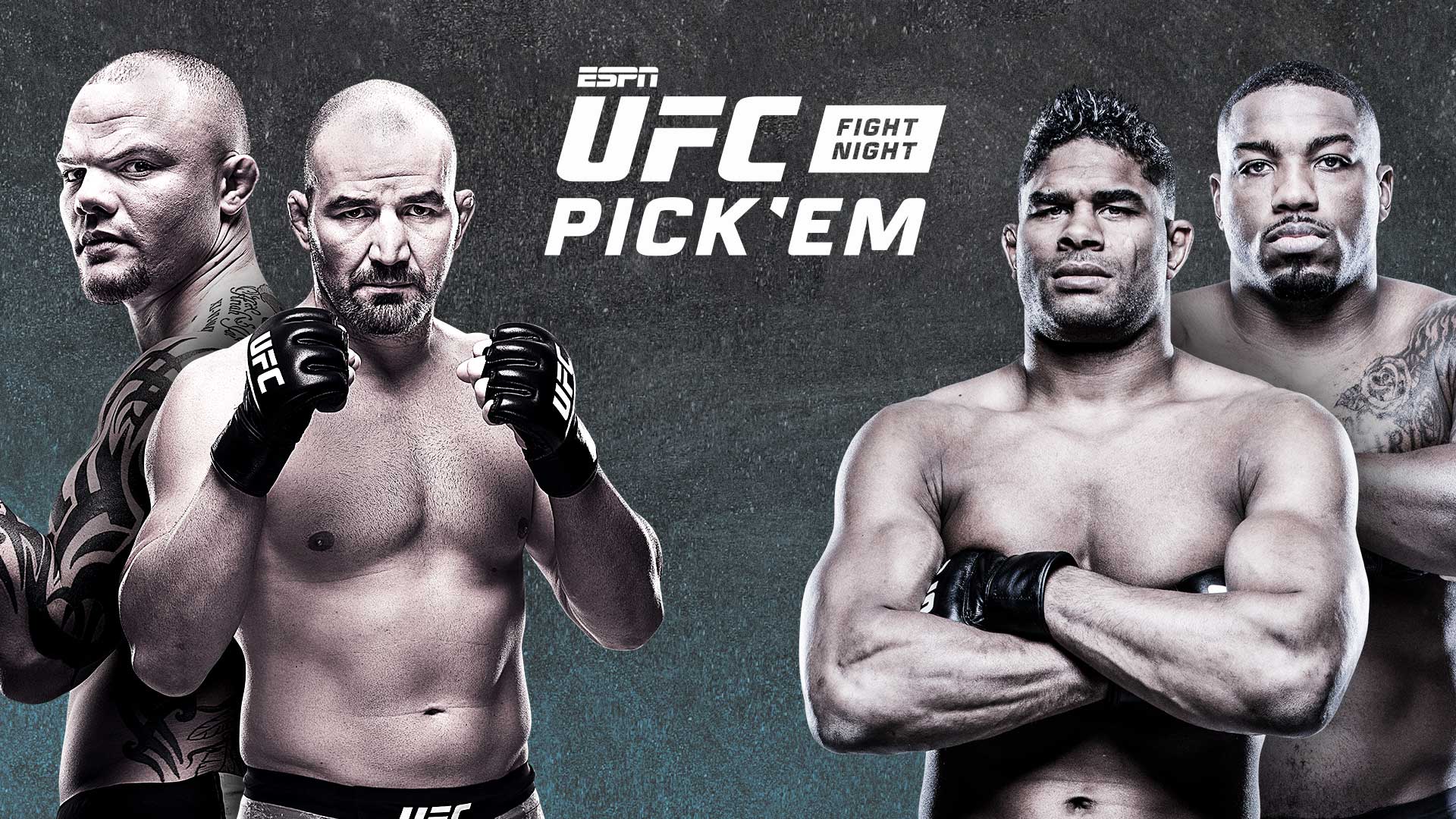 Make your picks and compete against friends! Watch the action LIVE on May 13 and May 16 on ESPN and ESPN+.
18. It is interesting to see three-time NCAA wrestling champion Bo Nickal training with Jorge Masvidal this week. Masvidal brought Nickal to Florida to help him prepare for Kamaru Usman, of course. The hope is that fight — Usman vs. Masvidal — will happen this summer.
Final thoughts:
I can listen to Trevor Wittman work a corner all day. … I think we'll see Dominick Cruz fight at least one more time. … Slowly but surely, Greg Hardy is figuring out how to be an MMA fighter. He is doing it on the fly, but that was a solid win on Saturday. … I don't think he will, but I hope Donald Cerrone takes the rest of the year off. … I think Anthony Pettis should stick around at 170 for a bit. … I can't recall the last time Aleksei Oleinik looked that fit. … Congratulations to Georges St-Pierre for his eventual induction into the UFC Hall of Fame. I really hope that ceremony can take place in front of fans. The GOAT deserves that.
I asked Dominick Reyes last week if there had been any talks of him rematching Jon Jones. He said not yet.
"I'm looking at August, September, possibly October," Reyes said. "I don't want to fight in an empty arena."
Something tells me we'll still be fighting in pretty empty arenas then too.
Enjoy the rest of the fights this week.

Credit: Source link