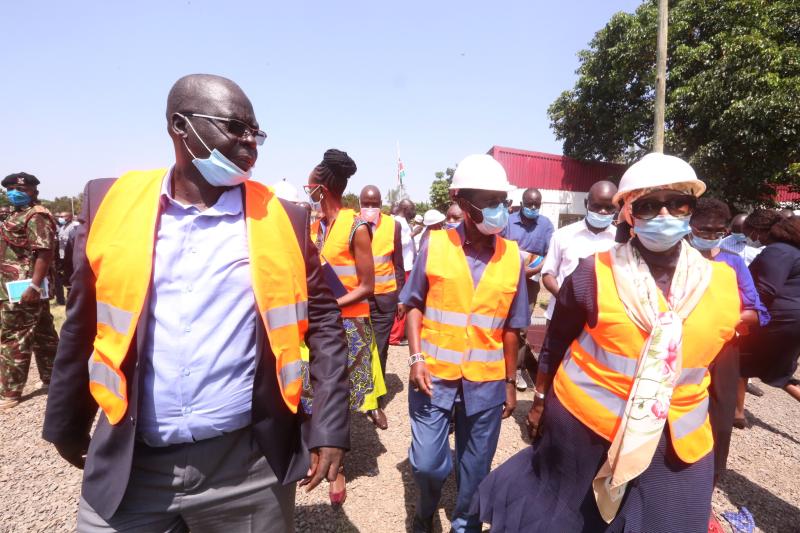 Atheists in Kenya are opposed to the Sports CS Amina Mohamed's move to rename Kisumu ASK Mamoboleo Ground to Jomo Kenyatta International Stadium.
They want it renamed Achieng Oneko International Stadium, in honour of one of Kenya's freedom fighters.
"We are strongly opposed to the renaming of Kisumu ASK Mamoboleo Ground to Jomo Kenyatta International Stadium. This is an act of brazen indignity. Sports Minister, Amb, Amina Mohammed should consider renaming Kisumu ASK Mamboleo Ground Achieng Aneko International Stadium, Oneko was one of the six freedom fighters arrested by the British colonial government in Kapenguria in 1952," read a statement from Atheists Society of Kenya President Harrison Mumia.
In the statement Mumia explained why they felt Jomo Kenyatta's name was not fitting enough, and why Achieng Oneko's was better suited for the new stadium.
SEE ALSO: Kenyan athletes stranded in India arrive home
They argue the country never realized "Unity among ALL Kenyans" under Jomo Kenyatta's reign.  
How has the current Moi stadium spurred growth? Any data?
Why Jomo Kenyatta International Stadium? https://t.co/sEmRevJPzC

— President, Atheists In Kenya Society (@harrisonmumia) June 25, 2020
Sports Cabinet Secretary Amina Mohamed on Wednesday, June 24 commissioned the construction of a new 20,000-seater stadium which will be built at the grounds of ASK Mamboleo show ground.
The ground has been hosting rugby matches including Kenya Cup (Kisumu RFC), National Sevens Circuit (Dala 7s) and Kenya rugby 15s international games with the latest being Elgon Cup match between Uganda and Kenya Simbas.
While addressing the media, Amina said the government has approved Sh350 million for the construction of the new stadium and assured the project will be complete in six months.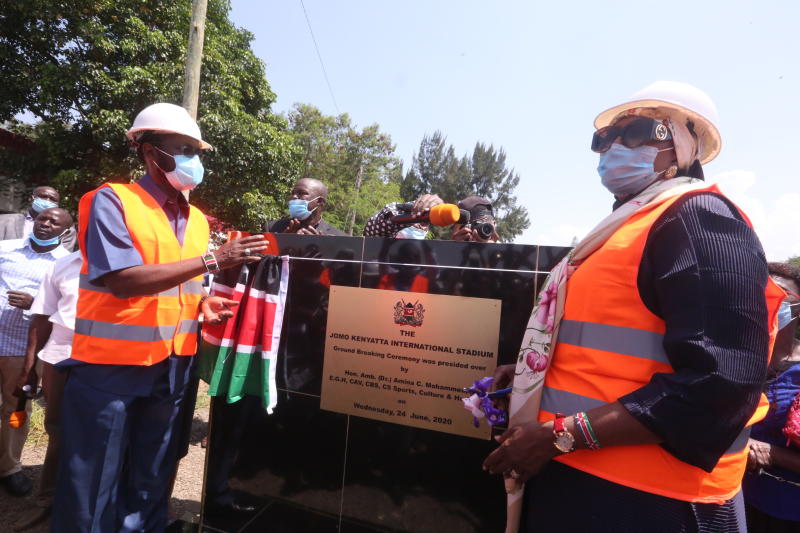 "President Kenyatta promised to build an international stadium in Kisumu, which would serve all the Lake Region Economic block and today, we are laying ground for the construction of this stadium," said CS Amina.
SEE ALSO: How 'Kwekwe' song lyrics are shaping Uhuru's legacy
"There is great talent in Kisumu and the region continues to produce iconic rugby, football and basketball players despite lacking in infrastructure and relevant sporting facilities."
"With this new development, we hope to give athletes from this area an opportunity of improving their talent," she added.
"The stadium will be named after our founding father, the late Mzee Kenyatta in honour of his sacrifice in the fight for freedom of Kenya's independence."
Amina termed the stadium as a sign of good development and infrastructure the government is extending to all counties in Kenya.
"We saw Kisumu All Stars earn promotion to the Kenyan Premier League after only six months and that only shows how much talent is here. The same goes to Lakers Hockey Club, Lady Bucks basketball Club and Kisumu RFC, who are all playing in the top leagues," the CS said.
SEE ALSO: Sh300 million to repay colonial chief family's favour to Jomo in the 1960s
Kisumu Governor Anyang Nyongo, who accompanied the Sports CS, said he is looking forward to not only having the new stadium, but also plans to renovate the stalled Moi Stadium, which has been in a deplorable state.
"It is a good sign that the president is fulfilling his promise of building stadiums in Kenya and we are looking forward to a fruitful six months, within which, the project should be completed."
"For Moi Stadium, we are making plans to ensure that the stadium is elevated into an ultra-modern facility. We are still organising and planning for its ground breaking so that renovation works can begin," he said.
CS Amina also renamed the historic Jomo Kenyatta sports ground after Kenya's first Vice President, Jaramogi Oginga Odinga.
In what she termed as a way of paying tribute to Kenya's two most iconic national figures, Amina said it was President Kenyatta's will that the sports ground be named after Jaramogi Oginga.
"In the history of this nation – the Nation's first Vice president Jaramogi Oginga Odinga dreamed of football development and youth empowerment and we are fulfilling his dreams with this iconic sports ground," she said.
Chief architect and consultant in the project of the new stadium, added that the total cost of the stadium will be Sh1.4 billion and will take two years to complete. He said the Sh350m will cater for phase one of the project.

Credit: Source link