Boxing is enjoying a renewed sense of excitement surrounding the sport. After a 2019 filled with thrilling and, at times, shocking results like the first fight between Anthony Joshua and Andy Ruiz Jr., Tyson Fury cemented his status as one of the most popular stars boxing has to offer by soundly defeating Deontay Wilder in the rematch of their compelling 2018 bout.
As boxing attempts to grow its audience, there are a handful of clearly established stars who stand out among the rest — those who can draw in an audience for every single fight. There are others slightly down the ladder who can build up big fights with the right opponent, setting and context — some on the rise, and some winding down toward the twilight of their careers.
In an effort to suss out the lay of the land in the world of boxing, Dan Rafael and Steve Kim assessed fighters on four criteria — global drawing power, regional drawing power, boxing ability and intangibles. The 28 boxers who made the cut fell into one of three levels, with just three entries standing out above the rest as boxing's top-tier draws.
Those three fighters — Canelo Alvarez, Manny Pacquiao and Tyson Fury — have drastically different appeal, but each stands out among the pack. For those who fall in the second tier, including Anthony Joshua, elevation to the top could be only one big win away. After breaking down a number of young hopefuls on the rise in Part 1, here is our breakdown of the fighters who landed in our top two tiers.
---
Tier 1
Canelo Alvarez
53-1-2, 36 KOs
WBA middleweight titleholder; WBA "regular" super middleweight titleholder; lineal middleweight champion; WBC middleweight "franchise" champion
Twitter: @Canelo | Instagram: @Canelo
Rafael: Alvarez, 29, who has won world titles at junior middleweight, middleweight, super middleweight and light heavyweight, has become the biggest star in boxing and perhaps the best boxer in the world, pound for pound. He has a passionate Mexican and Mexican American fan base, makes entertaining fights and has for years faced the best opposition available to him. His two fights a year, usually on the weekends of Cinco de Mayo in May and Mexican Independence Day in September, are boxing's version of the Super Bowl, but twice a year instead of once.
What are the biggest fights out there for Canelo, and how does he get there?
Every fight Alvarez has is big because of his stature as the face of boxing, at least in North America, and his position as No. 1 pound-for-pound in the eyes of many. He also makes the most money by virtue of a landmark five-year, 11-fight, $365 million deal he is in the midst of with DAZN. But his biggest fight, obviously, is a third bout with Golovkin. They have fought twice before in megafights, battling to a dubious draw in their first encounter in September 2017 that most thought Golovkin deserved to win, followed by Alvarez scoring a razor-close majority decision in the September 2018 rematch, which many saw as a legitimate draw.
Alvarez has not wanted a third fight with GGG. He believes he won both fights and sees no reason for a third bout. However, DAZN wants it desperately and legions of fans also want to see it. So as part of the very difficult ongoing negotiations for Alvarez to face Billy Joe Saunders on May 2, DAZN wants Alvarez to agree to fight GGG in September — as long as Golovkin wins his own interim bout this spring or early summer. To get Alvarez to agree to the third GGG fight, DAZN probably will have to sweeten the pot on the $35 million per fight it already owes Alvarez.
---
Manny Pacquiao
62-7-2, 39 KOs
WBA welterweight titleholder
Twitter: @MannyPacquiao | Instagram: @MannyPacquiao
Kim: At this point, what else needs to be said about "PacMan" — he's a boxing legend. He's the only boxer with world titles in eight divisions, from flyweight to junior middleweight. For more than a decade, he and Floyd Mayweather were the face of the sport, and Pacquiao was a rarity — a fighter from the Philippines who became a household name in America. His all-action style and friendly demeanor made him a fan favorite across the globe. Perhaps the only black mark on his career is a rather tepid effort versus Floyd Mayweather in 2015, which was a colossal letdown for the sport and its legion of fans.
While most marquee boxers are lucky to have one memorable rivalry, Pacquiao has had them with the Mexican trio of Juan Manuel Marquez, Marco Antonio Barrera and Erik Morales, coming away from those fights with a composite record of 6-2-1 against those Hall of Famers. His victories over Ricky Hatton and Oscar De La Hoya launched him into superstardom. After being written off more than once late in his career Pacquiao has persevered, and he is still a force at age 41 after 71 pro fights. In his most recent outing in July, Pacquiao outpointed previously undefeated Keith Thurman to take his welterweight title. When the calendar turned to 2020, he made more history by becoming the only boxer ever to hold a major world title in four separate decades.
How much longer will Pacquiao fight?
The truth of the matter is that he doesn't have to box anymore. He long ago punched his ticket to Canastota, where he should be elected unanimously into the International Boxing Hall of Fame the first year he's eligible. After his back-to-back losses to Timothy Bradley Jr. and Marquez in 2012, many believed Pacquiao had reached the end of his glorious career, but he went to win five of his next six fights, with the only loss coming against Mayweather.
Then in 2017, after he got upset by Jeff Horn in Australia, it seemed Pacquiao had finally reached the end of the line again. And yet, he has been unbeaten since, and he has continued to add to his legacy with victories over Lucas Matthysse, Adrien Broner and Thurman. Pacquiao doesn't need to fight at this point — he does it because he wants to, and because it pays well.
---
Tyson Fury
30-0-1, 21 KOs
WBC heavyweight titleholder; lineal heavyweight champion
Twitter: @Tyson_Fury | Instagram: @gypsyking101
Rafael: England's Fury, a mountain of a man at 6-foot-9, 270ish pounds, took the traditional route many fighters from the United Kingdom take on their way to a world title by winning the British, Commonwealth and European titles first. He beat perennial contender Dereck Chisora twice in notable bouts, then captured world attention in 2015, when he traveled to Germany and, as a huge underdog, outpointed long-reigning unified heavyweight champion Wladimir Klitschko to win three major belts and become the lineal champion.
Does Fury have staying power? Do you think he can get even sharper with his new team?
Fury is only 31, still a baby by heavyweight standards, and because he does not take a lot of heavy punches, he should be able to maintain himself at a high level for years to come if he stays focused. Obviously, he has had many challenges outside the ring, which could always resurface, but if he can keep them under control, he could dominate the division because he has such a diverse arsenal. He is a gifted boxer with excellent defense, and he's extremely light on his feet for such a big man. And, as he showed in the Wilder rematch, he is also perfectly capable of pressing the action and outpunching his opponent in a firefight.
All that said, Fury says he will fight only twice more before retiring — a third fight with Wilder, which is due to take place July 18, and then, Fury hopes, an undisputed title fight with countryman and three-belt titlist Anthony Joshua. If Fury sticks to that plan, he won't have staying power, but it's boxing. Guys say they will retire all the time and don't. And even when they do, they usually return at some point.
For the rematch with Wilder, Fury parted ways with trainer Ben Davison after a four-fight run and installed SugarHill Steward as his head trainer and cousin Andy Lee, a former middleweight titlist, as his assistant trainer. They helped Fury devise the game plan that was incredibly successful in the Wilder rematch. That was their first fight together. I see no reason he can't become even sharper with more time spent working with them.
---
Tier 2
Anthony Joshua
23-1, 21 KOs
WBO, IBF and WBA unified heavyweight titleholder
Twitter: @anthonyfjoshua | Instagram: @anthonyjoshua
Kim: For all of the people crowning Tyson Fury as boxing's best big man, Joshua actually holds three of the four major belts. Beginning with his second-round stoppage of Charles Martin in 2016, when Joshua won the IBF strap, he has been collecting belts. When you look at Joshua's overall résumé, top to bottom, it's as good as, if not better than, that of anyone else in the division, with victories over Wladimir Klitschko (in one of the most memorable heavyweight battles in recent years), Dillian Whyte, Joseph Parker and Alexander Povetkin.
His only blemish was the shocking upset loss to Andy Ruiz Jr. last June at Madison Square Garden, which he reversed in their rematch in Saudi Arabia in December. Aside from that loss, there's no denying that Joshua, a 2012 Olympic gold medalist, is by far the game's biggest box-office star when it comes to drawing crowds. While other stars sell out arenas, he fights to packed stadiums in England on a regular basis.
How long will it take to get the stink of the Ruiz loss off of Joshua?
It's very simple: Keep winning and defeat Fury, or whoever has that WBC title at the end of summer, and become the undisputed heavyweight champion of the world. If he were to face Fury, it would conceivably be the biggest — figuratively and literally — fight in British boxing history. The winner will have scored a historic victory that will reverberate worldwide. If Joshua gets that done, the Ruiz blemish will be thought of as an aberration.
If he doesn't, many will go back to deriding Joshua as being just a well-marketed fighter who was elevated by the Matchroom Sport machine — fair or not.
---
Deontay Wilder
42-1-1, 41 KOs
Former WBC heavyweight titleholder
Twitter: @BronzeBomber | Instagram: @bronzebomber
Kim: The Bronze Bomber, up until his rematch with Tyson Fury on Feb. 22, was riding high and was agonizingly close to becoming a transcendent figure in American sports. Respect has been hard-earned for the 34-year-old native of Tuscaloosa, Alabama, who won his WBC heavyweight belt by soundly defeating Bermane Stiverne at the beginning of 2015. Thought of, for the most part, as a raw, one-dimensional puncher, over the course of 10 successful title defenses he slowly began to pick up steam as a draw and gained respect for his achievements. He wasn't always fundamentally sound, but he was always fun to watch, one way or the other.
And until the rematch with Fury, he was undefeated.
Can Wilder come back from the Fury loss?
If he can find a way to beat Fury in the third fight, sure. But in the wake of his lopsided loss to Fury in the rematch, many are left wondering whether Wilder can pick up the pieces. The loss to Fury felt as if it had long-lasting ramifications — not just physically but psychologically, if you listen to some of the things Wilder has said since his defeat. Going into the third matchup, all of the momentum is on Fury's side, and with Wilder invoking the immediate rematch for the summer, I wonder whether he has sufficient time to make the technical improvements needed to gain revenge on Fury.
Through 19 frames, Fury has won the majority of the rounds between the two men, and he battered Wilder in the second fight. He figured out that putting Wilder on his back foot really takes away much of what Wilder does best. Ultimately, there aren't many giving Wilder much of a chance to even the score in the third bout.
---
Terence Crawford
36-0, 27 KOs
WBO welterweight titleholder
Twitter: @terencecrawford | Instagram: @tbudcrawford
Rafael: Crawford was not a well-known prospect on the way up, but he has blossomed into one of the elite pound-for-pound fighters in boxing, having won world titles at lightweight, junior welterweight and welterweight. He traveled to Scotland in 2014 and boxed circles around Ricky Burns to win a lightweight belt. In 2015, Crawford, a big ticket seller at home in Omaha, Nebraska, moved up and won a junior welterweight title.
He unified two belts in 2016 against Viktor Postol and in 2017 made history by knocking out Julius Indongo to win the other two major belts and become the first undisputed junior welterweight champion of the four-belt era. The two-time ESPN fighter of the year moved up to welterweight in 2018 and stopped Jeff Horn to win a welterweight title, which he has defended three times.
What lies ahead for Crawford?
Crawford, who is 32 and in his prime, has all the talent to be the No. 1 pound-for-pound fighter in the world. He is smart in the ring, possesses superb boxing skills, and has lots of experience, solid defense and underrated power. He also has a nasty streak in the ring. The only thing holding him back from more recognition is a meaningful rival. He fights for Top Rank and on ESPN, where the universe of top welterweight is zilch.
The best of the division fight for Premier Boxing Champions and on Fox or Showtime. Crawford desperately needs rival promoters Top Rank and PBC to come together so he can get a fight with unified titlist Errol Spence Jr. — one of the most significant fights that could be made in the sport — or even with titleholder Manny Pacquiao or former titleholders Shawn Porter, Danny Garcia or Keith Thurman. It won't be easy, but given that the companies worked well together on the Fury-Wilder rematch, there is hope.
---
Vasiliy Lomachenko
14-1, 10 KOs
WBO and WBA unified lightweight titleholder; WBC lightweight "franchise" champion
Twitter: @VasylLomachenko | Instagram: @lomachenkovasiliy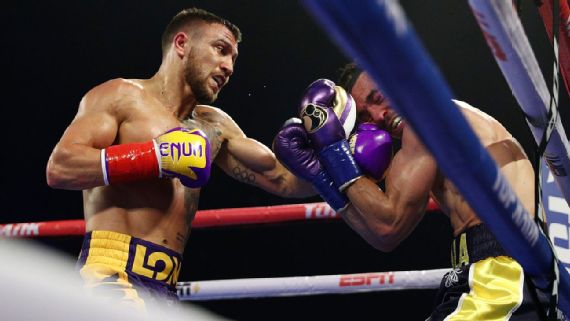 Rafael: Ukraine's Lomachenko came into the pros widely considered the greatest amateur of all time. He fashioned a 396-1 record with the loss avenged multiple times and won gold medals in the 2008 and 2012 Olympics, not to mention a 6-0 record in the World Series of Boxing. As a professional, he has world titles in three divisions (featherweight, junior lightweight and lightweight) and has set various records, including fewest fights needed to win a world title (three, a tie), fewest needed to win a title in two divisions (seven) and fewest needed to win a title in three divisions (12).
Then Lomachenko unified two lightweight titles in his 13th fight, by lopsided decision over Jose Pedraza in December, and unified three lightweight belts in his 15th fight, by decision over Luke Campbell on his turf in London. Of Lomachenko's 15 pro fights, 14 have been world title bouts, including a sixth-round stoppage of Guillermo Rigondeaux in a 2017 junior lightweight title defense in the only fight ever between two-time Olympic gold-medal winners.
What lies ahead for Lomachenko?
Lomachenko is a dazzling fighter on offense and defense with all the moves and more. There is a reason he is No. 1 in the ESPN pound-for-pound rankings. But he is also 32, is fighting above his optimal weight (mainly because he has been in search of a challenge), had the wear and tear of all those amateur fights and has had some injury issues, including a torn labrum suffered in 2018. In other words, he more than likely has already reached his ceiling, and although he can probably maintain his level for a bit longer — and we shall see just where he is if the likely unification fight with Teofimo Lopez Jr. comes off this spring — an inevitable decline is probably not too far away.
---
Naoya Inoue
19-0, 16 KOs
IBF and WBA unified bantamweight titleholder
Twitter: @naoyainoue_410 | Instagram: @naoyainoue_410
Kim: Inoue is, quite simply, one of the best fighters in the world. If you look at any pound-for-pound list, he's rightfully up there with the elite fighters in the sport. From the very beginning of his career, the "Monster" from Japan has consistently faced tough opposition and gone right through it. He won his first world title in his sixth outing, getting rid of Adrian Hernandez in six rounds for the WBC junior flyweight belt in 2014.
Then, after skipping the 112-pound class entirely, Inoue won the WBO junior bantamweight title two fights later, halting normally durable Omar Narvaez in two rounds. After seven title defenses, Inoue stopped Jamie McDonnell in Round 1 to capture the WBA bantamweight title. After entering the World Boxing Super Series, Inoue has since added the IBF belt and, in the WBSS finals, he engaged in the 2019 fight of the year by outpointing future Hall of Famer Nonito Donaire in the final.
Inoue is one of the most dynamic punchers in the sport, and now he's on a mission to become a major presence in the United States.
What lies ahead for Inoue?
Shortly after winning the WBSS bantamweight tournament, and the Muhammad Ali Trophy that goes with it, Inoue signed with Top Rank as his stateside promoter, with a debut eventually set for April 25. He'll face WBO bantamweight titlist John Riel Casimero at the Mandalay Bay in Las Vegas, where he will get an opportunity to add another belt to his growing collection. At just 26, Inoue is now in his physical prime, and, as you look at 118 pounds and beyond, there are plenty of opportunities for him to add to his résumé.
Inoue already has a cultlike following among the hard-core denizens of boxing, and with the promotional push of Top Rank and ESPN, you wonder whether Inoue could be capable of a Pacquiao-like takeover. If he's as good as many believe, Inoue could be the next crossover international star.
---
Gennadiy Golovkin
40-1-1, 35 KOs
IBF middleweight titleholder
Twitter: @GGGBoxing | Instagram: @gggboxing
Kim: At one point, GGG was one of the most lethal and respected fighters in the sport and boxing's most dominant middleweight. GGG was avoided for years by the marquee names in the division when he first came to the U.S., but eventually he became an attraction of his own and crafted a very lucrative career — accumulating a multitude of major endorsement deals along the way.
From 2011 to 2018, Golovkin held at least one version of the middleweight crown and eventually put the WBA, IBF and WBC titles on his résumé. He made 20 successful middleweight title defenses, tying the great Bernard Hopkins, and, in perhaps the defining fight of Golovkin's career, on Sept. 16, 2017, he faced Canelo Alvarez in a highly anticipated showdown at the T-Mobile Arena in Las Vegas. In a fight that most observers had Golovkin winning, GGG had to instead settle for a highly disputed split draw after 12 rounds. It's easy to wonder how his career path would have changed if he had gotten his hand raised in victory.
Twelve months later, GGG and Canelo engaged in a rematch and Alvarez edged out Golovkin to take his three world title belts. Many believe that this marked the end of Golovkin's physical prime, and the end of his middleweight reign. Just recently, GGG won the vacant IBF title by eking out a close, controversial decision against rugged Sergiy Derevyanchenko in a 12-round battle. It was perhaps his most grueling professional bout.
What lies ahead for GGGnt in his career?
Although he's still on most pound-for-pound lists, you get the sense GGG is now in the twilight of his run. He is no longer the dominant force he once was; he turns 38 in April, and it looks as if Father Time is creeping up on him after a long, hard pro run that came on the heels of an amateur career that spanned over 350 bouts. He has already hit his ceiling as a fighter, and he appears to be dropping into a slow descent.
But GGG might have one last great night in him if — and when — he gets his third crack at Canelo, in what would instantly become one of the most-anticipated fights of 2020
---
Errol Spence Jr.
26-0, 21 KOs
IBF and WBC unified welterweight titleholder
Twitter: @ErrolSpenceJr | Instagram: @errolspencejr
Rafael: Spence was widely considered the best prospect on the 2012 U.S. Olympic team and has more than lived up to that hype. He is above-average in all phases of the game. He has speed, defense and power that has made him a mainstay on the pound-for-pound list. He is also fearless and embraced a trip to Kell Brook's hometown of Sheffield, England, in 2017, where he stopped Brook in the 11th round to win a welterweight title.
Spence then defeated former titlist Lamont Peterson and mandatory challenger Carlos Ocampo by knockout before schooling four-division titlist Mikey Garcia in a shutout decision in his first pay-per-view main event. Then Spence squared off with Shawn Porter in September, scored an 11th-round knockdown in a terrific fight and won a split decision to unify two belts.
What is Spence's ceiling?
Spence's future is a bit cloudy. Although there some big fights out there for him, be it a unification fight with Crawford or Pacquiao, a rematch with Porter, or a fight with former titlists Garcia or Thurman, nobody really knows what Spence has to offer after a horrific one-car crash last fall from which he still faces a DUI charge. Spence did not suffer major injuries, but a January fight with Garcia was called off before it was ever formally announced.
And even though Spence has said that he has returned to training and that he plans to fight this spring, there is no evidence that a fight is in the works for that timeframe. Assuming Spence does fight this spring, or more likely this summer, that bout will be a major factor in assessing where he is at this point. Is he still a dynamic, all-around talent, or did the accident take something out of him that he will never get back? We won't know until he fights.
---
Oleksandr Usyk
17-0, 13 KOs
Former undisputed cruiserweight champion; heavyweight contender
Twitter: @usykaa | Instagram: @usykaa
Kim: Usyk has an incredible résumé, in terms of just how much he has accomplished in fewer than 20 professional fights. After capturing a gold medal in the 2012 Olympic Games for Ukraine, Usyk was put on the fast track and won a world title in his 10th pro outing, as he decisioned Krzysztof Glowacki over 12 rounds for the WBO belt.
Several fights later, he entered the World Boxing Super Series cruiserweight tournament, where he toppled Marco Huck, Mairis Briedis and then Murat Gassiev — unifying the titles in the division in the process — on his way to winning the Muhammad Ali Trophy. He finished off his cruiserweight run by knocking out Tony Bellew on British soil. When you think of the list of the best cruiserweights of all time, it's Evander Holyfield and Usyk. Now campaigning as a heavyweight, Usyk has been dealing with some injuries that forced him to fight just once in 2019, a seventh-round stoppage of late replacement Chazz Witherspoon in October.
What is Usyk's ceiling?
If Usyk can acclimate to the heavyweight division, he should be able to ascend quickly. Like Holyfield before him, he and his handlers understand that while being the undisputed cruiserweight king is a worthy accomplishment, the money and the notoriety come from success in the heavyweight division. Because of his status as a WBO belt holder at cruiserweight, he has already secured the No. 1 heavyweight contender spot to Anthony Joshua with that organization, even though there's at least one title challenge (Kubrat Pulev) that has to happen before Usyk gets a shot.
If Usyk wins even a portion of the heavyweight title, which could happen in a number of different ways, depending on how mandatory challenges and big upcoming fights go, his popularity across the world will go up a few notches.
Credit: Source link