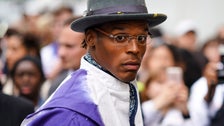 Many Patriots fans were thrilled that the team signed quarterback Cam Newton on Sunday ― but not just for football-related reasons.
New England's former quarterback, Tom Brady, has six more Super Bowl rings than Newton, but Newton has way more style.
Newton, a former Heisman Trophy winner and NFL MVP, is a hardcore fashionista who attends designer shows in Paris, can rock a babushka at a postgame press conference and knows his pret-a-porter from his haute couture.
So when word emerged that Newton had reportedly agreed to a one-year deal with Brady's old team, the Patriot faithful were hoping the new signal caller could deliver for the fall line.
We're forgetting the best part about @CameronNewton to the @Patriots, his absolute ??? fashion. Post game press conferences about to be more LIT than when Franklin discovered electricity and than when Edison invented the lightbulb. Pats 5th Quarter is back @scottzolak! ⚡️?

— Michael Magaletta (@mikemagz07) June 29, 2020
Cam Newton about to singlehandedly revolutionize the New England winter fashion game wow

— Filippo Berio (@UncleDommy) June 29, 2020

Credit: Source link