The search for suspected killer cop Caroline Kangogo entered day five yesterday, with doctors revealing that the Juja businessman she is believed to have killed was felled by a single bullet.
From the details of the postmortem examination conducted yesterday, Peter Njeru Ndwiga died a sudden and violent death, wasted from left to right ears by the impact of lead pumped from close range.
The postmortem examination witnessed by DCI officers was conducted by Government Pathologist John Maithya at the General Kago Hospital mortuary in Juja. The report indicated that Ndwiga died as a result of excessive bleeding due to the impact of the killer bullet.
DCI detectives took samples to the Government Chemist for further analysis in the ongoing probe to unravel the kind of weapon used in the Tuesday morning killing.
Ndwiga, a 32-year-old security consultant, was shot inside a hotel room he shared with Kangogo, who is still at large. Kangogo had earlier been implicated in another shooting in Nakuru on Monday, where a cop she had been with was found dead in his car and his firearm missing.
In the Juja incident, Kangogo was placed at the scene by close circuit cameras at the premises, and by bloodied electronic money transfer receipts found there.
The hotel's staff who recorded statements on Wednesday said they never heard any commotion or sound of a gun during the period the two were in the room. Kangogo was said to have later emerged from the room at around midnight, leaving the dead man on the bed.
Yesterday, detectives from the Elite DCI Special Service Unit (SSU) were roped into the search for the policewoman after the initial plan between the DCI and a city lawyer to present her to police flopped.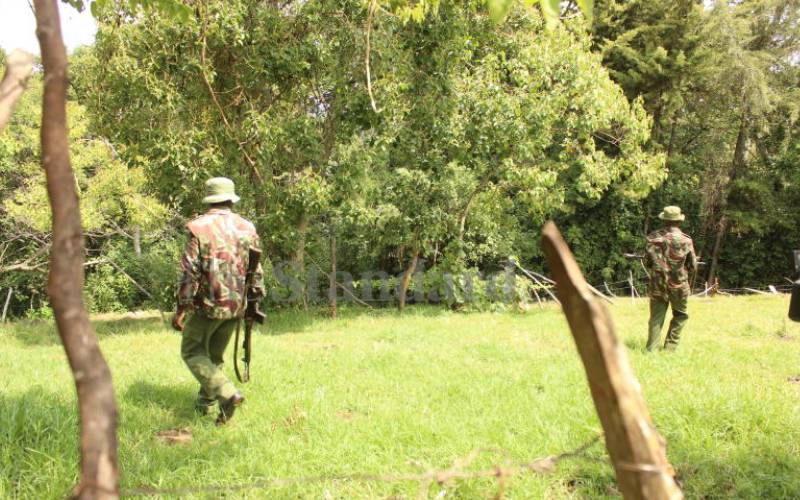 The search for Kangogo had been scaled down on Wednesday to allow the lawyer to surrender her. Her family has also pleaded with her to turn herself in at the nearest police station.
Officers from the Criminal Intelligence and Research Bureau (Crib) have also been brought on board. They will work alongside the SSU officers in providing intelligence and mobile phone data to help with the arrest.
Yesterday, SSU Director Pius Gitari said: "We urge her to present herself to the nearest police station."
The Standard has established that a special team comprising officers from Crib and SSU has been sent from DCI headquarters to Kagongo's rural home in Elgeyo Marakwet, and Kisii where she is believed to be hiding.
The investigators' work has been delayed by the fact that the officer has dumped her known cellphone.
Credit: Source link