The hearse carrying Chris Kirubi's remains arrived right on time, at exactly 11.00 am, as had been indicated in the program. A final act of respect to a man who many describe as a timekeeper who would arrive for meetings way before schedule.
Top of the range cars followed slowly in the long stretch of road in the vast compound that makes up the business mogul's home. Along the path were posters with adjectives that attempted to describe who he was before cancer took hold and claimed his life on Monday.
The tributes were many. Friends and family struggled to find the right words to summarise the time and life of the businessman who died a few weeks before his 8oth birthday.
He was an outlier. Larger than life. A fighter who attempted to battle cancer with all his might and money. His oncologist said the entire team at Massachusetts General hospital where he was treated was surprised that he lived more than four years after his diagnosis.
"Only one per cent of the population live that long with the condition. Kirubi was clear that he did not want to know the prognosis or statistics. He just wanted to fight it," she said.
The Chris Kirubi foundation has now been created to continue with the projects he was passionate about. His daughter Maryanne Musangi said the foundation with a focus on education and mentorship for youth, health in diabetes and cancer section, innovation and technology and Agriculture. The health project will be done in partnership with Massachusetts to train medics.
"The foundation will honor the work and values my father was passionate about," said Maryanne. She added that she already sold the idea to president Uhuru Kenyatta who sounded enthusiastic about bringing it to fruition.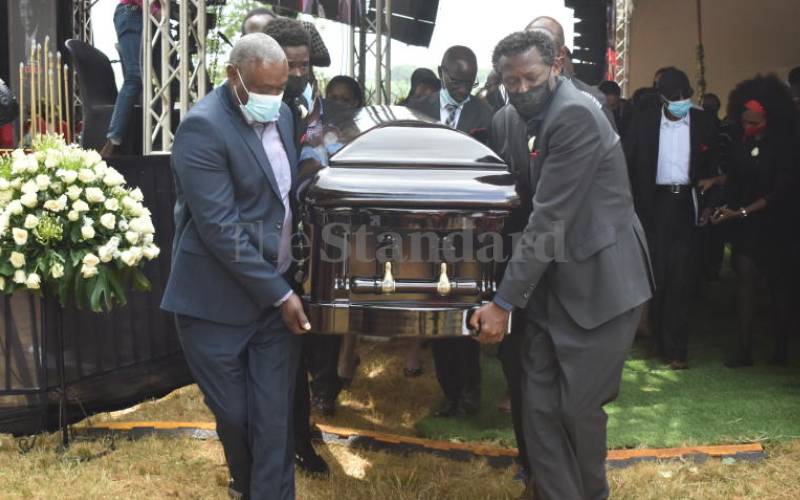 The funeral was attended mostly by young people. Several tents that had been set up along the famous "Lake Kirubi" that he fondly talked about on social media were filled with youth who embodied the flamboyance that Kirubi believed in. They came dressed in their skinny jeans and brightly coloured jewellery. The service was run by Bishop Teresia Wanjiru and Pastor Allan Kiuna. Both of them said they enjoyed a personal relationship with Kirubi.
All around, signs of Kirubi's unfinished businesses lay. Freshly cultivated land where he had wanted to plant more trees. Germinating seedlings in greenhouses that he had planted just before death. Installed drip lines that were yet to start working. A seven-month-old grandchild that he was yet to meet but was looking forward to hold. They all told of a man whose dreams remained active that even disease could not slow him down.
"He brutally fought. The end was extremely difficult. He kept on going," said Maryanne while narrating the life of her 'indescribable' father who sent her to Europe when she was just 12 years old to prepare her for the life ahead.
"He was a master salesman. He sold the idea of sending me to Europe so smoothly, showing me horses and ice skating. He has a vision for me to be fearless and bold," she said.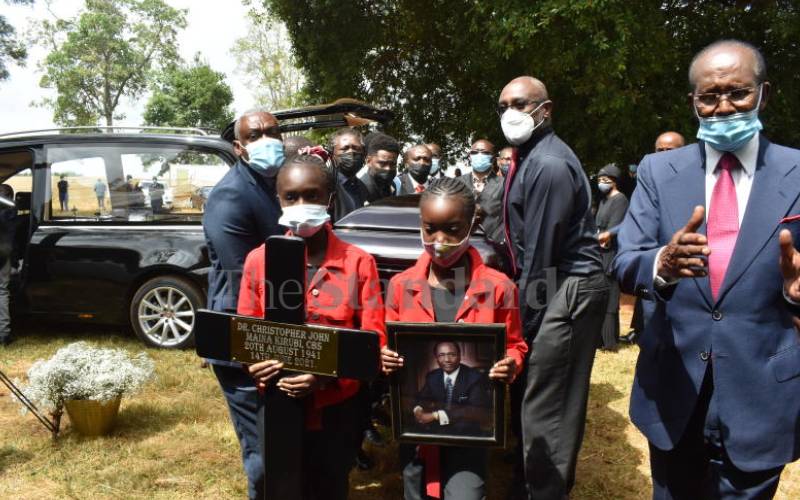 In a speech that was read by transport minister Macharia, Uhuru Kenyatta eulogized Kirubi as a man who was accessible to many and that he was a celebrated mentor and role model.
"He interacted with ease especially the youth on his radio shows, public appearance and inspirational social media posts," said Uhuru.
The president's statements were echoed this week when many Kenyans paid tribute to the entrepreneur who loved to mingle and dance.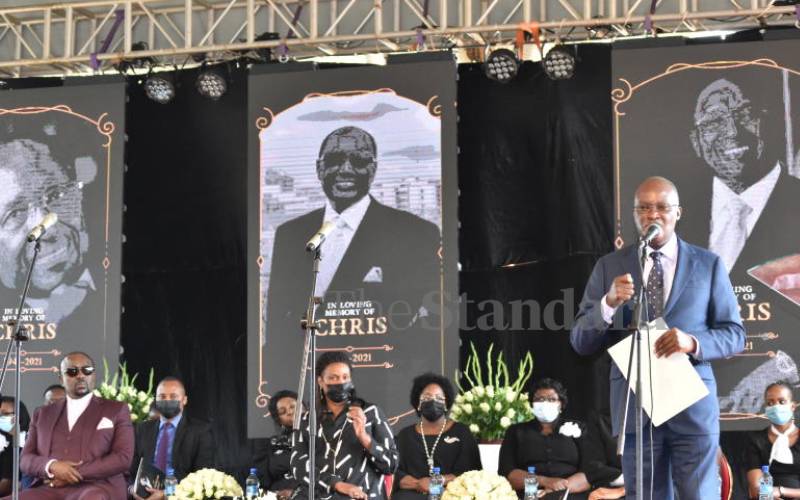 With his lifestyle, he attempted to shake the sacred mystique that is often accorded to billionaires. He gave out his number to many people; and insisted that he be called Chris. Or chairman. Or master general. When he showed up for 'gigs' in clubs donning his bomber jacket and a shy smile, he preferred to be called DJ CK.
He lit up social media with playful tweets and insights under the #AskKirubi hashtag that had a massive following.
He dazzled lasses. Some for his charm and others for his money. He loved his whiskey neat. So much such that in one meeting with entrepreneurs, he mentioned that whiskey did things to him – things that cannot be written in cold print.
He knew how to play his cards right, and he was never outwitted. His business associates said striking a good deal was like an inborn talent for him.
He had two distinct sides. In some instances, he was the joker who lit up crowds with mischief, humour and some good teasing. His viral Jerusalema dance with former prime minister Raila Odinga said it all.
Then there were times he would appear to meetings in sharp suits, nursing his bottle of water with a serious look as he pored over books and documents to see if the figures were adding up.
ICT CS Joe Mucheru recalled his times working with Kirubi and said he was a networker who invited potential associates for dinner and explored opportunities for partnership.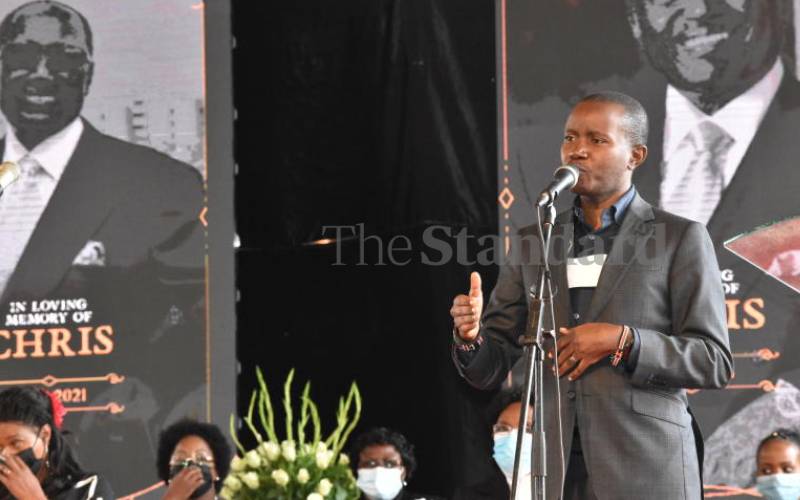 He was drawn to politicians, but never vied for a political seat even though he had the finances to wiggle through the system.
Yesterday, Kalonzo Musyoka, Raila Odinga, Mudavadi, Wetangula and other leaders who had served in government highlighted the deep influence he had in the governance of the country, even though many viewed him as an outsider.
The speeches hinted at his struggles and wins as a family man. His last born daughter Fiona Kirubi said her father struggled to express himself but would always slide in words of encouragement. Maryanne said she felt a tinge of resentment that her father had sent her to a foreign land when she was so young.
A lover of good wine. Owner of a sly smile. A charmer and intellect who the president carried with him whenever there was an international deal to be sealed.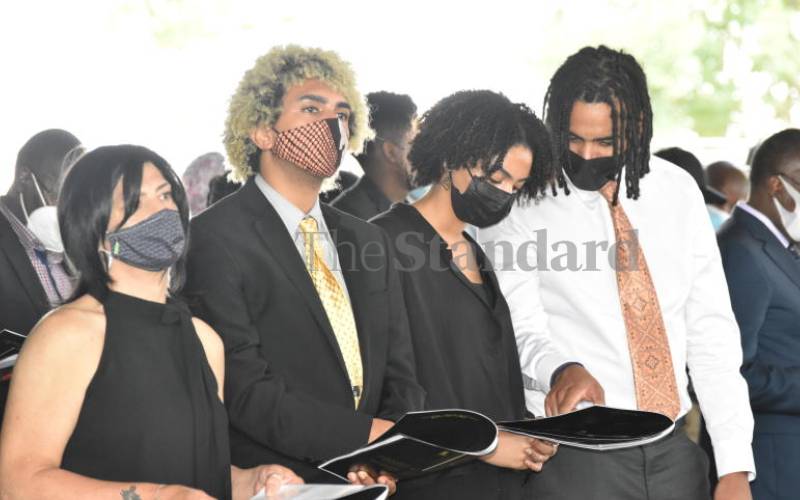 Kirubi often said he couldn't understand how broke people had time for holiday. Nor did he understand why women would ruin their beauty by stitching weaves on their heads or wear hideous wigs. He made it clear that no matter how big the artificial hair market grows, as a matter of principle, he would absolutely not venture into it.
He preached self-reliance, and his solution for people struggling financially was perhaps too simplistic: "Desire the great things in life and start working for them. Remember to wear a suit," he often said.
Whether by design or coincidence, Kirubi's body was lowered in the grave slightly before 3.00 pm. As the sun slid down and the sunset was reflected in the artificial lake he had created and named after himself. Serene and peaceful, surrounded by trees, water and nature in a coffee estate formerly owned the colonial masters who once employed him and his father. A final and befitting resting place of a man who lived life on his own terms without an ounce of apology.
Credit: Source link