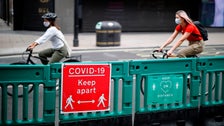 More than 6.4 million cases of the virus have been confirmed worldwide, and more than 381,000 people have died from it, according to data compiled by Johns Hopkins University. Efforts to curb the outbreak have led to the global disruption of daily life and the economy, as schools and workplaces shutter in hopes of slowing transmission.
Experts Worry Protests Against Police Could Lead To More Cases Of Coronavirus — 6/3/20 11:00 a.m. ET
Health experts are cautioning that protests against police brutality sweeping the United States could lead to more cases of coronavirus.
"I don't think there's a question of whether there will be spikes in cases in 10 to 14 days," Mark Shrime, a public health researcher at Harvard University, told The Atlantic.
At least 75 cities have seen protests demanding justice for George Floyd, a Black man who was killed by Minneapolis police. One officer is in custody and has been charged with third-degree murder.
"All things considered, there's little doubt that these protests will translate into increased risk of transmission for COVID-19," Maimuna Majumder, a computational epidemiologist at Boston Children's Hospital and Harvard Medical School, also told The Atlantic.
Number Of U.S. Cases Approaching 2 Million — 6/3/20, 10:45 a.m. ET
More than 1.8 million people have now been infected with the coronavirus in the United States, according to data from Johns Hopkins University. The nation's death toll also continues to tick upward, now at more than 105,000 deaths. 
The U.S. has the highest number of cases worldwide, in part because of states reopening prematurely and a White House administration that has continued to downplay the threat.
Hurricane Season Brings New Challenges, Guidelines Due To Pandemic — 6/1/20, 11:16 a.m. ET
People are being asked to prepare for the 2020 Atlantic hurricane season, which started Monday, in new ways because of the coronavirus outbreak.
In addition to stocking up on essential supplies ― now including face masks, hand sanitizer and soap ― authorities ask that people make a plan and register for weather and safety alerts.
Learn more here about what to expect over these next six months, including where people should go if forced to evacuate while sick.
Fauci Says Meetings With Trump On Coronavirus Have 'Dramatically Decreased' — 6/1/20, 11:05 a.m. ET
Dr. Anthony Fauci, a leading infectious disease expert on the White House's coronavirus task force, said the frequency of his meetings with President Donald Trump has "dramatically decreased."
"We used to have task force meetings every single day, including Saturday and Sunday, and about 75% of the time after the task force meeting we'd meet with the president," Fauci told health-oriented news website Stat in an interview that published Monday. "So I was meeting with him four times a week back a month or so ago."
"But as you probably noticed, that the task force meetings have not occurred as often lately," he added. "And certainly my meetings with the president have been dramatically decreased."
Vice President Mike Pence, whom Trump appointed to lead the coronavirus task force, said last month that the White House may wind down the group in early June.
"We've already begun to talk about a transition plan with [the Federal Emergency Management Agency]," Pence told reporters on May 5. "But it's — it really is all a reflection of the tremendous progress we've made as a country."
The U.S. has by far the highest number of documented COVID-19 cases and deaths around the world. As of Monday, more than 1.7 million people in the U.S. have been diagnosed with the disease caused by the coronavirus and at least 104,000 have died from it, according to data compiled by Johns Hopkins University.
― Hayley Miller 
Read more updates on the pandemic here.
A HuffPost Guide To Coronavirus
Calling all HuffPost superfans!
Sign up for membership to become a founding member and help shape HuffPost's next chapter

Credit: Source link