Health & Science
Health CAS Rashid Aman reported 143 new cases and one death, after testing 2,959 samples in the last 24 hours.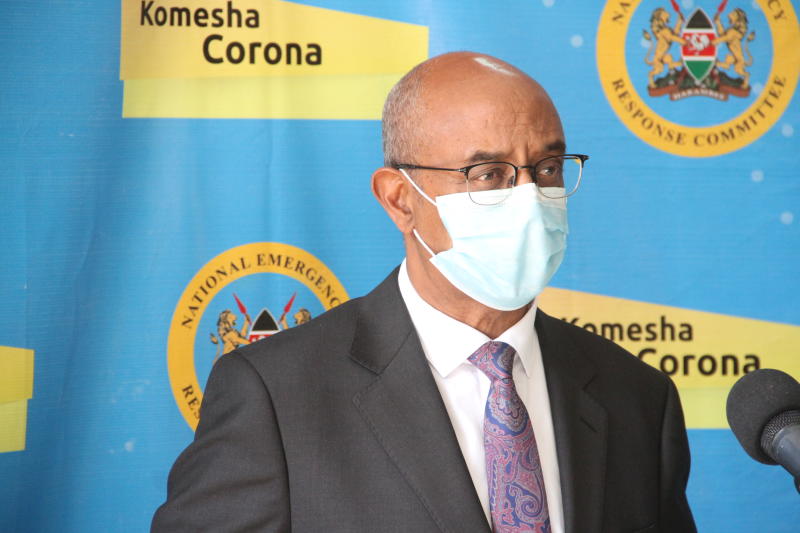 There are now 1,888 cases of the coronavirus in Kenya, according to the Health Ministry's tally, with a total of 63 deaths.
On Saturday, Health CAS Rashid Aman (pictured) reported 143 new cases and one death, after testing 2,959 samples in the last 24 hours.
So far, the country has tested 76,962 samples since the outbreak of coronavirus.
SEE ALSO: Covid-19: 143 new cases as leaders are put on the spot
The total includes cases from 10 counties, with Kericho becoming the newest county to report its first case.
Nairobi, the epicenter of the outbreak reported 66 new cases while Mombasa county recorded 25 new cases.
Uasin Ngishu and Kiambu counties had 11 and six cases respectively while Migori recorded three new cases.
Other counties include; Busia (3), Kwale (3), Migori (3), Kajiado (1), Kisii (1), Garissa (1), Isiolo (1) and Makueni (1).
Of the new cases 110 are male and 33 are female, all aged between one month and 88 years.
SEE ALSO: The disinfecting booths, are we using them right?
Dr Aman also announced that 26 people had been discharged from various hospitals after testing negative bringing the total number of discharges to 464.
While urging Kenyans to adhere to masking and social distancing guidelines, Dr. Aman shifted his focus to the leaders who he claimed had disregarded the measures despite the warnings from the Mutahi Kagwe-led Ministry.
"I appeal to all of us as leaders that we must lead by example," he said, adding that it was disheartening to observe from time to time the manner in which some leaders ignored the containment measures.
He also urged Kenyans to be resilient in this time of the pandemic that has led to job losses resulting to increase in cases of stress, domestic violence among other issues within communities.
"The situation on the ground suggests that a lot more needs to be done by each and every one of us to flatten the infection curve. There is no magic bullet to beat the virus, the solution is to contain it and starve it of what nourishes it," he said.
SEE ALSO: Bishop Margaret Wanjiru's son speaks on his mother's illness

Credit: Source link