Health & Science
The death toll, standing at 69, is relatively low, compared to other countries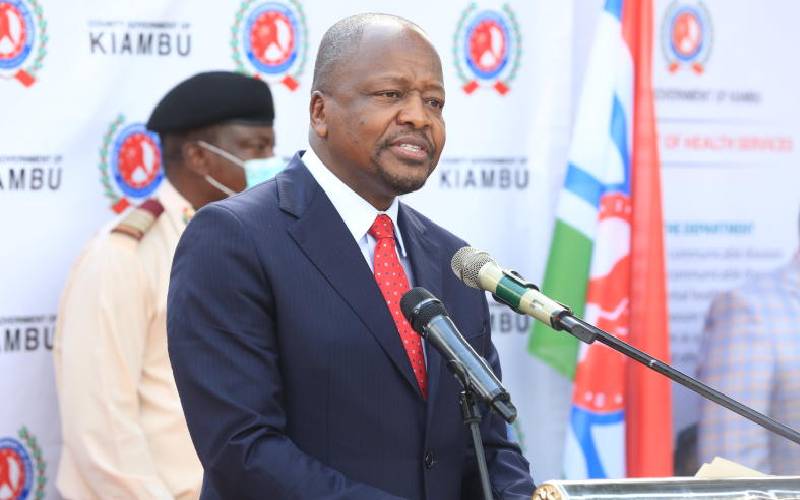 Kenya's  coronavirus tally has passed the 2,000 mark, Health Cabinet Secretary Mutahi Kagwe announced on June 1.
In a statement to newsrooms on Monday evening, Kagwe (pictured) said 59 more people tested positive for the disease, pushing the tally to 2,021.
The highest cases were reported in Nairobi (29), followed by Mombasa (14), Turkana (six), Busia (four), Taita Taveta (two), Kajiado (two), Kiambu (one) and Kilifi (one).
On a positive note, eight patients were discharged, pushing the national recoveries number to 482.
However, five more died, bringing the total fatalities to 69.
As the country continues to grapple with the effects of the pandemic, it is worth noting that community health workers may play a bigger role in containing the virus.
Experts have warned that Kenya, which since March 13, is only passing the 2,000 mark, is yet to reach its peak.
According to Ag Health Director General Dr Patrick Amoth, Kenya's numbers may peak in August-September. 
The death toll, standing at 69, is also relatively low, compared to other countries, especially in the developed world.
The community health workers may bridge the gap between the citizens and the healthcare system since they are both known in the communities and may offer cheaper labour.
This is further informed by the fact that the Health ministry has admitted that the informal housing estates such as Mathare, Kawangware, Eastleigh and Kibera need close attention as the virus spreads.
It is for this reason that Eastleigh was among the areas placed under lockdown, in the larger Nairobi Metropolitan Services area wherein cessation of movement was also ordered.
Part of the containment measures by the government to keep the virus at bay include washing hands, social and physical distance and proper hygiene.
Closeness of the homes and irregular or complete lack of water in slums has made it difficult for residents to observe the containment directives put in place which led to rising cases in the slums
This is even as the government continually calls for cooperation from the citizens to play their role in flattening the infection curve.
But if someone has to pick between having to drink the water or wash their hands, the choice is pretty obvious.
As Kenya's tally passes the 2,000 mark and only five days to the awaited address by President Uhuru Kenyatta on reopening of the economy, it is unclear whether the curfew and partial lockdown will be lifted.
Was Kenya too quick to impose restrictions and was the action premature?
Many have called for the restrictions to be eased as other countries with more cases than Kenya have done.
Others have proposed herd immunity, seeing as the numbers keep increasing.

Credit: Source link