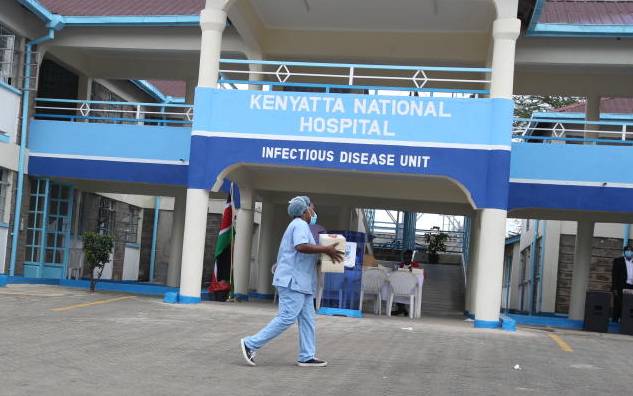 Health & Science
The directive is to decongest the Covid-19 treatment facilities that are currently running out of space, Health CS Mutahi Kagwe has said.
The government has said that asymptomatic or stable coronavirus patients will henceforth be subjected to home-based care under the supervision of the health officials.  
The directive is to decongest the Covid-19 treatment facilities that are currently running out of space, Health Cabinet Secretary Mutahi Kagwe has said.
While addressing the press on Covid-19 situation in the country on Thursday evening, Kagwe revealed the plan to set up home-based care areas to help the country cope up with the high number of patients being churned out every day.
"As Kenya sees a surge in the number of persons with Covid-19, it is no longer possible to isolate all patients in hospital-based treatment facilities. Hospital care should be prioritised for those with highest t probability of poor outcomes," reads a statement from the Health Ministry.
SEE ALSO: CS Kagwe: We are not out of the woods yet
The plan will target patients displaying mild symptoms, of which CS Kagwe said are the majority comprising 80 per cent of the cases. This implies that the treatment centres will only admit patients above 60 years or aged below 60 years with life-threatening conditions like cancer, HIV/AIDS, chronic respiratory diseases, diabetes or expectant mothers.
On the other hand, patients with mild symptoms and no life-threatening conditions and with enough isolation spaces at home will be subjected to home-based care.
At the moment, main Covid-19 treatment centres like Mbagathi Hospital, Kenyatta National Hospital and Kenyatta University Hospital are full and running out of spaces.
In its approach to implementing home-based care, the government announced factors to be considered by the health officials in recommending such care to the patients.
These it said will encompass the clinical judgment to settle on the conducive environment for the patients so that close relatives are safer. For instance, in informal settlements, the community will be charged with identifying an institution to transfer the patients. Same applies in rural areas where the community via "Nyumba Kumi" will be responsible for identifying persons to discharge the care.
SEE ALSO: NBA aims at October as end date of corona-hit season
As for the urban apartments, committee members managing the area will work closely with the family members to safely isolate and care for the patients.
Nonetheless, before setting up home-based care, the government has highlighted certain factors necessary for consideration. They include:
The patient must be stable and only displaying mild conditions
Appropriate caregivers must be available at home.
There is a separate bedroom or room where a patient can recover to avoid close contacts with immediate family members.
Resources for access to food and other necessities are available.
Patient and other family members have access to personal protective equipment and are well-drilled on how to interact safely to avoid infections.
Availability of thermometer and someone who can read it accurately after taking the patient's body temperature daily.
There are no household members with other underlying medical conditions that may predispose them to severe Covid-19 infections endangering their lives.
Kenya recorded 124 new cases of the coronavirus from 2,640 samples tested in the last 24 hours. The country has now recorded 2,340 coronavirus cases. Four patients succumbed to the disease, raising the number of deaths to 78. Meanwhile, CS Kagwe announced that 592 people have so far been released after recovering from the disease.
Credit: Source link