It is Father's Day again and many have a lot they would want to say to these pillars in their lives, even if they are no longer with us. Vivianne Wandera talked to a few whose dads have departed but live on in their hearts
Father's Day is a holiday to celebrate dads all over the world. The day is meant to appreciate all that they do for their families. Though departed, these fathers live in their children's hearts and minds where they have found safe refuge and today, they remember their dads with messages of love and appreciation
I pray that I make you proud
Dear Dad,
It is Father's Day today. It has been 10 years since you left. I still get a lump in my throat and hold back tears every time I think of you dad. I miss you so much. 2020 has been rough dad. This new disease called Coronavirus has upset our lifestyle and very existence. But you taught me to be strong and trust in God, so I will do that. My younger brother and I are okay, I visited him earlier this last week. Boy has lost a lot of weight. He made some awesome viazi karai and ukwaju for me. 'I am proud of you son' are the last words you said to me. As I commemorate this day, I pray that I make you proud. Say hi to mummy up there. We miss her too.
Happy Father's Day to you dad.
Your loving son,
Prince.
Your grandson is doing great
Dear Dad,
I'm writing this letter to let you know that your grandson is doing great. He has your charming smile and I named him after Sokoro. We are fairly ok, just like any other family we have our ups and downs. He has not started school yet but I look forward to taking him to school. Kwanza day one. I remember well you did that to me. My wife is not as polite as mum but then I'm not as cool as you, so your guess is as good as mine…hapa tuko mbio. Baby number two? With time dad, atakuja tu. Things have changed. We now have to plan well kabla tujipate na depression trying to compete with the joblessness. You taught me never to compare my life with others and I must say, si ni kazi ngumu? Weh! Take a day at a time is what you would say. This is your day, and I have to say this, thanks for being a father to me.
With love,
Nyamosh
Thank you for being an inspiring presence in my life
Dear Mr. Wanjohi,
Not a day goes by that you don't cross my mind, words will never be enough to express how much I miss you. It's your third Father's Day in heaven, the joy that was once Father's Day is now a memory of the selfless man you were. There have been so many times when I just wish I could talk to you, spend more time with you, laugh at our inside jokes but heaven could not wait. Thank you for being a perfect blend of tough and sensitive; for believing in me; for being an inspiring presence in my life; for being there through it all and above all for being my friend. Your life was a blessing and you will forever be remembered.
I love you.
Happy Father's Day Dad.
Nancy.
I say not in grief that you are no more, but thankful that you were
Dear Dad,
I write this with a smile on my face but my eyes are teary. I'm happy for the things you taught me and moments we shared. I smile because the foundation you left me has held me together more than any class I've sat in. I say not in grief that you are no more, but in thankfulness that you were! But I have tears in my eyes because death changes everything and time changes nothing! The wisdom in your voice, the comfort in your presence and the hope in your plans will always be missed in a thousand years to come. As we commemorate Father's Day today, may each tear and each fond memory be a note of love rising to meet you.
Love Always,
Andrew Alovi.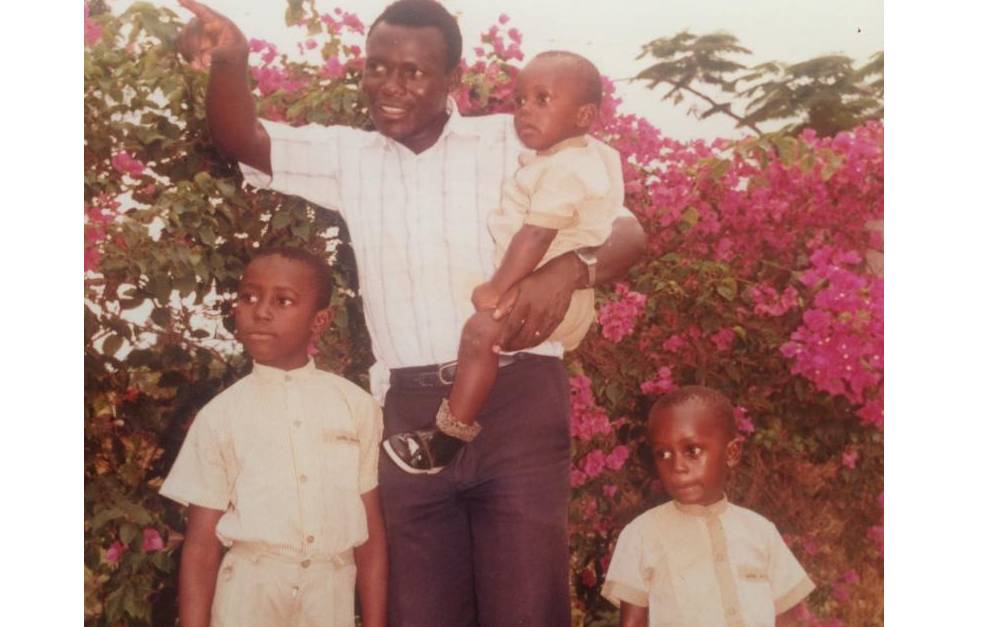 I am the woman I am because of you
Hello Dad,
A thought of you today is nothing new because I think of you every day. I think of you in silence. All I have are the memories we shared and a picture of you in frame. On this special day that people get to celebrate their Dads I celebrate you my Hero. In my heart there is a place that only you can hold filled with memories lovely and more priceless. You held my hand when I was small, you caught me when I fell down. You gave me a shoulder to lean on and I am the woman I am because of you. I hope I have lived up to who you always wanted me to. Knowing that you are always by my side watching over me gives me joy. If I could have one final chance just to see you and hug you I would take it in a blink of an eye. Till then continue resting well.
Happy Father's Day
With love Yvonne Achelo
Thank you for the storms you calmed for us
Hey Dad,
The past few months have seemed like eternity because of the void you left behind. Many sleepless nights asking questions without answers . No one can fill the void you left but on this day, I want to just say thank you; for making the dark days seem brighter, for the storms you calmed for us. You were a man of few words but when you spoke, it was just wisdom flowing like a river. You are missed papa but your legacy will live on .
Regards,
Cynthia Ayuma
Credit: Source link