With one toxic man in her rearview mirror, Demi Lovato is now shifting her focus to President Donald Trump.
The singer dropped a politically charged diss track "Commander In Chief" on Tuesday night, unleashing her anger over the president's mishandling of COVID-19 pandemic, among other crises ahead of the election.
"You can't get enough of shutting down systems for personal gain / Fighting fires with liars and praying for rain," Lovato sings in an early verse of the song, which she co-wrote with Finneas, Julia Michaels and Justin Tranter. "Do you get off on pain? We're not pawns in your game."
She directly addresses the president in the track's razor-sharp chorus:
"We're in a state of crisis, people are dying / While you line your pockets deep / Commander in Chief, how does it feel to still be able to breathe?" she sings.
The pop star also spotlights the cries for racial justice in the song, hailing the generation that "won't give up" and will "stand our ground" in the fight for equality.
"We'll be in the streets while you're bunkering down," Lovato continues. "Loud and proud, best believe / We'll still take a knee."
Lovato, a Disney Channel alum who has been outspoken about her political beliefs, said the song was born out of a desire ― however unrealistic ― to reach Trump.
"There's been so many times that I've wanted to write the president a letter or sit down with him and ask him these questions," she told CNN. "And then I thought, I don't really actually want to do that and I thought one way that I could do that is writing a song and releasing it for the whole world to hear, and then he has to answer those questions to everyone and not just me."
While Lovato hopes the song's message will appeal to both Republicans and Democrats, she's already fielded some flack on social media.
In a comment Lovato reposted on her Instagram stories, one fan complained "they can't listen to you anymore" because the song is "going too far."
Lovato responded to the disappointed follower: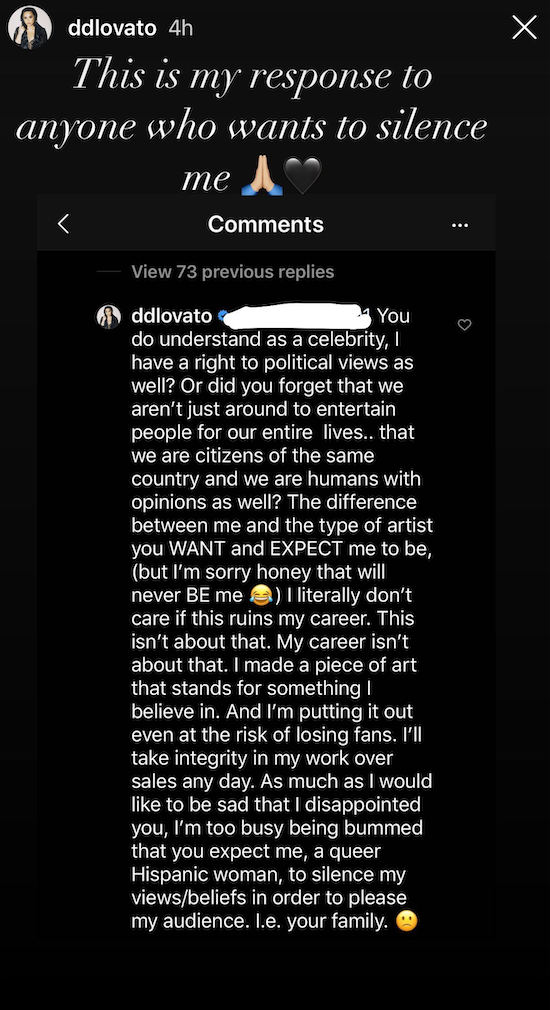 "You do understand as a celebrity I have a right to political views as well?" she wrote. "Or did you forget that we aren't just around to entertain people for our entire lives … that we are citizens of the same country and we are humans with opinions as well?"
"I literally don't care if this ruins my career," she continued. "This isn't about that. My career isn't about that. I made a piece of art that stands for something I believe in. And I'm putting it out even at the risk of losing fans."
Lovato is set to release an accompanying music video on Wednesday. She's shared clips of what fans can expect, showing people of all races, genders and political affiliations ― even a man wearing a MAGA hat ― singing along to the song's lyrics.
Last month, Lovato released the breakup anthem "Still Have Me," which fans believed to be her official response to her split with Max Ehrich after a two-month engagement.
She's set to perform "Commander In Chief" for the first time live at the 2020 Billboard Music Awards, which will air Wednesday on NBC.
Calling all HuffPost superfans!
Sign up for membership to become a founding member and help shape HuffPost's next chapter

Credit: Source link