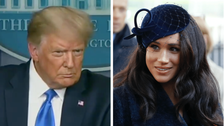 President Donald Trump disparaged Meghan Markle during a news conference on Wednesday, just one day after the Duchess of Sussex encouraged Americans to vote in the presidential election in November.
"I'm not a fan of hers," Trump says of the duchess. 
"I wish a lot of luck to Harry – because he's going to need it," the president added. 
"We're six weeks out from the election and today is Voter Registration Day," Meghan said. "Every four years, we are told the same thing ― 'This is the most important election of our lifetime.' But this one is. When we vote, our values are put into action and our voices are heard."
The reporter who asked Trump about the royals on Wednesday interpreted Meghan's remarks as "encouraging people to vote for Biden." However, the duchess did not name a political party or candidate in the video and her spokespeople told the BBC that her comments were a 'call for decency.'"

Credit: Source link