Gatundu South Member of Parliament Moses Kuria in a satirical way explained how he and other leaders nearly cost the Jubilee party a crucial and much-needed win in the run-up to the 2013 polls. 
Speaking in Meru on Sunday, March 8, the outspoken Mount Kenya leader explained how his drinking habit nearly cost the party the 2013 win.
He added that President Uhuru Kenyatta would never have been a President if he was not in an alliance with the Deputy President William Ruto.
"If it was not for William Ruto, Uhuru Kenyatta would have lost," he noted.
Image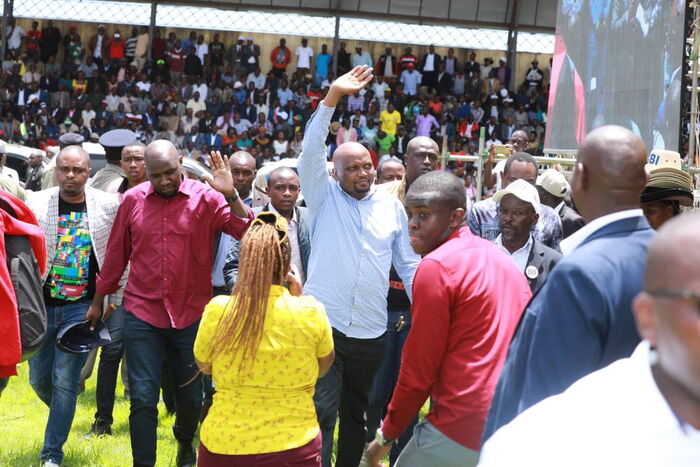 TWITTER
Kuria stated that Ruto led the Jubilee party into winning the 2013 and 2017 elections. He claimed that he and other drunk leaders would not have delivered the much-needed victory to the Jubilee party because of the constant lateness and hangovers.
He narrated how he woke up late during the campaigns and faults this as a reason why he didn't manage to bring much on the table during the polls.
"Sisi wenye tulikua tunaamka saa nane, hakuna kitu tungepata jameni,hiyo kiti mmgeiona kwa Viusasa," (We were waking up at 2:00 pm, we couldn't have delivered a win, most likely you would have seen it on viusasa), he said amidst laughter and applauses.
He joked about a host of other buddies who were like him but was quick to note that they were all reformed now and are forging ahead due to their interaction with the Deputy President a Mursik drinker.
"I know myself, we would have lost. Ruto takes Mursik that's why we won, he was sober," he reiterated.
"Raheem, Former MP Igembe North, Joseph M'eruaki, Gathuri and the rest, there is no middle ground. Kiraitu has nothing to lose, he can go home. We are now sober, he added.
"All BBI is fake, it was designed to stop Ruto from ascending to power," he concluded.
He urged Meru residents to shun away from the BBI initiative as it was not meant to unite the country or help this nation at all.
Credit: Source link