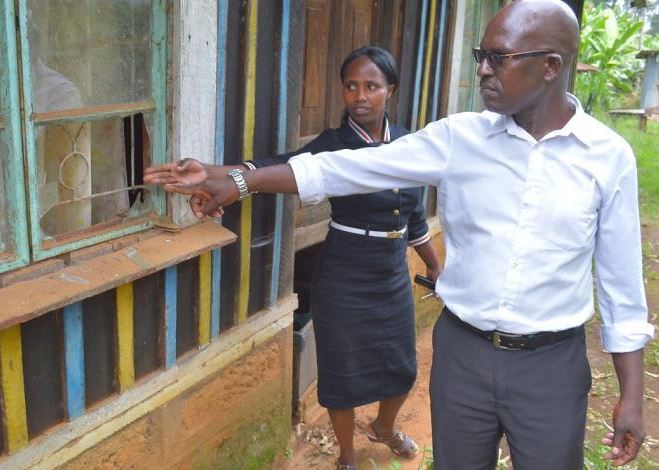 An elderly father has blocked his son and daughter-in-law from returning to the ancestral home until they apologise and cleanse themselves.
Mzee M'Rimbere M'Iburi, 110, declared that his son Peter Kirimi and his wife Doris Gatwiri will not be allowed back to the rural home until they apologise and slaughter a goat as a sign reconciliation for disrespect.
Apparently, Kirimi and Gatwiri were banished from the community by the Abongiri clan in March 2018 after the parents claimed they had insulted, beat and abused them.
M'Iburi and his wife Evangeline own a 0.87-acre farm at Ukuu location in South Imenti, Meru County where they had allocated Kirimi with his wife.
"I gifted them (children) land, but they disrespected us. If a child insults or abuses the parents they can still be forgiven if they slaughter a goat. We can then bless them," the old man said.
Following the disagreement, the clan members evicted Kirimi and wife, destroyed their home and banished them from the coffee growing village.
Disconnected electricity
They relocated to the staff quarters of a heath centre in South Imenti, where Kirimi is a nursing officer.
Mzee M'Iburi and his 67-year-old son Isaac Kaburu said although Kirimi had sought assistance at Kariene Police Station, he will not be allowed back until they do as demanded of them.
"They cannot come back until they apologise, and do what the clan and our father want," Kaburu said.
The elderly man, whose health is failing, said his son had disconnected electricity and water to his house. 
At the clan meeting that was attended by the couple recently, the chairman Gerald Rutere said it was not the first time the Kirimi and his wife had been accused of abusing their ailing parents.
"Doris is disrespectful to her parents-in-law and everyone else in the village. We cannot allow anyone to cause the old any more misery. We have decreed to excommunicate Doris and her husband from living among us," Rutere said at the meeting.
But Gatwiri and Kirimi defended themselves against accusations leveled against them.
A tearful Gatwiri claimed those who drove them out of their home also stole Sh200,000 which they had planned to use to construct a family house.
"They accused me of spraying insecticide on my mother and father-in-law, and threatening them. They did not even give me an opportunity to defend myself," Gatwiri said.
She claimed her brothers-in-law were jealous of their family progress as they were constructing a three-bedroom house.
"My brothers-in-law and some clan leaders held a meeting and they decreed that I be excommunicated from the village. Afterwards they came to our house singing war songs, to drive me out," Gatwiri said.
Ukuu area chief Dorothy Kinyua said the community had no problem with the couple.
"I was there when the elderly parents and the old man (Iburi) threatened to commit suicide should Kirimi and Doris come back. He says he does not wish to see dirty water sprayed on them and that since he cannot climb a tree then jump top his death, he will drown himself should they go back," Kinyua said.
The chief said they had discussed the issue at length at Kariene Police Station but they failed to reach consensus.
Credit: Source link