The endorsement of Senator Gideon Moi as Kanu presidential candidate marked the rebirth of the Independence party.
Kanu's reign ended in 2002 when former President Mwai Kibaki, of National Rainbow Coalition (Narc), won the elections and has never fielded a presidential candidate in the successive polls.
Yesterday's decision by the National Delegates Conference (NDC) to endorse Gideon for the top seat marks the end of the party's more than 15 years of political hiatus in the presidential race.
The party leadership has been engaging with regional delegates in a process that climaxed in yesterday's grand event which brought together more than 3,000 delegates at the Bomas of Kenya, Nairobi.
"And today, I want to declare that our half-time (break) is over and we are back in the game to do it differently," announced Gideon moments after he was unanimously nominated to run for the presidency.?
Top in his list, the Kanu chairman listed the fight against corruption, provision of affordable health care and a sustainable economy as part of his vision for the country.
The party further mandated the Baringo senator to engage other like-minded political leaders for possible coalition-making in the ongoing realignments ahead of the 2022 General Election.
Kanu Secretary-General Nick Salat led the delegates in making the resolution.
"Thus special delegates resolve as that Gideon Moi is hereby nominated as the presidential candidate for the 2022 General Election," read Salat.
The resolution added, "Gideon Moi is hereby mandated to engage other like-minded leaders with a view of winning the next poll."
In his acceptance speech, Moi described the next poll as a defining moment for the country as it would provide an opportunity for the voters to secure it from "destructive forces".
"Moving forward, we have to build a sustainable and working economy; provide a foundation for wealth creation and inclusion; provide quality and affordable health care; add value to our agricultural produce; ensure food security and water in all homesteads," he said.
The Kanu chairman said it was time that the country took drastic measures in the fight against corruption which he termed as a major challenge for growth and development.
He noted that corruption was a hindrance to accessing affordable health care, and had destroyed many lives.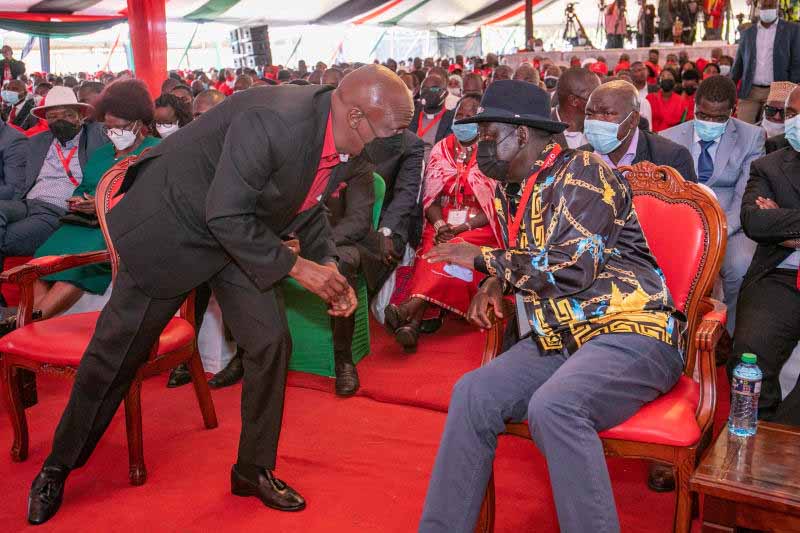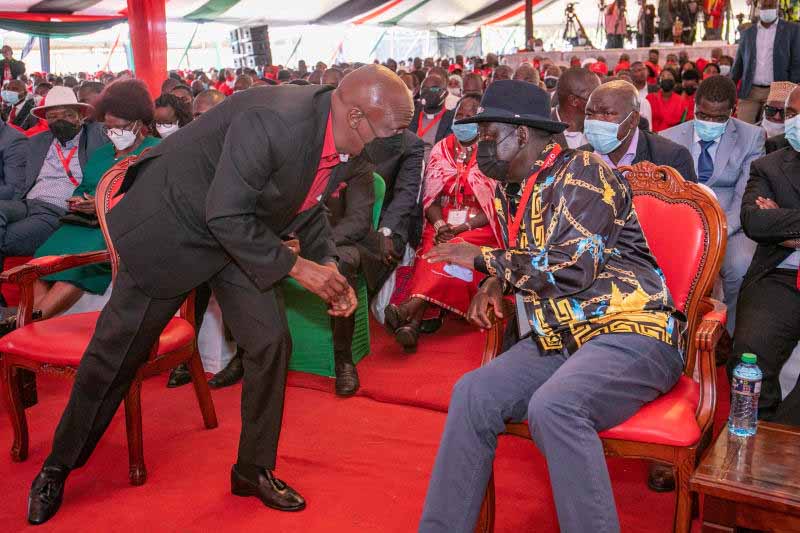 "We have all sung about corruption and how it must come to an end. We know there are laws dealing with corruption, but we also know that they are not yielding much," he said.
"For sure, corruption has deprived our citizens of their right to quality and affordable health care. Corruption has denied our women and girls justice and they continue to grapple with domestic violence, sexual assault and rape. Corruption is robbing us of opportunities to be great, killing our dreams and destroying our country," he said.
Gideon called for a ban on corrupt individuals, including those with pending cases, from contesting for political seats so as to serve as a deterrent to others.
He noted that many Kenyans had lost jobs and were struggling to provide for their families due to poor economy that has been battered by the Covid-19 pandemic.
Gideon noted that punitive taxes were crippling small businesses.
"The reality today is that our people have lost jobs, their livelihoods and even the ability to provide for themselves and their families," he said
Kanu last participated in the presidential race in 2002 when the late former President Moi settled on Uhuru Kenyatta to succeed him. Uhuru lost the elections to former President Mwai Kibaki.
In the subsequent 2007, 2013 and 2017 polls, Kanu supported Kibaki under Party of National Unity (PNU) and Uhuru under Jubilee Party.
"We went on a 20-year half-time break from presidential politics. And throughout that period, we have supported other parties and watched as the affairs of this nation is run by others," he said.
Gideon said the hiatus had afforded the party moments to reflect on what needs to be done differently to make the country great again.
Salat said it was time that other political parties rallied behind their presidential candidate since they had also backed others in the last three General Election.
He further rallied Kanu members to go to the grassroots and galvanise the support base ahead of the succession contest.
"We have been supporting people and it is time they also support us. I ask all members of our party that we go to the grassroots and popularise our candidate," he said.
Tiaty MP William Kamket described the event as a defining moment for the party that ruled Kenya for nearly 38 years as it steps up its bid to vie to be the next administration.
"I stand here today as a very proud MP, member of Kanu. What I am waiting for is for Senator Moi to be nominated and for him to accept that he will run for the president," he said earlier.
ODM leader Raila Odinga and One Kenya Alliance principals Kalonzo Musyoka (Wiper) and Musalia Mudavadi (Amani National Congress) joined the delegates and declared that they will work together with Gideon ahead of the next polls. Another OKA principal, Moses Wetang'ula, sent apologies.
Raila said that the senator has a right – just like any other Kenyan – to contest for the presidency, and that his family background should not be used to discriminate against him.
The ODM leader reiterated that the "dynasty" tag used in political circles to refer to the Mois, Odingas and the Kenyattas, was discriminatory.
"The strength of our democracy is the strength of our political parties. There must be tolerance among parties; political competition is healthy; it strengthens democracy and that is the best way to make our country grow and prosper," said Raila.
The ODM leader recounted the journey of Kanu from 1960 noting that it has had its good and bad times but had weathered all. He also narrated Kanu's merger with NDP.
"Jaramogi (Oginga) drove to Baringo to lobby the late former President Daniel Moi who was one of the top officials of Kadu that saw the party dissolved voluntarily in 1964 and joined Kanu," Raila said.
Credit: Source link