Capture of escaped Kamiti terrorists a tale of courage, wit and duty
The sun in Mwingi burns with elephantine fury. The blue of the November sky is spotless, interrupted only by the barren grey of cirroculumus clouds hanging dejectedly in the air.
In the small village of Kamuluyuni in Nuu, the sun seems to have a particular vengeance, scorching the land from as early as 8am, parching life and withering everything under it.
Newszetu yesterday traced the final movements of the terrorists, spending hours combing through an unforgiving forest, visiting their watering holes, talking to shaken villagers who are just beginning to grasp the enormity of their gallantry, and interviewing hero National Police Reservists who arrested, bare-hand, three of the most dangerous men to ever walk this land. This is their story, marked by admirable bravery and unbelievable derring-do.
It all started on Wednesday evening, when Mr Petero Komu Kilonzi, a police reservist based here, received a call that three suspicious men had been spotted moving towards the general direction of Kamuluyuni from Endau. Mr Kilonzi immediately scrambled his small team of guards and headed to the forest, hoping to hunt the trio down in the cover of darkness.
Born here 45 years ago, he has patrolled the neighbourhood every day since he was commissioned as a police reservist in 2017, and so knew every nook and cranny of the forest. That, he reasoned, would give him tremendous advantage over his targets.
"We combed through the forest the entire night but didn't locate them," he said yesterday. "At about 3am we decided to call off the search and head home."
But Mr Kilonzi could not sleep well, and early on Thursday morning ventured back into the forest, dividing his team of about 15 reservists into two groups for better efficiency. This time, however, they did not wear their government-issued fatigues, opting instead to don their civilian clothes so as to cover their identities.
At about 10:30am, Mr Kilonzi retreated back to Kamuluyuni trading centre and hopped onto his motorcycle. He then set off for his now motorised manhunt, zig-zagging through narrow village paths and interviewing whomever he came across. A woman said two men had come begging for food in her homestead, and that her young Class One son had told her that a third man was hiding behind the fence. She had wearily served them githeri, some of which one of them had poured into a hat and taken to the man hiding behind the bush.
Sleeping under a shrub
It didn't take Mr Kilonzi long before he espied a man sleeping under a shrub. He climbed from his motorcycle and approached the stranger, who now sat up and readied himself for the intrusion. What Mr Kilonzi did not know at the time was that he was approaching Musharaf Abdalla Akhulunga, who had been convicted for his involvement in a foiled attack on Parliament Buildings in Nairobi in 2012.
"I greeted him and asked him whether he needed help," said Mr Kilonzi. "He said he was a charcoal vendor who had been abandoned there by a broker and asked me if I could help him find his way to Ukasi. He also said he was too thirsty and would really appreciate it if I could find him some water." Ukasi is a small rural town on the road between Mwingi and Garissa. It is the last frontier of the expansive Kitui County as one heads northeastwards.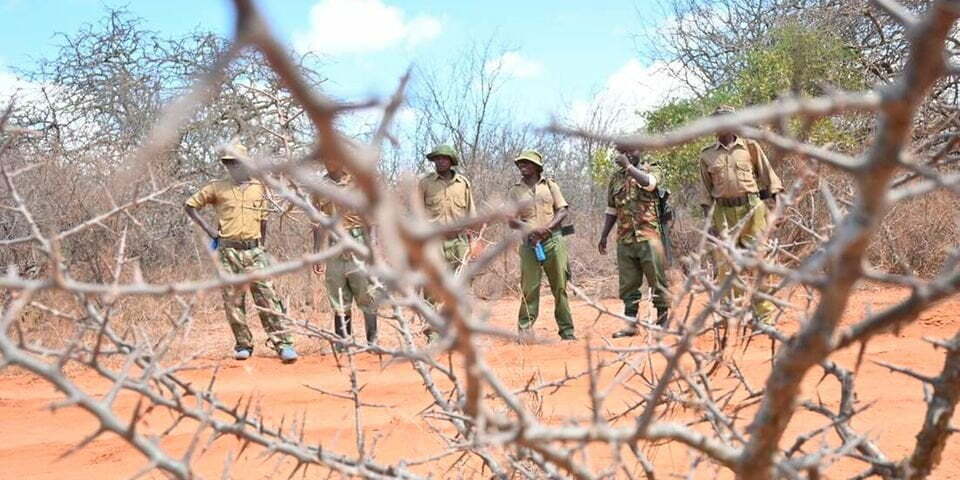 By this time, however, Mr Kilonzi knew he had hit the jackpot, but there was a problem: he was interrogating only one man yet three had escaped from Kamiti. Where were the rest? Had he walked into a trap? Was this man ensnaring?
"I felt trapped, but there was no turning back now," he said. One of the reservists had also followed him and he reasoned that the two of them could overpower the frail man sitting in front of them anyway. "So I reached for my pair of handcuffs and jumped at the stranger."
Pandemonium ensued. Musharaf launched himself at Mr Kilonzi, his massive frame shooting through the air and hitting Mr Kilonzo in the ribs. The two crashed to the ground, entwined in the fight of their lives. Mr Kilonzi got the better of Musharaf and pinned him to the ground. His fellow reservist helped him with the handcuffs.
"He could not believe it when we cuffed him," said Mr Kilonzi. "The anger and fury in his eyes quickly melted away and he started tearing up. We lifted him onto the motorcycle and took him to the shopping centre. There, as crowds started gathering around him, we asked him to tell us who he was and he confessed that he was one of the three who had escaped from Kamiti, then begged us not to hand him over to the police."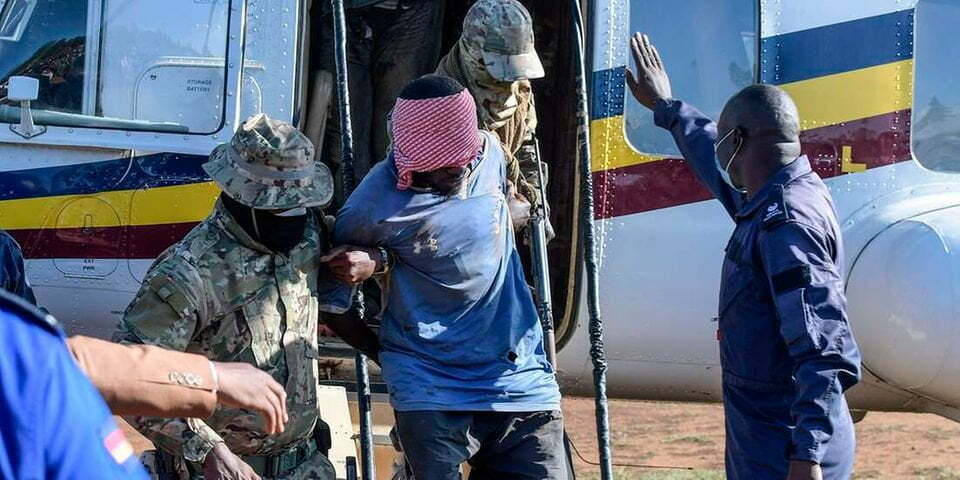 Musharaf, now resigned to his fate, asked for food and water. Mr Kilonzi gave him a plate of chapati and beans, and then, as Musharaf devoured the meal, he started spilling the beans.
"He said the other two, Joseph Juma Odhiambo and Mohamed Ali Abikar, were also in the neighbourhood and had scurried away as the reservists approached," said Mr Kilonzi, adding that Musharaf assured them the two would not go far as they were tired, thirsty and hungry.
The reservists, now energised by the arrest and confession, ran back to the forest and a few minutes past 11am emerged holding a shaken Abikar and Odhiambo. They sat them next to Musharaf and started interrogating them.
Abikar went into a frenzy. He started shaking and wailing, begging to be shot dead instead of being taken back to Kamiti. And, right there, in the small township of Kamuluyuni, bang in the middle of nowhere, Abikar, the terrorist who oversaw the butchering of 148 students at Garissa University in 2014, and who had been running away from his 41-year sentence at Kamiti for four days, started begging for mercy.
"He said he did not want to go back and would do anything to secure his freedom," said Mr Joseph Kilunda Muthoka, one of the reservists. "He told us he had a mobile phone that had got lost in the forest as we chased him, and that if we could help him find it he would organise to have a hefty bribe sent to us to free them."
The reservists said the terrorists did not state the amount of money they were going to give them, which they promised would be "a colossal amount".
"Who are you to arrest me after escaping better security agencies all the way from Kamiti, through Machakos and Kitui?" Abikar thundered at the reservists, who had now surrounded them and were making frantic calls to Mwingi and the nearby Nuu stations to have them taken away. "Take the money and release us!"
All the while, Odhiambo, jailed for trying to join Al-Shabaab in 2019, sat in intimidating silence, every now and then sneering at the reservists but never uttering a word.
At the scene of the arrests yesterday, the Saturday Nation found three used water bottles and the packaging of a painkiller. One of the bottles contained the remnants of a mixture of maize meal, sugar and water. The escapees had been surviving on luck, raw unga and sugar. All had run out, and now they were at the mercy of a bunch of reservists wearing gumboots, plastic sandals and grim faces.
In Nairobi, Dr Fred Matiang'i, the Interior Cabinet Secretary whose star has been shining bright in recent days, was fighting the battle of his colourful civil service career. The escape of the three terrorists had cast a dark shadow over him as the line minister, threatening to dent his credentials and cast him upon the political werewolves baying for his blood. President Uhuru Kenyatta had, in a press briefing earlier in the week, tasked him with the responsibility of hunting down the escapees and punishing those who had let them flee.
As word spread that the terrorists had been arrested, Dr Matiang'i assembled a multi-agency team of commandos and sent them to Kitui. He then made his way to Kamiti, from where he would have a front-row view of the proceedings as this testy chapter of his career came to a close.
Kamiti Maximum Security Prison is an intimidating, terrifying address. Set up by colonial administrators in 1955 to contain offenders during the state of emergency, it once stood majestically here, bordered to the front by coffee plantations and to the back by a vast swathe of shrubbery. Today, however, the semi-urban sprawl of Kahawa West has been quietly gnawing on the bounds of the prison, and from the air it is nigh impossible to draw the line between the prison and the settlement next to it.
Guarded by hordes of sentries 24 hours a day, the prison appears impenetrable and only the highly suicidal would dare to make the mad rush for freedom from inside. There are two walls here; the shorter one is on the inside while the taller one stands on the outside, indicating, in its muted menace, the thin line between freedom and detention. A prisoner attempting a break would therefore have to climb two walls to his freedom, all the while evading the blinding flashlights of sentries on watchtowers. And bullets, perhaps.
In a shocking admission, Abikar told the police reservists that they had not burrowed through the walls of their prison cells as earlier alleged. Instead, they were aided by corrupt warders to saunter through the main gate.
"He said they had bribed their way out, and that they had walked out without much struggle," said Mr Muthoka. "Then he asked us if he had managed to buy his freedom from Kamiti, what made us imagine he couldn't afford to pay his freedom from our grips."
Most dangerous criminals
The claim by Abikar that they had been escorted through the main gate at Kamiti is likely to thrust the management of the prison into even more scrutiny. While senior administrators have been arrested and could be arraigned on Monday, this new bit of information raises more fundamental questions regarding the integrity of those charged with guarding the most dangerous criminals in the country.
Even more tellingly, the CCTV cameras installed at the prison were somehow not functioning on the day the convicts are said to have escaped. It is, therefore, hard to tell when exactly the three escaped for their short-lived freedom, but the fact that they were arrested hundreds of kilometres away suggests that they had had enough lead time to make their way to Boni Forest, and possibly across the border into Tanzania. Abikar claimed they were actually not heading towards Boni, but Ethiopia.
As Dr Matiang'i waited in Kamiti, senior police officers had the prisoners driven from Nuu through Mwingi town to a high-security installation at Kanyonyoo, along the Mwingi-Nairobi road. From there, they were flown by police helicopter to Kamiti.
Live television coverage showed the police helicopter descending upon Kamiti, kicking up a cloud of dust and causing momentary frenzy among the battery of journalists and security personnel gathered to witness the unfolding drama. One by one, the terrorists were escorted down to the familiar grounds of the "home" they had run away from, blindfolded and wobbly-kneed, either from hunger or exhaustion. Or both.
From a distance, Dr Matiang'i watched the events with a mixture of relief and that sweet glee that comes with personal accomplishment. If he had spent the last few days awake, it didn't show in his eyes. Instead, he was his ebullient self, strutting across the fields of the prison with gusto and a tinge of zest. He had done it, and now he could face the nation and assure it of its security.
About 250 kilometres away in Kamuluyuni, the national police reservists were unaware of the drama their gallantry had kicked up. Yesterday, they said no one had contacted them from Nairobi. A Sh60 million bounty was up for grabs for anyone who aided in the arrest of the escapees; the reservists said they were just doing their work, but wouldn't mind tokens of appreciation. The sun, after all, burns too hot in Nuu.
Credit: Source link