With the changing weather patterns, they claim to have the powers to traditionally 'call on rain' and even stop hailstones from destroying crops.
These are the Abasiekwe rainmakers who operate from a shrine at Esibila where Nganyi Hills are located in Luanda Sub County. The shrine is out of bounds to visitors unless the 'gods of the rains grant one permission'.
So powerful were the elders that the late President Jomo Kenyatta is claimed to have sought the rainmakers' help to end the 1973 drought that claimed several lives, and in return, the government established a meteorological station at Nganyi hills and later a radio station that broadcasts weather predictions.
When The Standard visited the Abasiekwe shrine, the elders aged between 60 and 70 ushered us in at around 9am.
Dressed in white Kanzus, hats, grey coats those who were in their 70's were armed with some sticks made from Mugumo tree in their left hand and were talking in low tones.
This Abasiekwe clan is believed to have the ability to provoke rainfall and even cause it not to rain. They are believed to prevent hailstones from damaging crops.
So powerful were the rainmakers that chiefs and their assistants would collect foodstuffs such as maize, beans, millet, and sorghum and take them to them every harvesting season for protecting their crops from bad weather.
Those who did not give their produce were threatened that their crops would not be protected from hailstones and were even punished by the administrators. Today, the practice is dying gradually.
"Anyone who wants to learn about our culture on rainmaking is normally required to pay Sh15, 000 and if you don't have the money, you go back to where you came from, but for you (journalists) we shall freely show you all the steps in the rain making process since you will help us educate the community," said Owino Kutilo, one of the elders.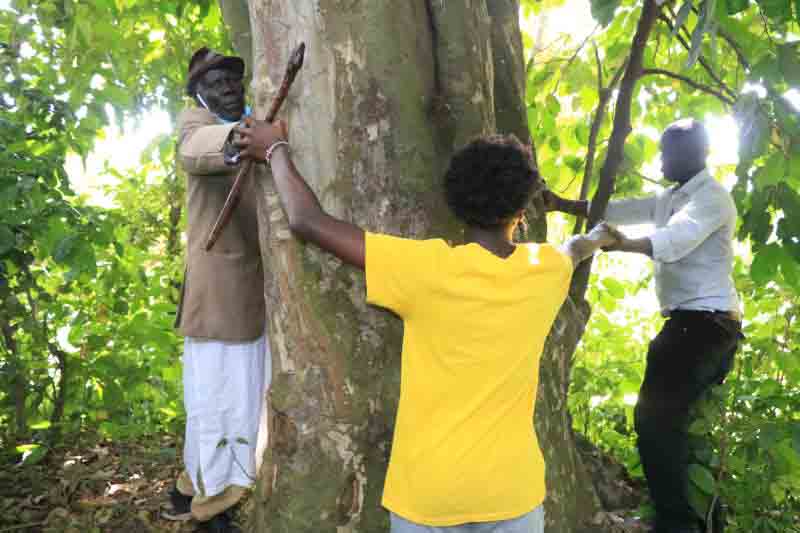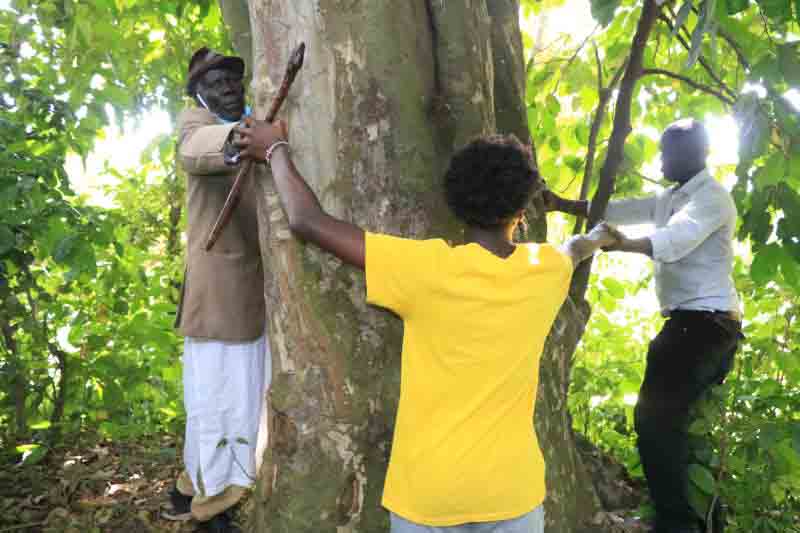 The elders kept postponing the interview until 'their gods gave them the green light to speak out.
As Kutilo signals his fellow rainmakers to accompany him inside the shrine, we are instructed to follow them and ensure we maintain a five-metre distance between them and us.
We are led through a lonely path leading to a forest (Olutsiri shrine) that only has indigenous trees. Kutilo on seeing a Mugumo tree, he stops and orders everyone to be alert.
"This Mugumo tree is over 200 years old and no one is allowed to cut it down. When it gets old and falls down, no one harvests its firewood save for the elders who converge, conduct rituals to appease the spirits of the ancestors so that a calamity does not befall the community," said Kutilo.
He went on: "After conducting rituals, the elders may decide to convert it to timbers, make desks and give it out for free to a nearby school. Sometimes, we make artifacts from it and supply it in museums especially in Maseno, Kisumu, Nairobi and Bondo,"
He then leads us to the middle of the forest and orders, everyone, to sit down around a huge tree (Olufuri).
According to the traditional weatherman, the tree was planted on the grave of one of their great grandfathers (Olutsiri) who lived in the 18th century and was among the first rainmakers.
Three rainmakers then kneel down facing the tree to pay homage to their departed ancestor, who was buried when kneeling in a round grave as per the Abasiekwe traditions.
At this point, they open a pot (placed at the middle of the roots).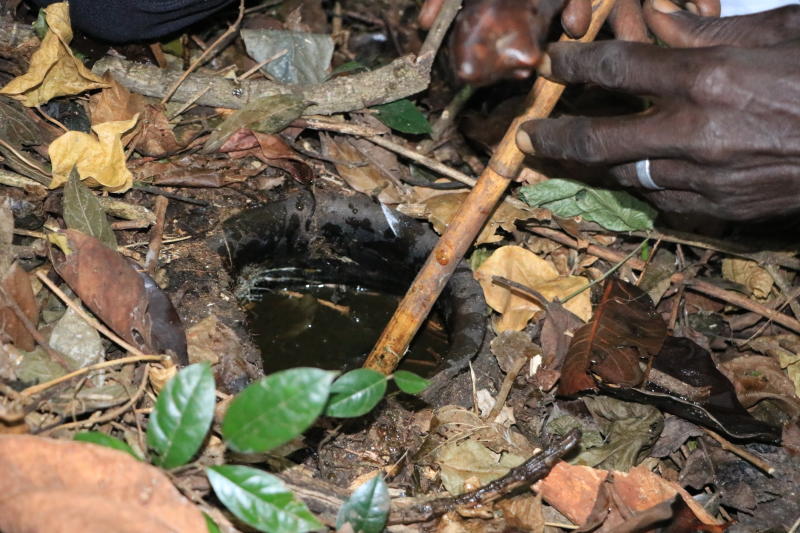 It has smelly water and herbs (esitsimbilo sie ifula) and using a traditional straw (Litundu), they stir the water and bubbles start forming and all of a sudden, the place becomes very cold and birds in the forest start singing. In the sky, the clouds start forming and leave the forest.
"When we want to make rain, the water you are seeing in this pot must be brought to the shrine by a virgin girl who is normally chosen by elderly women. If she has had sex before, she is unclean and in case she brings water to the shrine, it won't rain," said Kutilo.
Kutilo said women are not supposed to go to the shrine to make rain since she is unclean and if anyone tries, she will have disrespected the ancestors and must be cleansed, adding that no one can enter into the forest where the shrine is located unless permitted by the elders.
He said when approaching the shrine, you must approach it with respect and it is a preserve for men who have the capacity to provoke rain to come.
Boniface Omena Omulako, one of the rainmakers, told the Standard yesterday that the shrine has specific trees whose leaves are mixed to make rain.
The trees are Esikhuma, Omukabakabo, Olusiola, Omuchesa, Lichuni, Omwinyala Amachai, Esitsilisia, Ebikhuli and Lisachi among others.
Lifobombwe is a tree whose leaves are mixed with other herbs to prevent thunder and lightning. This is according to Mr Omulako and from the spot check, the area has no lightning arresters.
"Every tree you see in this forest has been preserved for a specific purpose. We protect the forest for jealousy and anyone is prosecuted," said Omulako.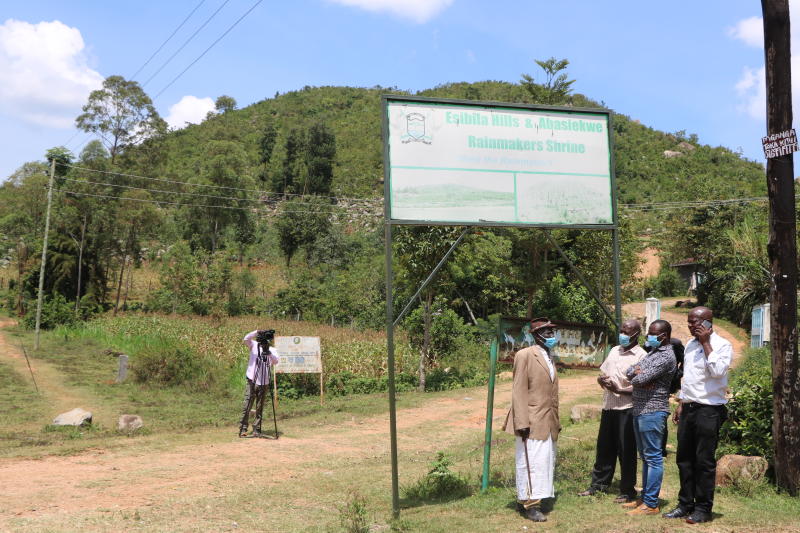 He said rainmaking was a gift that was given to our ancestors (Nganyi Namunywa) given to him by God.
According to Omulako, God asked him what he had in his hand and he answered a stuff and a knife, adding that he (Nganyi) was then shown seven leaves of different trees and told to crush them to pulp and mix it with water in a small pot and immediately it started raining.
The weatherman said during dry seasons and they want rain, they go into the forest to ask God to bring rain, saying they go without food for at least four days and he normally answers them on the third day on many occasions.
"We always ask God to bring rain so that his people can be able to plant crops and have enough food to fend for their families. After receiving the vision, we are able to tell whether the rain to come will cause destruction or not and then plead with God to spare us from destruction," said Omulako.
He said they also predict weather patterns by observing the budding, flowering, and shedding of leaves of different trees at the shrine as well as the croaking of frogs, saying that it is what has helped them prepare for floods, droughts, and famine.
David Amayu,61, also a rainmaker,  said they also observe the migration patterns of birds and insects, adding that if you see a colony of bees migrating from upper stream to downstream it symbolizes the start of dry season and when they migrate from downstream, long rains are about to start.
According to Mr Amayu, the information is then given to the public through Nganyi RANET Community Radio (now Anyole Radio).
He said in honour of the community work in weather prediction, the Kenya Meteorological Department constructed and equipped a resource center and a climate information center for educational purposes as well as the radio station.
Noah Eledi, a meteorologist, said actual rainmaking is not possible but they (Abasiekwe) and other communities observe the weather patterns to predict rain, saying they use the rainmaking theories as an economic activity to earn a living.
"When you talk to them, they can easily convince you that they can make rain. Some even use unorthodox means to get information from our weather station and when you visit them, they will tell you the exact results you have scientifically obtained," said Mr Eledi, the Bungoma County Director of Meteorology.
He added: "It's a fallacy to claim you can make rain, control strong winds, thunderstorms and lightning. Since we do not to be quarrelsome, we work closely with them since they protect our forests especially the indigenous trees where the shrines are located,"
Credit: Source link