On a night when the UFC announced a fight was being inducted into the Hall of Fame Class of 2020, fans at the T-Mobile Arena in Las Vegas were treated to an epic bout that probably will have its own HOF induction announcement some day.
Zhang Weili defended her strawweight crown with a violent split-decision win over Joanna Jedrzejczyk in the co-main event of UFC 248.
Their 351 combined significant strikes are third-most ever thrown in a UFC fight. Jedrzejczyk's 186 significant strikes are the most ever by a UFC fighter in a loss.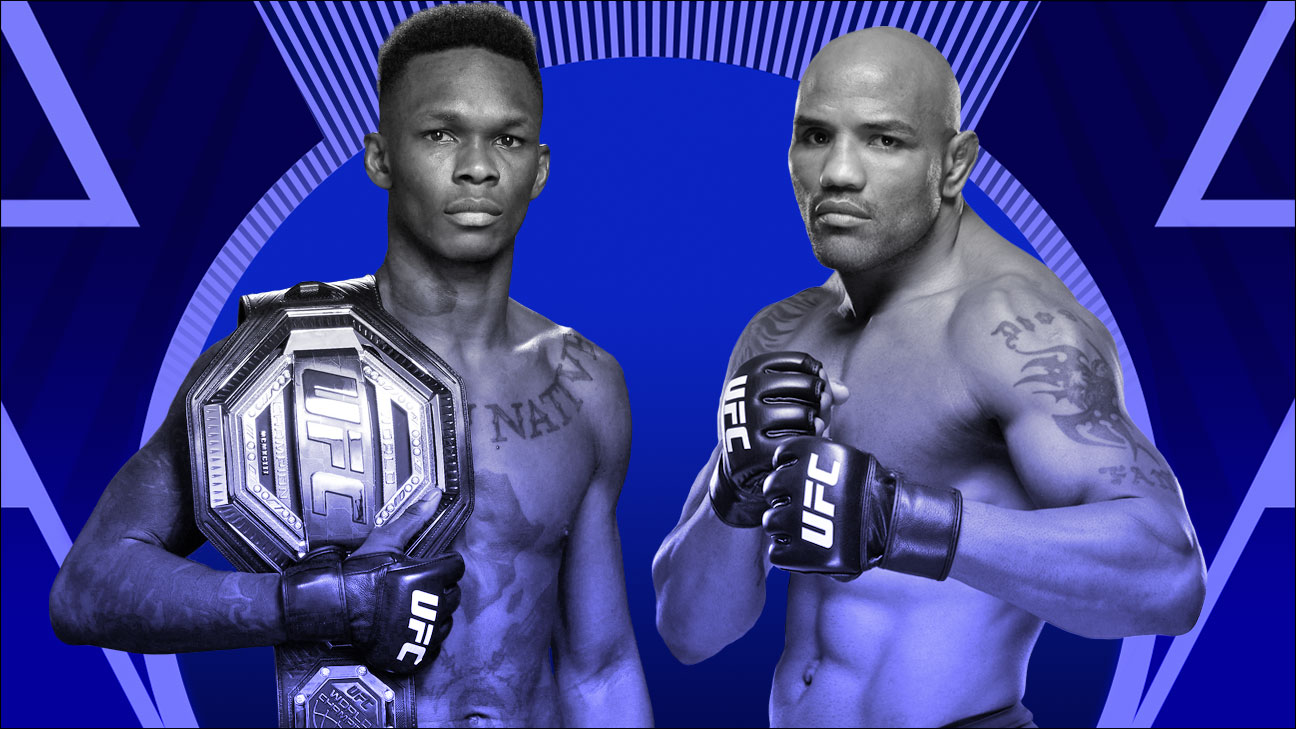 If the PPV is purchased, all fights from UFC 248: Adesanya vs. Romero are available to watch on ESPN+.
• Israel Adesanya vs. Yoel Romero
• Zhang Weili vs. Joanna Jedrzejczyk
• Beneil Dariush vs. Drakkar Klose
• Neil Magny vs. Li Jingliang
• Alex Oliveira vs. Max Griffin
• Sean O'Malley vs. Jose Quinonez
• Mark O. Madsen vs. Austin Hubbard
• Rodolfo Vieira vs. Saparbek Safarov
• Gerald Meerschaert vs. Deron Winn
• Jamall Emmers vs. Giga Chikadze
• Danaa Batgerel vs. Guido Cannetti
But as memorable as that fight was, the main event between middleweight champ Israel Adesanya and Yoel Romero was the polar opposite. Adesanya won by unanimous deicision, but it left UFC president Dana White wishing he hadn't made the fight and instead waited for top contender Paulo Costa to heal from biceps surgery.
Meanwhile, Sean O'Malley made an impressive return after two years off and again looks like a star on the rise.
ESPN's panel of Ariel Helwani, Brett Okamoto, Marc Raimondi and Jeff Wagenheim discusses the takeaways of UFC 248, including where does that co-main event rank among the greatest fights ever.
Where does Zhang-Jedrzejczyk rank among the greatest fights in UFC history?
Zhang Weili and Joanna Jędrzejczyk trade blows back-and-forth throughout their championship bout at UFC 248. For more UFC, sign up here for ESPN+ http://plus.espn.com/ufc.
Helwani: Going into tonight my pick for the greatest female fight ever was Miesha Tate vs. Holly Holm at UFC 196. I try not to get caught up in the moment, but I think this may have surpassed it. What a fight. What shots landed. What heart shown by both women. Tremendous stuff. One thing it wasn't? A robbery. Close fight, yes. But definitely not a robbery. I had Zhang winning 3-2, but it was close.
Okamoto: Always gotta worry about recency bias. Take a deep breath. Don't get carried away. I am pretty sure though this is easily a Top 10 title fight in UFC history, and potentially Top 5. I have always, always loved the Frankie Edgar, Gray Maynard title bouts of 2011. And of course, Jon Jones vs. Alexander Gustafsson I, this year's addition to the UFC Hall of Fame, is easily in the Top 3, and probably No. 1. The Robbie Lawler vs. Rory MacDonald welterweight title fight of UFC 189 still gives me nightmares. Yeah, I'm going to lean Zhang Weili vs. Joanna Jedrzejczyk does not quite crack the Top 5, but it doesn't miss the mark by much.
Raimondi: It's pretty high up there. The best women's fight in UFC history, no question. And one of the best title fights of all time, period. For me, it was the best fight since Israel Adesanya vs. Kelvin Gastelum at UFC 236 last April. Considering the stakes, how close it was and the sheer violence, it was truly a special fight.
2 Related
I can't put a number on it as far as how high I'd rank it. It's too soon to say. But it feels like this one will stand the test of time. On a night it was announced that Jones vs. Gustafsson 1 will enter the UFC Hall of Fame, Zhang vs. Jedrzejczyk will probably get there one day, too.
Wagenheim: Sitting here mere minutes after the fight, still waiting for my heartbeat to settle back to normal, it's too early for me to fairly suss out where exactly this one ranks, honestly. It was one of the most vicious I've ever seen, title fight or otherwise. It was certainly the greatest fight I've ever seen in women's MMA and among the greatest bouts ever with a title on the line. But with so little defense in the standup exchanges, and no sustained ground scrambles to speak of, I'm inclined to slot this fight beneath those from the past that put all martial arts disciplines on display and those in which one or both combatants were badly hurt, maybe even nearly finished, before staging a heroic comeback.
Those are high standards, though, and this fight was so crazy good that it does not deserve to be downgraded in any way. So I'll just put it on the short list of greatest fights in MMA history and leave it at that… except to note that it was a whole lot better than the fight that followed.
What is your biggest takeaway from the main event?
Dana White says he expects Paulo Costa to fight the complete opposite of Yoel Romero when he fights Israel Adesanya next. For more UFC, sign up here for ESPN+ http://plus.espn.com/ufc.
Helwani: Shades of UFC 112 Anderson Silva vs Demian Maia all over again. Unfortunately for as great as the co-main was, the main was equally not great. I'm not really sure who to blame, to be honest. But that certainly didn't live up to the hype, safe to say. One of the more bizarre title fights in recent memory.
Okamoto: My takeaway was that sometimes stylistic matchups are weird, and this is what it looks like. It happens in other sports, too. Sometimes, styles of play collide in something that is… not entertaining. At the end of the day, Romero didn't do enough to win that fight. He was ultra conservative, which is his right, but the risk you assume when you fight in that way is that you have to land big when you open up. And although Romero had his moments, he didn't have enough of them. Adesanya was slightly more consistent, it is what it is, and now we move on. The next fight, Adesanya vs. Paulo Costa, should look much, much different.
Raimondi: Romero was every bit the tough matchup that Adesanya thought he was. Maybe more than most others believed he would be. At 42 years old, Romero really befuddled Adesanya throughout. His long bouts of inactivity confused Adesanya. His power and wrestling gave Adesanya pause. It was a weird one. Matchups make fights. That goes for the reverse, too. Sometimes matchups make for poor fights. That was not a classic main event and the crowd, which booed it lustily, was clearly spoiled after watching an all-time classic co-main event.
Adesanya escaped with the middleweight title and that's what matters in the end. He barely held onto the belt, but he did. Live to defend another day, I suppose.
Wagenheim: Adesanya vs. Romero was a dud. There's no other way to put it. Romero was supposed to be a scary and exciting challenger, which was what made it OK, in some people's eyes (Dana White's, for instance), that he was getting an undeserved title shot, coming off two straight losses and three defeats in his last four fights. But the Cuban did little to show he belonged. And, surprisingly and disappointingly, the same held true for Adesanya.
This first title defense was all set up for him to send his star power into orbit. It was his night to shine … until he didn't. Sure, one can blame the largely stationary and inactive Romero for the way the fight went down. He deserves criticism for wasting a big opportunity, one that a 42-year-old is unlikely to see again. But this night was Adesanya's failure. He got the judges' nod and retained his championship, and that's not insignificant. But his night was supposed to be about more than that. He's been lauded as the next big thing in the UFC, and he still might be. But he sure did not come up big tonight.
What did "Suga" Sean O'Malley prove with his first-round TKO of Jose Quinonez?
After winning his UFC return, Sean O'Malley says its difficult to put his emotions into words. For more UFC, sign up here for ESPN+ http://plus.espn.com/ufc.
Helwani: That was just what the doctor ordered for O'Malley. Two years away, questions surrounding if he's still got it or still worthy of the hype … and he does that against a really tough opponent. The night couldn't have gone any better for him, and I particularly liked the emotion he showed in his postfight interview. That was real and genuine. So what did he prove? He proved that he's still got it and is still worthy of all that buzz. He's 25 and is still very much a name to watch. Welcome back, Suga. We missed you.
Okamoto: He proved something we've already known about him, but it's always good to see it re-enforced, and that is this guy is a performer. There are certain guys who are great in the gym, and there are certain guys who elevate when the lights are on, and O'Malley is the latter. Coming in off a two-year layoff, in a clearly emotional moment for him, he looked nothing short of outstanding bell-to-bell. There was no adjustment period or feeling out process. O'Malley was on, and he was on immediately. Everybody I've spoken to who is close to him says he has the best eyes in the sport — his vision in a fight is second to none — and his confidence is through the roof. We saw both of that at UFC 248, despite that lengthy time off. Suga Show 2.0 is in full effect.
Raimondi: He's back. And he looked better than he ever has. "Suga Show 2.0" isn't just a catchphrase. O'Malley seems to have legitimately improved over the last two years during his absence while dealing with USADA issues. That's really great to see, because in 2018, before he tested positive for trace amounts of ostarine, he was considered one of the brightest prospects in all of the UFC. Not just the bantamweight division. It was no coincidence that the broadcast showed bantamweight champion Henry Cejudo right after O'Malley won. That's the kind of talent the UFC thinks O'Malley has. And his win over Quiñonez only did more to foster those thoughts. O'Malley is still only 25. With his charisma, athletic ability and fighting skill, we'll be hearing a lot more about him over the next few years.
Wagenheim: Dominick Cruz would be proud. O'Malley proved that ring rust is not real. Either that, or through sheer will the 25-year-old prevented it from rearing its sluggish head and ruining his comeback moment. You had to come away from that two-minute performance impressed by "Suga Sean" (and not so impressed by the U.S. Anti-Doping Agency, which moved like a snail on his drug-test failure and kept this young prospect sidelined for two years that would have been way fun to watch). Quinonez did not have it in him to put O'Malley through a tougher test, and that was all O'Malley's doing as his fluid footwork never allowed for the possibility of trouble. O'Malley still has a ways to go before joining the upper echelon of the bantamweight division, but it's going to be a treat following his upward trajectory.
Credit: Source link