Former Gem Member of Parliament Jakoyo Midiwo was laid to rest at Mabinju village in South Gem on Saturday even as the Directorate of Criminal Investigations moved in to probe his death.
During the burial, his family declined to rule out foul play in his death and stated that they are waiting for the results of a probe by the DCI on the exact cause of his death.
"The DCI has already launched a probe into the death. As a family, we will wait for their findings. As a doctor myself, I have a lot of doubts over the cause of his death," Jakoyo's elder brother, Jalango Midiwo said.
Jalang'o, the family's spokesperson, said Jakoyo's death came as a shocker to the whole family.
"We have lost a peaceful and humble person. He was someone who never held grudges, " said Jalang'o.
Jalang'o said that Jakoyo's sudden death was suspicious, adding that they would ensure that they establish the real cause of his death.
He said that his brother only suffered from Malaria once in a while but had never complained of kidney problems.
"We are hoping that his death was not as a result of the actions of another person but we are not waiting for the results of a probe," said Jalang'o.
Jakoyo died on June 14 after he suffered from acute renal failure at a Nairobi hospital.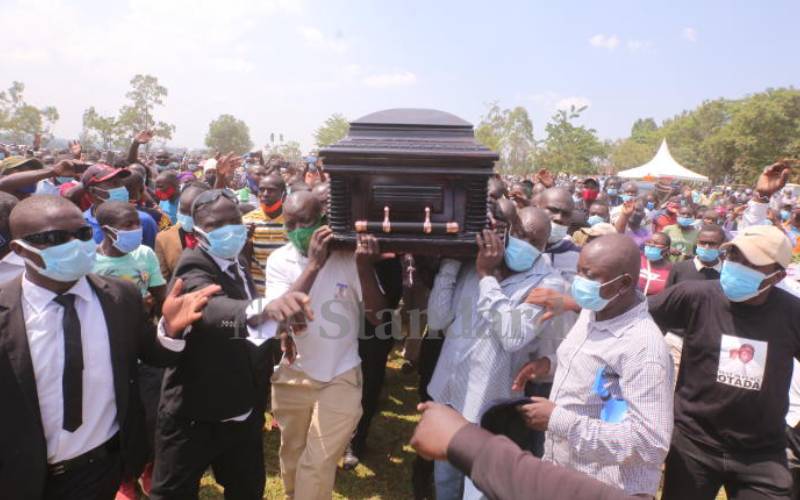 At the hospital, doctors confirmed Jakoyo's blood pressure was low, and was immediately moved to the Intensive Care Unit (ICU) and died in the evening.
His wives Rose Olayo and Betty Muganda said they had lost an important figure in their lives.
Emotions ran high as thousands of mourners turned up to give the former fiery legislator a decent send-off.
Jakoyo was laid to rest after a burial ceremony marked by showers of praises for the former MP's illustrious political and business career.
Led by Orange Democratic Movement (ODM) leader Raila Odinga, Devolution Cabinet Secretary Eugene Wamalwa, governors and MPs, the leaders mourned Jakoyo as a first-class politician who made a mark as a legislator.
Raila said he has lost his political "son" and brother and termed his demise as unfortunate.
He recounted the times he shared with Jakoyo since his childhood days and said the country has lost an astute politician.
"We have lost an astute politician and leader. He left a great record in parliament as a legislator, " said Raila.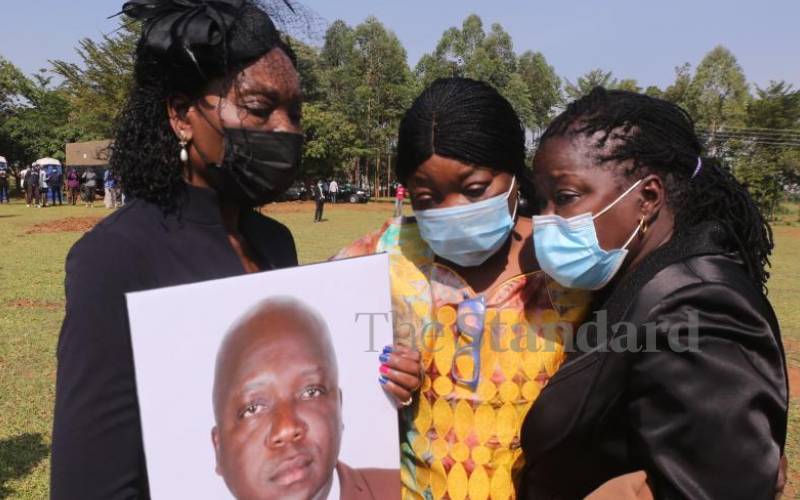 During the burial ceremony, Covid-19 protocols were thrown out of the window as thousands of Jakoyo's supporters turned up for his burial, defying directives from authorities to adhere to measures to slow the spread of Covid-19.
Before the service began, police officers enforcing Covid-19 protocols lobbed tear gas canisters to disperse mourners in an attempt to control the crowd.
After several attempts to enforce the protocols, security officers gave up with mourners scrambling to move closer to the dais where Jakoyo's casket was placed.
Earlier, residents had started streaming at Ndori Primary School as early as 6 in the morning where a short ceremony before the burial was expected to take place.
Friends and family described Jakoyo's death as a massive loss and a big blow to the entire Gem constituency which he served for three terms.
Leaders who attended the burial including Devolution Cabinet Secretary Eugene Wamalwa as several MPs mourned Jakoyo as a humble politician who articulated his words with careful grit. They also described him as a polished businessman.
Kisumu Governor Anyang' Nyong'o', a former colleague of Jakoyo in parliament, said Jakoyo has set a great example to youths.
"He was a great debater in parliament and he was a strong advocate for the people," said Nyong'o.
His demise is a big loss for Raila who believed in him as a trusted ally who would spill the beans on plots against Raila, including from even his own ODM camp.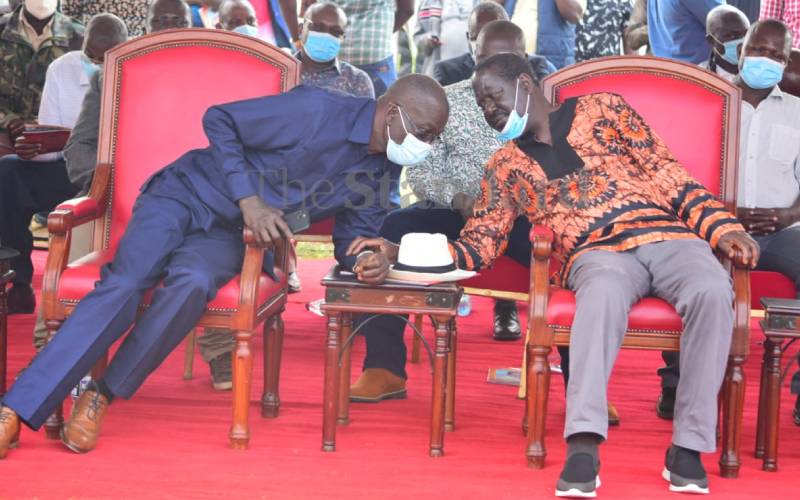 Midiwo, who died aged 54, was a great debater who never shied away from speaking his mind and losing his temper in public.
And despite being thrown into near political oblivion after his shocking loss to Elisha Odhiambo in the race for the Gem parliamentary seat in 2017, Jakoyo remained relevant in opposition chief Raila Odinga's inner circle.
So relevant was Raila's longest ally that he had already started poking holes on the issues that threatened to scuttle Raila's plans for a fifth stab at the presidency.
Jakoyo was one of the leading champions of the Building Bridges Initiative and had been hoping to use the platform to launch his comeback to politics.
He was slated to play a key role in ODM and Raila's campaigns ahead of the 2022 polls.
In February last year, Raila brought back the former Gem MP to the Orange party to help him re-look his political strategy ahead of the 2022 general elections. The move saw him appointed to help with mobilization for the Building Bridges Initiative (BBI).
He joins the list of other strongmen Raila relied on including former politicians Orwa Ojode and Otieno Kajwang, who exhibited a similar style of politics to keep the opposition candle burning.
In his times in parliament, Jakoyo who served as an MP from 2002 to 2017 unleashed several allegations including an alleged plot by Raila's opponents to eliminate the ODM chief.
His criticism knew no bounds and was one of the greatest critics of some of the leaders within the ODM camp whom he accused of being moles keen on frustrating Raila's quest to the throne.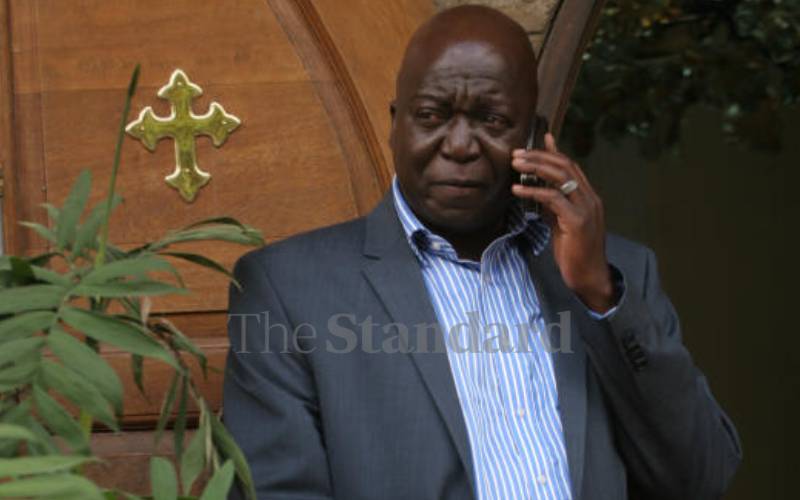 In his final rest, the veteran fiery politician has died with a bag of secrets he had vowed to unleash against leaders within the ODM camp whom he claimed were moles keen on frustrating Raila's stab to the presidency.
Jakoyo was last seen in public when President Uhuru Kenyatta and his cousin Raila visited Siaya to launch a water and road project. Sources said that he appeared sickly at the time.
Prior to the 2017 elections, Jakoyo fell out with Raila's ODM party and decamped the party to contest as an independent.
His death shocked his family and friends at a time when Jakoyo's family had lost three other members in a span of 10 days.
He has left behind two widows and four children.
Credit: Source link