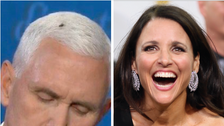 The entire episode ― in which the fly stayed on Pence's head for about two minutes ― seemed like a scripted moment straight out of Hollywood.
"Well, I really wish we had thought of this on @veephbo," the actor said on Instagram Wednesday night, alongside a photo of the fly perched atop Pence. 
"Who is controlling that fly?" she quipped.
Fans chimed in with comments on her Instagram post, calling the fly a "national treasure" and an "American hero," while screenwriter and actor Lena Waithe said the fly "felt like a bit." 
"Late Show" host Stephen Colbert let loose on his show after fly-gate, joking that Pence was "so full of crap, he's attracting flies." 
"All jokes aside, thoughts and prayers to that fly's family. It's got to quarantine for two weeks now," he said, referencing the coronavirus outbreak in the White House. "We've gotta get that fly to Walter Reed." 
Other celebrities also got in on the fun: 
Pence apologizing to Mother right now for getting to 3rd base with the fly

— The Daily Show (@TheDailyShow) October 8, 2020
While former Attorney General Eric Holder asked the important question: 
Who will play the kamikaze fly on SNL?

— Eric Holder (@EricHolder) October 8, 2020

Credit: Source link