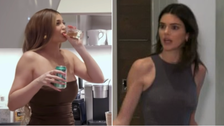 Kendall and Kylie Jenner seem to be doing just fine, days after their super-physical fight aired on "Keeping Up With the Kardashians." 
The sisters joked about their brawl on Twitter after a fan tweeted a video of Kendall and Kylie fighting in the back seat of a car when they were very young. 
Except for the fact that the sisters are now grown, the childhood footage mirrored the fight that took place on Thursday night's episode of the family's reality show, when back-and-forth slapping led to Kylie putting her heel "into my fucking neck," according to Kendall. For maybe the first time in a long time, "KUWTK" cameras were unable to capture it all. 
"Lost footage of what was going on in that car just now," a Twitter user wrote, captioning the childhood clip. Kylie quote-tweeted it and added that the old clip was "pretty accurate." 
Kendall added "lmao! actually tho!" 
Kendall and Kylie's fight on last week's show started over some outfit drama. Kylie snapped up an outfit Kendall had been eyeing for the family's night out in Palm Springs, California. 
"Oh, like you deserved the outfit more?" the Kylie Cosmetics founder said to her supermodel older sister. "Whatever you're a hater and you're not going to ruin my fucking night. I'm having a good time." 
"You ruined my fucking night, so I can do whatever the fuck I want to," Kendall shot back as her sister danced off the comments. 
Things got worse later that night, when Kendall, Kylie and Kris Jenner's boyfriend Corey Gamble all got into the same car to head home to Los Angeles. When Kendall tried to give the driver her address, Kylie lost it. 
"Why would I drop you home, Kendall? I'm not gonna drive through the city to drop you home," she said, adding: "No one promised to take you home." 
The sisters started physically fighting and screaming. Kendall swore Gamble told her "fuck you."  
Kendall told her mom and sisters Kourtney, Kim and Khloe after the fight that she would "never speak to Kylie ever again."  
"She smacked me, not hard. She smacked me or something. I came back at her and smacked her in the face and then she took her heel and put it into my neck," Kendall explained as her voice shook. 
"The fact that my sister ― my blood ― was reacting that way, it's so upsetting," she added added.  
Kylie denied some of the details in Kendall's account of the fight while live-tweeting the show. But she agreed that the fight was troubling, saying "sister fights like that are never ok!!!" 
"Keeping Up with the Kardashians" airs Thursdays at 8 p.m. on E!.
Calling all HuffPost superfans!
Sign up for membership to become a founding member and help shape HuffPost's next chapter

Credit: Source link