Kenya
President Uhuru is set to address the nation on the curfew and lockdown imposed on March 26 and April 6 respectively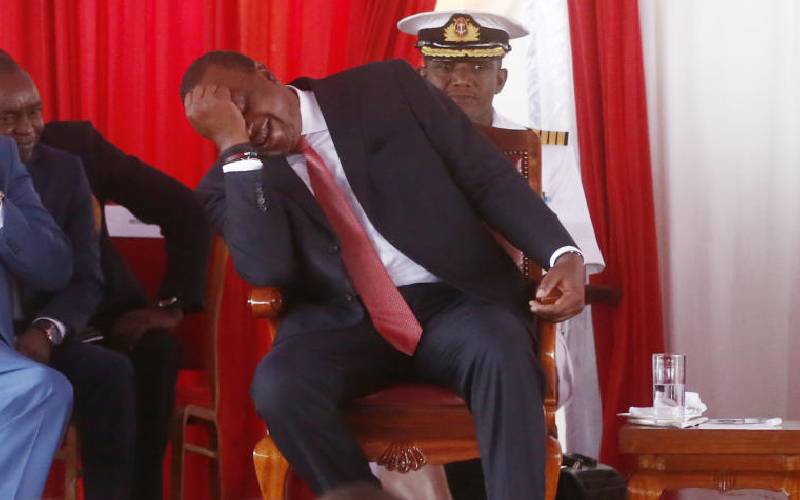 For the first time in the country's history, June 6 has become a more important day than the June 1 when Kenyans celebrate Madaraka Day, reason being, it is the day Kenyans expect President Uhuru Kenyatta to lift or extend the curfew and lockdown which were imposed to contain the spread of Covid-19.
President Uhuru is due to address the country this afternoon over the curfew imposed on March 26 and cessation of movement among six counties on April 6 respectively.
Since being imposed, the government has extended the curfew three times and cessation of movement within Nairobi, Kilifi, Kwale, Mombasa and Mandera twice leading to anxiety among Kenyans who want life to return to normalcy.
SEE ALSO: Kenyans on social media plea for Uhuru to ease lockdown
Kenyans took to social media to shower President Uhuru with love messages and pleaded with him to lift all the restrictions or review them in a manner that will allow Kenyans to move and operate freely.
There's no doubt Kenya's dusk to dawn shutdown is hurting productivity and businesses nationwide hence the anxiety.
Some of the areas that are most affected include; food industry, transport sector, informal workers, and the hospitality sector.
About 80 per cent of Kenyans work in the informal sector with a larger portion being casual labourers who depend on daily wages.
With only 79 deaths so far since March 12 when the first case was reported in the country, Kenyans feel the government should ease some of the Covid-19 restrictions.
SEE ALSO: My word: We might have to do this for awhile
As a majority of Kenyans remain upbeat that the curfew and lockdown could be eased, others have warned that President Uhuru could extend the lockdown following the rising number of cases in the last one week.
President Uhuru himself had hinted in his last address to the nation that the country cannot be on the lockdown forever hence the belief among Kenyans that if
Despite the Covid-19 surge across the world, many countries on the continent have eased their lockdown restrictions.
Eased restrictions
South Africa, Nigeria, Egypt and Ghana are some of the countries in Africa that have eaten the restriction, feeling further lockdown will cripple the economy.
SEE ALSO: Biden wins enough delegates to clinch US Democratic nomination
They have, however, urged citizens to continue adhering to measures such as keeping social distance, regular washing of hands, wearing face masks to prevent the second wave of attacks.
Kenya currently has 2,474 Covid-19 positive cases.
Below are some of the reactions by Kenyans on Twitter ahead of Uhuru's speech:
If Uhuru Kenyatta lifts cessation of movements there will be mass exodus from major towns and may lead to explosion of corona virus cases. The only realistic/reasonable option is to reduce curfew hours! #June6th

— Lloyd Onyango (@lloydOnyango) June 6, 2020
Good morning to the most wonderful man in this world! I hope ulilala fiti mkubwa. #UhuruDontLiftLockdown pic.twitter.com/u0Vwu0o8Aw

— Rash™ (@Rashousmane) June 6, 2020
Good morning our highest-rated president of 21st century with an IQ of (230).No one be like
you. #June6th #UhuruDontLiftLockdown pic.twitter.com/jerVQPiu3R

— Phil Mutwol (@Philktoo) June 6, 2020
Mr. President kenyans are tired. We are tired of being mishandled by the police when we break curfew hours, kenyans are sleeping hungry no work, no food please let it not be a dissapointment today. #UhuruDontLiftLockdown

— Hannah???? (@Hannah_mwangi_) June 6, 2020

Credit: Source link