Health & Science
Part of the government's orders to keep the virus at bay has been keeping a close eye at the borders.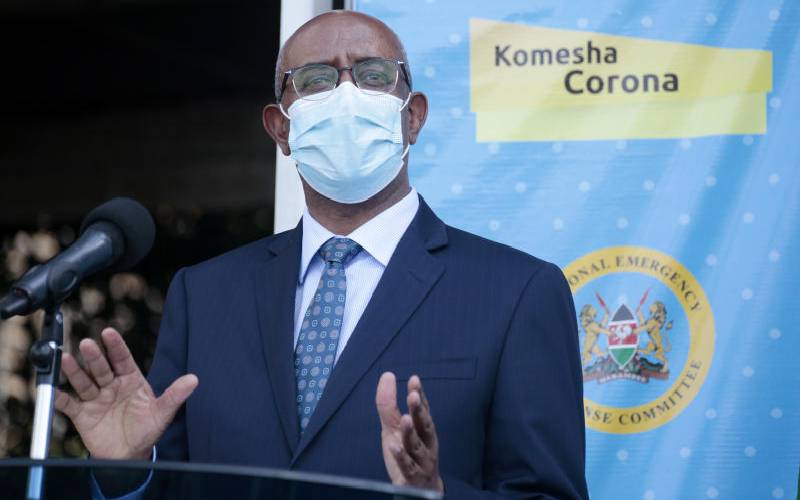 Health CAS Rashid Aman (pictured) has criticised the dangerous behaviour of issuing false contacts during targeted testing, saying it hurts efforts to trace those who test positive for coronavirus.
Speaking at Afya House on Tuesday, he urged Kenyans to continue observing the containment measures in place to curb the spread of the pandemic.The matter of false contacts, which the ministry has mentioned in previous briefings, is linked to increased coronavirus numbers.
Some 62 people tested positive for coronavirus today as three were discharged.The figure now pushes the national tally to 1,348. Out of the new cases, 45 were male.
Although the campaign faced hitches at the beginning such as low turnout, more citizens have come out for mass testing in Nairobi and Mombasa, which are listed as hotspots."This is commendable, and we continue to appeal to all Kenyans to come out and get tested," Dr Aman said.
"The true picture of this disease in our country will only be known through the tests we are currently conducting."The new cases were spread across Nairobi (23), Mombasa (16), Kwale (eight) and Kiambu six), Kajiado (six) and Kitui (three).
Some of the hurdles in mass testing include residents' fear that should they test positive they will be required to pay for treatment and quarantine.But Dr Aman insisted that the government will meet the charges for treatment and quarantine upkeep in a public facility.
"Any information to the contrary is false and misleading to Kenyans."Dr Aman was joined by Transport CS James Macharia, who acknowledged that transport corridors are important in the containment of the virus spread.
Part of the government's orders to keep the virus at bay has been keeping a close eye at the borders.The Tanzania and Somalia borders were closed, creating a near-diplomatic row with President John Magufuli. Some of the challenges were arising from testing protocols for truck drivers.
Numerous confirmed cases have also been those of the truck drivers, pushing more attention to the border stops.On Friday, CS Macharia, his Tanzanian counterpart and regional commissioners from both countries signed a deal to streamline testing.
However, more such challenges are arising at the border with Uganda at Malaba and Busia.The area is characterised by unending queues of trucks stretching up to 50km.

Credit: Source link