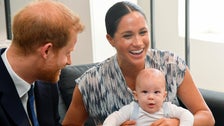 Meghan Markle and Prince Harry opened up about what quarantine has been like with their 1 1/2-year-old son, Archie, as the coronavirus pandemic continues to keep the royals at home in Santa Barbara, California.
"We were both there for his first steps, his first run, his first fall, his first everything," Harry said during a virtual conversation with Pakistani activist and Nobel Prize laureate Malala Yousafzai on Sunday to celebrate the International Day of the Girl.
"In so many ways we are fortunate to be able to have this time to watch him grow," the duchess told Yousafzai, who hosted the intimate chat through her Malala Fund for girls' education.
"And in the absence of COVID, we would be traveling and working more. We'd miss a lot of those moments," Meghan said.
During a separate podcast appearance with "Teenager Therapy" released on Saturday, the Duchess of Sussex opened up about the "almost unsurvivable" amount of hate she got both before and after giving birth to Archie last year.
"I'm told that in 2019, I was the most trolled person in the entire world ― male or female," Meghan said.
"Eight months of that, I wasn't even visible. I was on maternity leave with a baby," the former "Suits" actor added. "But what was able to be manufactured and churned out ― it's almost unsurvivable."
One of the "Teenager Therapy" co-hosts later asked Meghan how she was doing, which prompted the Duchess of Sussex to reflect on one of her most talked about moments last year, while the family was on its royal tour of South Africa and she was still breastfeeding Archie.
"Isn't that funny ― it was about a year ago that someone asked me that," Meghan said. "We were on a tour in South Africa, and on the last day of the tour, man I was tired. I was just about to give Archie a bath. I was exhausted."
Harry added that Meghan was breastfeeding Archie at the time, which the duchess likened to "running a marathon."
"Between every official engagement, I was running back to make sure our son was fed," she said. "But at the end [of filming for a documentary], the journalist asked me if I was OK. And I didn't realize that my answer would receive such an interest from around the world."

Credit: Source link