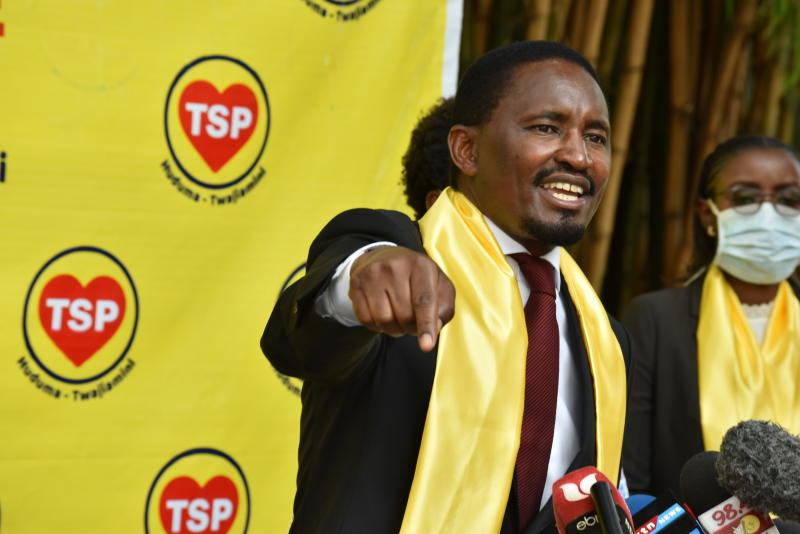 The Service Party (TSP) leader Mwangi Kiunjuri (pictured) has lashed out at the Jubilee government for failing to purchase face masks for school-going children as they resume learning.
Speaking during the burial of Mr Moses Ndirangu, 41, at Muramati village in Laikipia North, Kiunjuri faulted the government for forcing parents to shoulder the financial burden of purchasing face masks for their children.
"Parents have been directed to purchase face masks and sanitizers for their children while they cannot afford to acquire the same for themselves," he said.
Mr Kiunjuri said parents have been constrained financially during the pandemic but are obliged by the Ministry to dig deeper into their pockets to buy essentials for their children.
"This is an insult to our parents and also to our children. I can afford masks for my children but my worry is for my fellow parents who are struggling during this difficult time," Mr Kiunjuri said.
The former Agriculture Cabinet Secretary castigated the government for the embezzlement of billions of shillings from KEMSA that was meant to fight coronavirus.
"All funds stolen under the guise of fighting Covid-19 should have been spent on buying enough face masks to all Kenyans. Even 10 percent of the stolen funds can be enough to but face masks to our citizens for one year," he said.
He stated, he was not opposed to reopening schools but the resumption of learning should focus on protecting children from coronavirus.
"Those children coming from poor backgrounds will be humiliated because their parents cannot afford enough face masks to protect them from the virus," he added.
Mr Kiunjuri further urged the Education Ministry to ensure that parents are given enough time to clear school fees arrears, adding that the pandemic has dented the country's economy.
Credit: Source link