Kenya Film and Classification Board (KFCB) CEO Dr Ezekiel Mutua on September 10 presided over the launch of a COVID-19 awareness song done by legislators form the Ukambani region. In his address at the function which saw few guests attend in line with COVID-19 protocol, Dr Mutua revealed that the song was the brainchild of Kitui Senator Enock Wambua.
"In April, Senator Wambua mobilized MPS from Ukambani to come together and give the people hope. At that time, the coronavirus was ravaging the country and everyone was trying to come to terms with the pandemic.
He approached me saying that we can't sit on the sidelines watching Kenyans become hopeless. The fear was devastating our people more than the disease. He requested that KFCB supports the endeavour and his work was to co-ordinate the legislators."
Dr Mutua further hailed the unity among the lawmakers while urging the media to shun divisive politics and instead, focus on politicians' initiatives that unite Kenyans.
"The cameras of our media should turn from hatemongers and focus on initiatives like these. Not every politician is a warmonger. This should be an awakening call for Kenyans to wear masks, keep social distance and stop behaving like the virus is nonexistent."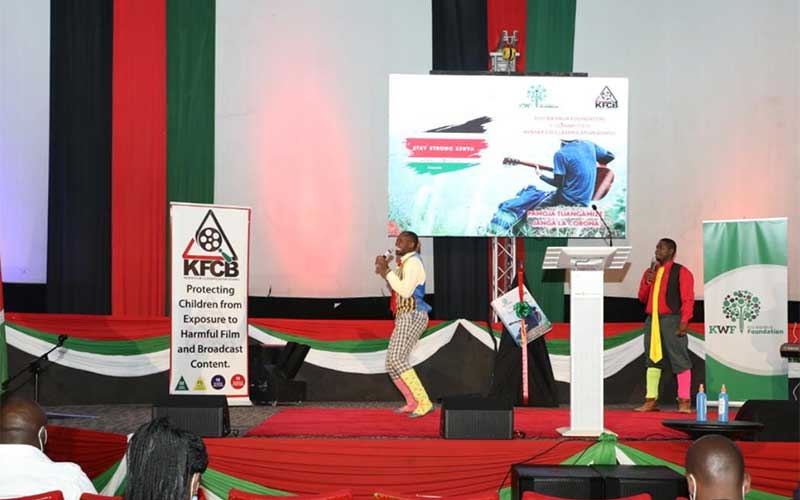 "I'm glad to see the arts being used as a medium to send important messages to the people of Kenya during this time," the Chief Administrative Secretary in the ministry of ICT Maureen Mbaka said.
According to Senator Wambua, the project initially involved himself alongside eight MPS and one women representative but other legislators requested to be enjoined in song. Senate Speaker Kenneth Lusaka officially unveiled the song which propagates for hand washing and sanitizing, keeping social distance and adhering to other measures laid down by the government to curb the spread of the virus.