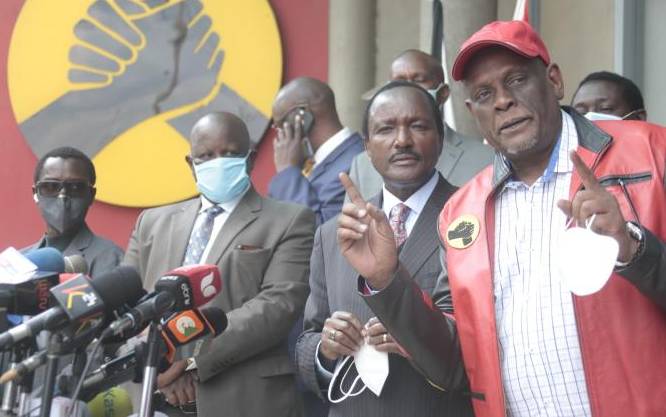 Politics
Agreement signed yesterday will see Wiper and CCM back Uhuru's agenda in Parliament.
The National Super Alliance (NASA) faces dissolution after two partner parties entered into a "co-operation" with ruling party Jubilee.
As President Uhuru Kenyatta continues to put together an alliance with opposition leaders, Kalonzo Musyoka's Wiper Party and Chama Cha Mashinani (CCM) led by former Bomet Governor Isaac Ruto yesterday indicated plans for a post-election coalition agreement after signing a deal with Jubilee.
Rocky relationship
By agreeing to the pact with the president's party, Wiper and CCM will officially end their political marriage with ODM leader Raila Odinga, Amani National Congress (ANC) leader Musalia Mudavadi and Bungoma Senator Moses Wetang'ula's Ford Kenya.
Legally, three parties would need to leave the coalition for it to be dissolved, but politically speaking, the exit of Wiper and CCM – and with Raila's ODM already working with the ruling party –  has spelt doom for the coalition that sponsored a Raila-Kalonzo ticket in the last elections.
SEE ALSO: Some of the judges at the centre of the Maraga-Uhuru tiff
Raila, Mudavadi and Wetang'ula are already in a rocky relationship, with the latter two accusing the former prime minister of orchestrating their ousters from the leadership of their parties. Wetang'ula is currently fighting to regain control of Ford Kenya after he was ousted from its helm.
Yesterday's development was part of a larger succession scheme by Uhuru to isolate Deputy President William Ruto ahead of 2022 General Election.
Sources within the ruling party indicate that plans are afoot to create three deputy party leader positions in a bid to block Ruto from running for the presidency on a Jubilee ticket.
Uhuru's ally and Jubilee Party Vice Chairman David Murathe said the two parties would be part of the ruling party once a coalition agreement is signed and deposited with the Office of the Registrar of Political Parties.
Already, Jubilee has entered into a pact with independence party Kanu, which is under the leadership of Baringo Senator Gideon Moi.
SEE ALSO: Why should we pay rich Raila, Kalonzo millions?
"Today we are signing a co-operation with two major political parties – Wiper and Chama Cha Mashinani. We are hoping that they will be part of Jubilee Party when we sign a coalition agreement," said Murathe, who has repeatedly sworn to block Ruto from succeeding Uhuru.
Kalonzo and Isaac Ruto led their top party officials in signing the pact at Jubilee headquarters, with the ruling party represented by Secretary General Raphael Tuju, Chairman Nelson Dzuya and Murathe.
Neither the DP nor any of his allies were present during the function, an indication that the embattled Ruto was out of the picture.
While signalling his readiness, Kalonzo described the opposition coalition – on whose ticket he was a running mate – as a moribund outfit, disclosing how the summit stopped meeting following the 2017 disputed presidential election.
The former vice president further accused Raila's party of allegedly bullying partner outfits, citing the recent changes in committees and leadership in the National Assembly.
SEE ALSO: Technocrats visit to projects show Uhuru's Mt Kenya visit neigh
"Our intention is to conclude a coalition agreement with Jubilee. If it were not for this Covid-19 pandemic challenge, we would have our delegates okay the decision," said Kalonzo
"All these matters will be discussed in a brotherly manner. We are not an adversarial partner, but we have no doubt about the path we have decided to take."
He added: "I can tell you for a fact that the NASA summit has never sat since the 2017 elections. If the summit cannot sit, we cannot continue holding our members at ransom. We have to be realistic."
Kalonzo said the co-operation entails backing the Uhuru agenda in both the National Assembly and Senate, including his quest to change the Constitution through the Building Bridges Initiative (BBI).
Leadership positions
The decision to enter into a post-election coalition would, however, force Wiper to relinquish all parliamentary leadership positions it holds courtesy of NASA.
SEE ALSO: Talai: We installed Uhuru and no other rituals until he retires
In the National Assembly, Kathiani MP Robert Mbui will lose his Deputy Minority Leader position, while Makueni Senator Mutula Kilonzo Jr will lose the Minority Whip in the Senate.
In a previous interview, Mudavadi said partner parties seeking to enter a post-election agreement will have to formally quit NASA by writing to the political parties registrar.
"In the NASA agreement, if there is a member party that wants to form a post-election coalition with another, then that party must quit NASA. The basic principle is that one cannot belong to more than one coalition at the same time and the law is very clear," he said.
The plans by Wiper are largely set to end the coalition set up in the run-up to 2017 polls, since the other partners have also had fallouts with ODM.
Ford Kenya and ANC have repeatedly accused Raila of orchestrating dissent in their parties.
SEE ALSO: Kenya flags to fly half-mast in honour of Nkurunzinza
On his part, CCM's Ruto said the signing was just a formalisation of his working relationship with Uhuru.
"It is our party that did the first handshake with Jubilee. Working together does not mean abandoning our ideals and party," he said.
The former governor said it should be the norm moving forward for political competitors to enter a truce after every political contest to ensure the development agenda is supported by all for the benefit of the country.
Tuju said the decision to bring the parties together was part of Uhuru's agenda to unite the country.
"By the time you see us signing this agreement, it has been after a lot of discussions. It is the vision of the president to bring this country together."
ODM has in the past indicated it would not enter any coalition agreement, but will continue working with the ruling party through the handshake platform.
Credit: Source link