Ministry says asymptomatic cases to be considered if homes have suitable space for isolation and care
Asymptomatic Covid-19 patients or those with mild symptoms and not suffering from other multiple disorders qualify for home-based care.
However, their homes must have suitable space for isolation and care.
These are among the new guidelines by the Ministry of Health as Kenya experiences an upsurge in the number of persons with Covid-19.
Acting Director of Health Dr Patrick Amoth said it is becoming less tenable to isolate all patients in hospital-based treatment facilities.
"Hospital care should be prioritised for those with the highest probability of poor outcomes. These include patients with severe and critical illness and those with mild diseases but with a risk for poor outcome like those aged 60 years and above," he said.
Underlying illnesses
Others who will be retained in hospitals are those with underlying illnesses like chronic cardiovascular disease, chronic respiratory disease, diabetes and cancer.
The implementation of the guidelines should be done under the supervision of medical and public health officials.
The guidelines involve a trained health care worker to conduct an assessment to ascertain whether the residential setting is suitable for providing care.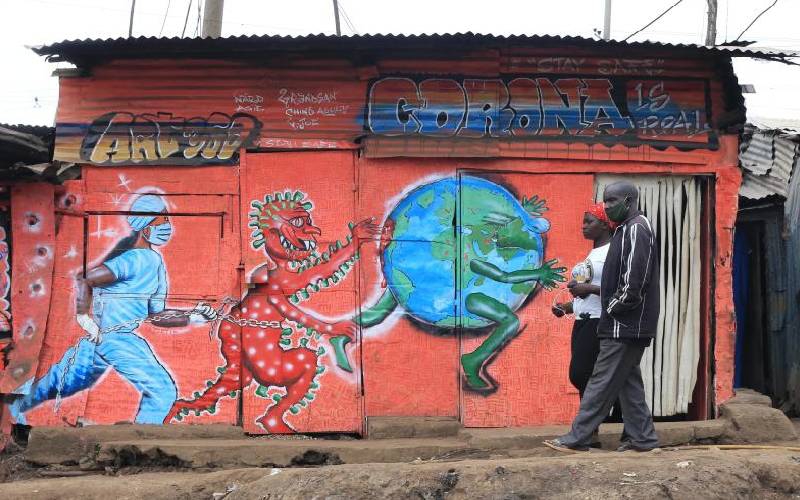 The health worker should confirm if the patient is stable enough to receive care at home and if the appropriate caregivers are available at home.
There should also be a separate bedroom or isolation space where the patient can recover without sharing immediate space with others and a separate toilet and bathroom facility for the patient, from the rest of the household.
"Resources for access to food and other basic necessities should be available. The patient and other household members have access to appropriate, recommended personal protective equipment, at a minimum gloves and face masks," the guidelines show.
The health worker will also confirm the capability to adhere to precautions recommended as part of home-based isolation and care like respiratory hygiene, cough etiquette and hand hygiene.
The homes to be used should also have a thermometer and a person able to read and record the temperature. And there should be no household members who may be at increased risk of complications from Covid-19 infection.
Those vulnerable include people aged 65 years old and above, young children under two years, pregnant women, people with low immunity or who have chronic heart, lung or kidney conditions.
The procedures for home-based care include placing the patient in a dedicated and separate well-ventilated isolation room.
There should be limited movement of the patient in the house and minimise time spent in shared spaces like kitchen and bathrooms.
Caregivers should also ensure all shared spaces are well ventilated by keeping windows open.
Limiting caregivers
The guidelines require limiting the number of caregivers by assigning one person who is in good health and has no underlying chronic or immunocompromising conditions.
Visitors should not be allowed in the isolation room, except for the caregiver where necessary, until the patient has completely recovered, has no signs or symptoms of Covid-19 and has tested negative as per the health protocol.
The guidelines require caregivers to wear a face mask that covers their mouth and nose when in the same room as the patient.
Safe handling of face masks includes not touching or handling during use. If the mask gets wet or dirty from secretions, it must be replaced immediately with a fresh clean, dry mask.
Home-based care givers should avoid direct contact with body fluids, particularly oral or respiratory secretions, and stool. Use disposable gloves and a mask when providing oral or respiratory care and when handling stool, urine, and other waste.
They should also use dedicated linen and eating utensils for the patient which should be disinfected with 0.5 per cent Chlorine bleach immediately after use by the patient. Then these items should be cleaned with soap and water and may be re-used.
It is recommended that the patient is engaged in frequent cleaning and disinfecting of surfaces that are frequently touched in the isolation room. This includes cleaning of bedside tables and bed frames.
Caregivers are required to clean and disinfect bathroom and toilet surfaces at least twice daily.
Regular household soap or detergent should be used first for cleaning, and then, after rinsing, regular household disinfectant containing 0.5 per cent sodium hypochlorite should be applied.
The patient's clothes, bed linen, and bath and hand towels should be cleaned using regular laundry soap and water or machine wash at 60–90 degrees centigrade with common household detergent and dry thoroughly.
Heavy duty gloves and protective clothing like plastic aprons should be used when cleaning surfaces or handling clothing or linen soiled with body fluids.
The guidelines show that gloves, masks and other waste generated during home-based isolation and care should be properly disposed as infectious waste.
Isolation should be maintained for at least 14 days from the date the patient is assessed eligible for home-based isolation and care.
The 14-day isolation period should be maintained even in the absence of, or after resolution of, symptoms or until advised by a health worker in the event that a patient continues to have symptoms beyond the 14 days.
In case of any queries or worsening symptoms, patients or caregivers are advised to call 719 immediately or use USSD *719#.
[The writer is a 2019/20 Bertha Fellow.]
Credit: Source link