Nigeria's ruling party candidate Bola Tinubu, 70, has won the presidency of Africa's most populous democracy after a highly disputed election, the Independent National Electoral Commission (INEC) said on Wednesday.
Thank you for reading this post, don't forget to subscribe!
Tinubu, of the All Progressives Congress (APC) party, won 8.8 million votes against 6.9 million for opposition Peoples Democratic Party (PDP) candidate Atiku Abubakar and Labour Party's Peter Obi, who won 6.1 million, according to results.
The president-elect, also referred to as "Jagaban",  was declared winner of the election by Mahmood Yakubu, chairman of the Independent National Electoral Commission (INEC), in the early hours of Wednesday at the National Collation Centre in Abuja.
Mr Tinubu, who was governor of Lagos state from 1999 to 2007 garnered 8,805,420 votes.
Mr Abubakar, who served as vice president from 1999 to 2007, got 6,984,290 votes while 62-year-old Obi, a former governor of Anambra got 6,093,962 votes, and 65-year-old Rabiu Kwankwaso of New Nigeria People's Party (NNPP) polled 1,496,671 votes.
While Mr Tinubu won in Rivers, Borno, Jigawa, Zamfara, Benue, Kogi, Kwara, Niger, Osun, Ekiti, Ondo, Oyo and Ogun states, Mr Abubakar won in Katsina, Kebbi, Sokoto, Kaduna, Gombe, Yobe, Bauchi, Adamawa and Taraba, Osun, Akwa Ibom and Bayelsa states. Mr Obi won in Edo, Cross River, Delta, Lagos, FCT, Plateau, Imo, Ebonyi, Nasarawa, Anambra, Abia and Enugu states.
The APC candidate scored the constitutionally required majority votes, and also secured the second requirement of 25 percent of the votes in 25 states (two-thirds of Nigeria's 36 states and Abuja), as required by Section 134 of the Constitution.
According to the Constitution, "a candidate for an election to the office of the President shall be deemed to have been duly elected, where, there being only two candidates for the election;
"(a) he has the majority of votes cast at the election; and
"(b) he has not less than one-quarter of the votes cast at the election in each of at least two-thirds of all the States in the Federation and the Federal Capital Territory, Abuja."
'It's my turn'
With President Muhammadu Buhari stepping down, many Nigerians hoped Saturday's vote would open the way to a leader able to tackle insecurity, ease economic malaise and manage poverty in their West African state.
Tinubu campaigned saying "It's my turn" to govern Africa's largest economy. He promised "Renewed Hope" but faced questions from rivals over his health, past graft accusations and ties to Buhari, who many critics say failed to make Nigeria safer.
Nearly 90 million Nigerians were eligible to vote, with almost 10 million of them new voters, many under the age of 34, who wanted a chance to have a say in a change for Nigeria.
PDP and Labour parties have already called for the vote to be scrapped, and have demanded a fresh election because of what they claimed was massive manipulation of ballot counts.
"Contrary to the insinuation by both parties, results emanating from the States point to a free, fair and credible process," the INEC said in response.
It said parties should allow the process to run its course and then take their claims to court.
One surprise result was Obi's victory in Lagos, the state with the largest number of registered voters and the traditional bastion of APC's Tinubu, known as the "Godfather of Lagos".
The state's eponymous megacity has put Nigeria on the cultural map with its glitzy Nollywood film scene and global Afrobeats stars like Burna Boy, but nearly half of Nigerians live in poverty and inflation is in double digits.
Security challenges for Nigeria's next leader are huge. A grinding Islamist insurgency in the northeast has displaced more than two million, bandit militias carry out mass abductions in the northwest and separatists attack police in the southeast.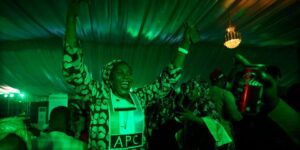 Fraud claims
The voting was mostly peaceful, but was troubled by long delays at many polling stations, while technical hitches disrupted the uploading of results to a central website, fuelling concerns over vote rigging.
INEC introduced biometric voter identification technology for the first time at the national level and its IReV central database for uploading results to improve transparency.
However, opposition parties said failures in the system to upload tallies allowed for ballot manipulation and disparities in the results from the manual counts at local polling stations.
During tallying, PDP and Labour kicked against further announcement of the results despite clinching major upsets and winning in the stronghold of the APC.
Some representatives of the parties walked out of the national collation centre in Abuja on Monday, after a gruelling shouting match, but the INEC continued the collation.
"The election is irretrievably compromised," Labour Party chairman Julius Abure told reporters on Tuesday. "We demand that this sham of an election should be immediately cancelled."
Long delays in voting and slow results, frustrated and angered many voters.
Former President Olusegun Obasanjo, supporter of the underdog Labour, also called for the annulment of the election.
The ruling APC party dismissed the opposition claims as an effort to "truncate" democracy because PDP and Labour knew they were losing.
The Presidential Campaign Council of the APC on Tuesday faulted the call by the opposition for the cancellation of the election, saying it would amount to aborting an electoral process adjudged free and fair by international observers.
APC-PCC Adviser, Media, Public Affairs and Strategic Communications, Mr Dele Alake, likened the election to a full-term pregnancy, insisting that "the process cannot be aborted at this point until it is allowed to go its full course", which is "the formal announcement of the result of the election".
"We have always suspected that Labour Party and PDP are the same, only divided by individual inordinate ambitions. We want to remind them that the election is a process  like pregnancy. Like a pregnancy that has reached full term, it cannot be aborted. We are not in 1993 when [the] June 12 [baby] was aborted by similar forces. It is too late to do so," he said.
International observers, including from the European Union, noted major logistical problems, disenfranchised voters and a lack of transparency by INEC.
Local observer group Yiaga said it conducted a parallel vote tabulation for the presidential election and would hold a press conference after official results were released.
"If the official results are manipulated at any point in the process we will be able to expose it," Yiaga said.
In 2019, INEC was forced to delay the election by a week just hours before voting started. PDP's Abubakar cried fraud when Buhari beat him that time around, but the supreme court later tossed out his claim.
Credit: Source link