Residents of Mathare, Nairobi, engaged the police in running battles at night, on Monday, June 1, after one old man was shot dead on his way back home.
Speaking with Newszetu on Tuesday, June 2, former Mabatini MCA aspirant, Patrick Juma Ojiambo, stated that the old man, commonly known as Vaite was reportedly shot at by the police after they confronted him for being found outside past curfew.
According to Juma, the 7:10 p.m incident forced residents to light fires and riot against the police.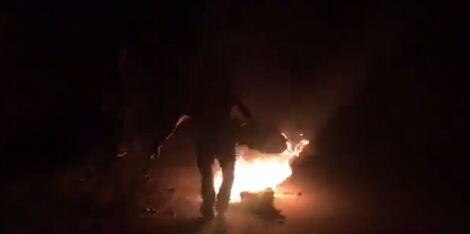 "The old man was over 50 years and was a loader at Marikiti. He met the police, a few minutes past 7 p.m and they started using force on him. According to eyewitnesses, they shot him in front of some other residents who were calling on the police to either arrest or detain him.
"We have video evidence and we shall be presenting them to the police when we file an official complaint. The riots ensued but residents went back to their homes later as it was past curfew," Juma stated.
The politician added that they had spoken to Huruma Officer Commanding Station (OCS) Madam Juliana Nyongesa, who played coy with the information presented to her via a phone call after the incident.
"She stated that she will investigate the issue. However, she added that she wasn't sure if the officers were under her or were from Muthaiga, Nairobi. Today we shall also speak with the Independent Policing Oversight Authority (IPOA) and ask them to fight for our justice. We are tired of extrajudicial killings in Mathare," Juma lamented.
"He was drunk and he is homeless. He was shot at six times and today we will demonstrating," another resident who spoke with newszetu declared.
Activist Boniface Mwangi also through his social media pages advocated against the extrajudicial killing. Mwangi disclosed that the deceased used to live in the streets.
"Kenya Police have shot dead a homeless man in Mathare, Bondeni area. He works as a loader in Marikiti but sleeps in the streets, residents call him Vaite. About 300 people have defied the curfew and are protesting the extrajudicial killing," Mwangi tweeted.
IPOA stated that it will release a statement on the incident on Tuesday, June 2.
Credit: Source link