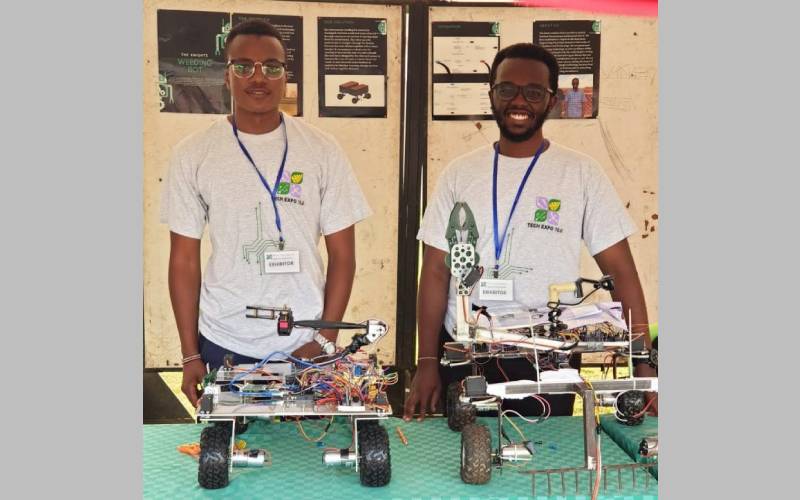 When two classmates in university teamed up to work on an engineering project, they never imagined their names would make it to the list of "shujaas" that the president would mention in his speech.
Michael Malombo Mwaisakenyi and Ken Kioria Gicira, 25, of Jomo Kenyatta University of Agriculture and Technology (JKUAT) say they never, in their wildest dreams, imagined they would be subject of discussion in a national event.
"My phone has not stopped ringing. From the moment President Uhuru Kenyatta mentioned our names, people want to know who we are and what drives us. We are just young men who wanted to do something different," Mwaisakenyi said.
The duo came up with an automated weeding machine to eliminate the use of herbicides by farmers. Their drive was Mwaisakenyi's ageing grandfather whose piece of land would be infested with weeds.
"He had to hire many people and pay them to get rid of the weeds. He was spending too much time and money dealing with the weed menace, and one day we thought of experimenting with technology to see if it can help," Gicira said.
Read More
Mwaisakenyi says he hated spending so much time helping his grandfather to uproot the weeds — and it would not take long before more weeds sprouted again. They decided to come up with a solution.
"If you solve a problem, heroism and success will naturally follow you," said President Kenyatta yesterday as he introduced the duo's innovation during Mashujaa Day celebrations.
They said from the moment they had a discussion about writing the plan, to when they started assembling pieces of metal, batteries and motors to make their bot, what has kept them moving is determination and passion for innovation.
The bot uses artificial intelligence to separate weeds from crops. It is in form of a small vehicle that navigates through the farm, in-between rows of crops and plucks out weeds after it has been programmed with the photo of the weed.
"We did it for people like my grandfather who have to put three or more seeds in a hole during planting because they are sure not all of them will grow to maturity. The weeds choke them up," Mwaisakenyi said.
Their innovation has bagged them several awards. In March, they won the Microsoft's 18th edition of the annual Imagine Cup Championships after beating nine other students' teams from nine European, Middle East and African countries.
"We always look at the prototype we had when we started, and how basic it looked. We never thought one day people would be calling us shujaas. When you are determined to do something, it might take long, but the efforts bear fruit," Gicira said.
They admit that their success did not come without challenges. They talk of the times they had to stop midway because they could not afford the machines needed to drive the robotics. They also say unavailability of electronics such as batteries to charge the bot hindered their progress, and they had to ship in items from abroad.
"When coronavirus came, things became even worse. We had moments when we questioned if this innovation was too crazy. Thank God we never gave up," Gicira said.
For Mwaisakenyi, being mentioned as a shujaa has reinforced in him the belief that young people can take a position and change the country.
Roy Allela, a 25-year-old student from the University of Nairobi also got a mention as a trailblazer. He developed smart gloves that convert sign language movements into audio.
Allela's motivation was his desire to communicate with his six-year-old niece who was born deaf. After watching his niece desperately trying to communicate with people who did not understand sign language, he decided to create something for her.
He made the gloves that he has named Sign-IO. They have flex sensors stitched on to each finger. The sensors quantify the bend of the fingers and process the letter being signed.
The gloves are then paired via Bluetooth to a mobile phone application that Allela also developed, which then vocalises the letters.
"My niece wears the gloves, pairs them to her phone or mine, then starts signing and I'm able to understand what she's saying," he said.
He said since his niece can read lips, he does not have to sign back.
"By solving the problem of his 6-year old niece, Allela has created a solution that will help thousands of deaf people globally," said President Kenyatta.
The innovation has won him several awards, including the hardware trailblazer award from the American Society of Mechanical Engineers (ASME). He was also the second runner-up for the Royal Academy of Engineering Leaders in Innovation.
Credit: Source link