Pink is pushing back on some hateful Instagram commenters who responded to her posts about Black Lives Matter and the ongoing protests prompted by police brutality against Black people.
The singer, who has been vocal on the social media platform by sharing various videos and images in an effort to speak out against racism, shared a post from Billie Eilish this weekend.
The 18-year-old had posted a long note on her Instagram page, telling fans she was "gonna lose my fucking mind" if another white person told her "all lives matter," a slogan often used to invalidate the specific injustices inflicted upon Black communities.
"Will you shut the fuck up?" Eilish wrote. "No one is saying your life doesn't matter. No one is saying your life is not hard. No one is saying literally anything at all about you … All you MFs do is find a way to make everything about yourself. This is not about you. You are not in need. You are not in danger."
After Pink reshared part of the note, her comments were flooded with both messages of support and criticisms. In response to many of the hateful comments, Pink pushed back with some meaningful retorts.
"You are the epitome of white privilege and the saddest part is that you don't even hear yourself and probably never will," she wrote to one person who argued that by saying Black Lives Matter, the mom of two was actually saying "other races don't matter as much."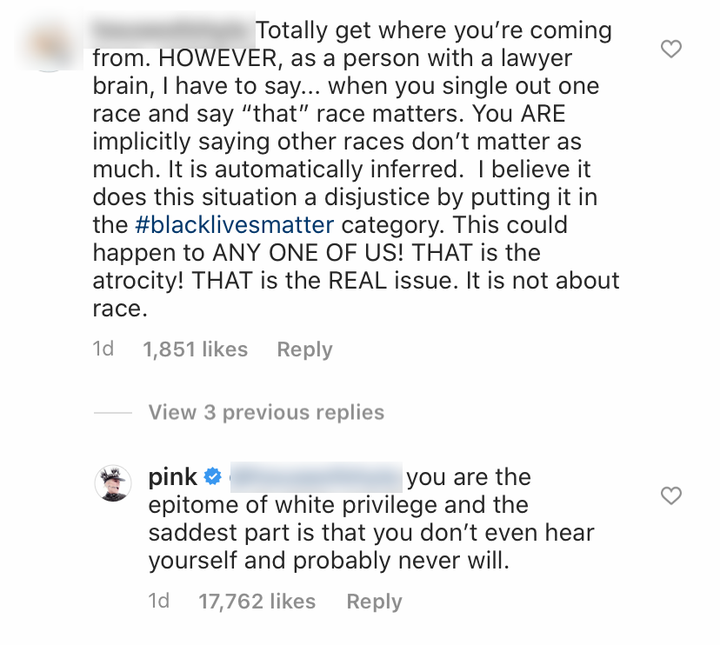 On other comments, Pink replied with briefer thoughts: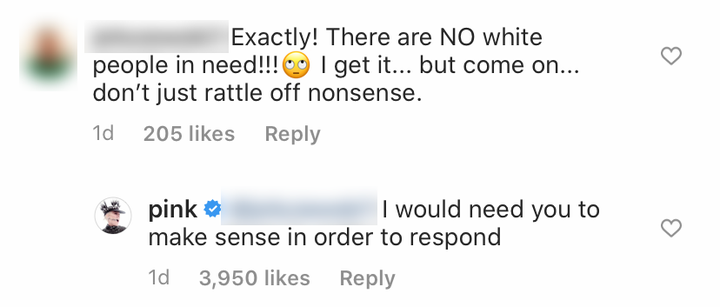 In a different post, Pink shared a post from Octavia Spencer's Instagram page about police officers in Santa Cruz, California, who took a knee alongside protesters.
When a commenter wrote that "we can't tarnish every officer with the same brush," Pink explained that she knows "many" police officers who are "wonderful," but that you "can fight what's wrong without ignoring what is right."
"Find one quote where I said all cops are bad," Pink said.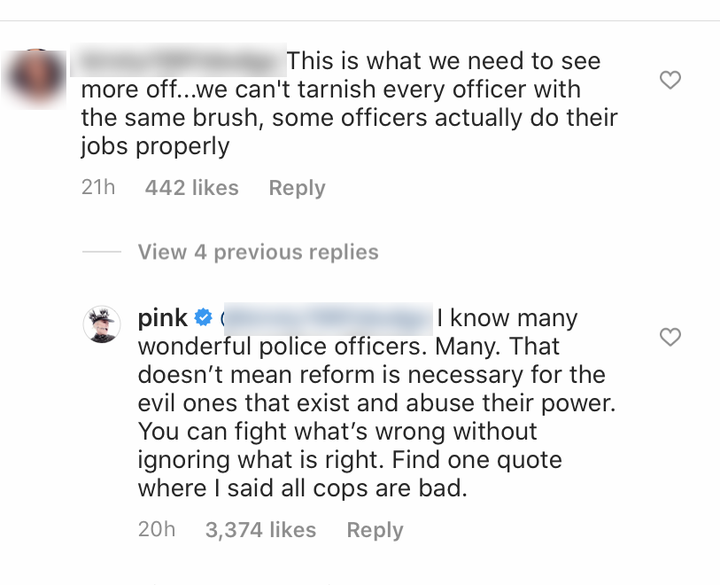 Pink tweeted Monday in response to people commenting on her posts and said racists have her "blessing" to unfollow her.
Many celebrities have come out in opposition to police brutality and in support of the protests happening around the globe.
Beyoncé, Rihanna, Selena Gomez, Lady Gaga, Taylor Swift and Ariana Grande are among those have used their massive platforms in the last week to speak out against racism, support Black Lives Matter and address white privilege.
Calling all HuffPost superfans!
Sign up for membership to become a founding member and help shape HuffPost's next chapter

Credit: Source link