Prince Harry wore his emotions on his sleeve Tuesday night during the Duke and Duchess of Sussex's appearance at the annual WellChild Awards in London. 
The royal dad gave a speech at the awards, which pay tribute to sick children as well as their caregivers, and spoke about knowing he and Meghan were secretly pregnant at the same awards last year, prior to making the announcement public. 
"Last year, when my wife and I attended, we knew we were expecting our first child," Harry said as his voice slightly started to break.
"No one else did at the time, but we did. And I remember…" the prince started to say, before he got emotional and stepped away from the mic. As fellow presenter Gaby Roslin reached out to comfort the duke, the crowd began clapping as he collected himself. 
"I remember squeezing Meghan's hand so tight during the awards, both of us thinking what it would be like to be parents one day," he said, after beginning his speech again. "And more so, what it would be like to do everything we could to protect and help our child should they be born with immediate challenges or become unwell over time." 
"And now ― as parents ― being here and speaking to all of you pulls at my heartstrings in a way I could have never understood until I had a child of my own," he said. 
Harry and Meghan Markle welcomed their son, Archie Harrison Mountbatten-Windsor, in May. 
At the awards on Tuesday night, the two confirmed that their little one indeed has red hair, just like dad, during a conversation with Angela Sunderland and her daughter Milly, 11, at the awards. 
"Meghan said he has and Harry said he definitely [has], you can see it in his eyebrows," the mother said, according to the Mirror.
"Harry said he'd had no hair for five months, but Meghan told him she had taken him to the playgroup and she said there were other children there with the same amount of hair or even less," she added.
We'll have to keep an eye(brow) out.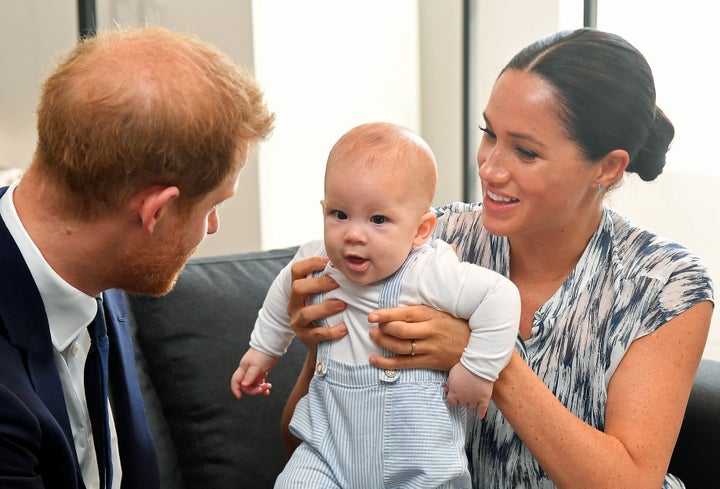 Subscribe to HuffPost's Watching the Royals newsletter for all things Windsor (and beyond).
REAL LIFE. REAL NEWS. REAL VOICES.
Help us tell more of the stories that matter from voices that too often remain unheard.

Credit: Source link