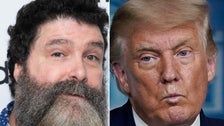 WWE Hall of Famer Mick Foley says he didn't intend to get too political ahead of November's election, in which President Donald Trump is facing off against former Vice President Joe Biden. That changed on Wednesday amid revelations that Trump knew how dangerous the coronavirus was, yet lied to the public about it earlier this year and repeatedly downplayed the threat. 
"There is simply TOO MUCH to lose to stay quiet," Foley wrote on Twitter.
He then shared a tweet with audio of Trump's confession along with a question for the president's supporters: 
Foley, who has wrestled under the names Cactus Jack and Mankind, among others, added:
He later thanked those who responded.
Over the weekend, Foley called out people who refuse to wear a mask:
WEARING A MASK = an easy, effective way of showing you care about others.

NOT WEARING A MASK = a simple, effective way of showing you don't give a single, solitary F about anyone but yourself.

GIVE AN F. WEAR A MASK! pic.twitter.com/8gArcfybrM

— Mick Foley (@RealMickFoley) September 6, 2020
A HuffPost Guide To Coronavirus
Everyone deserves accurate information about COVID-19. Support journalism without a paywall — and keep it free for everyone — by becoming a HuffPost member today.

Credit: Source link