Retired President Uhuru Kenyatta has over the last decade worked closely with Murang'a politician Sabina Chege, whom he assisted to secure nomination to Parliament. But that the two are now engaged in a dogfight – or so it seems – over the soul of the Jubilee Party, is a demeaning development for the former Head of State.
The awkward scenario that places the fourth President and the former Murang'a Woman Representative on a political weighing scale is by no means accidental. It is a daring move partly aimed at humiliating Kenyatta, and Chege perhaps offers the best desired results to this effect.
The hidden message behind this action is that the former Head of State has diminished in political value to the level of an ordinary Member of Parliament. And Chege, who admits to having enjoyed Kenyatta's favour, which saw her win nomination to Parliament and secure the deputy Minority Whip slot, buttresses this thinking. She no longer considers him politically influential in the country or even within Mt Kenya. Deputy President Rigathi Gachagua, she holds, is the new political kingpin in the region.
While it is factual that there is a political shift of power in the Mt Kenya region and indeed the rest of Kenya, as is always the case during power change-over, the display of open defiance and dishonour directed at the former Head of State is astounding. Chege, who has since been declared a caretaker leader of the Jubilee Party by one faction of the party, and East African Legislative Assembly MP Kanini Kega, are only the face of this defiance.
Only last week, Chege and Kega, who serves as Secretary-General of the Jubilee Party faction opposed to Kenyatta, summoned the retired President to appear before a disciplinary committee over alleged gross misconduct. Kenyatta was similarly directed by the Registrar of Political Parties, Anne Nderitu, to respond to the resolutions of a National Executive Council (NEC) meeting that replaced him as party leader with Chege, latest by Monday (May 15).
Of course few – including Chege and Kega – expected the retired President to physically appear and humble himself before them for "disciplinary action".
The high drama was partly engineered to publicly portray Kenyatta as an ordinary Jubilee Party member whose political potency had waned.
The retired President might have snubbed the summons by the Chege-Kega faction and declined to respond to the Registrar's letter, but the well-orchestrated message downplaying his political might had soundly been delivered to Kenyans. And even tomorrow (May 22), as Kenyatta hosts the Jubilee Party's National Delegates Conference at Nairobi's Bomas of Kenya, a cloud of uncertainty – in terms of legal challenge and political intrusion – hangs over the event.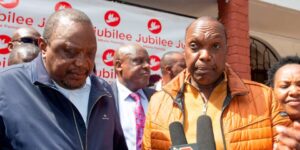 With the sustained attacks on Mr Kenyatta's character, the Monday event may not be as "presidential" as largely anticipated. As historian Prof Macharia Munene rightly observes, no Kenyan President, sitting or former, has been subjected to the kind of humiliation and derogatory remarks as those now being directed at the fourth President.
Perhaps the only leader subjected to similar hostility was the Second President, Daniel arap Moi, in 2002. Even then, it was short-lived and was fostered by members of the rival Mwai Kibaki-led National Rainbow Coalition, who had dethroned the Independence party, Kanu, from its four decade-longhold on power. Kenyatta's case is curious, because it is engineered within his own party and largely by members of his own Kikuyu community.
Terming the development "very unfortunate", Munene, who teaches at the United States International University, says there is need to investigate this odd turnaround of events: "Just how did Kenyans get to this point of humiliating their leaders and is there anything that Kenyatta did that so offended his supporters, or which was so wrong and odd, compared with what his predecessors might have done?"
According to the historian, Kenyatta is partly to blame for his current political woes. The retired President, he argues, should have exited the stage the moment his term in office ended. Daniel arap Moi, for instance, relinquished the leadership of Kanu to Kenyatta upon exiting office and Prof George Saitoti took charge of the Party of National Unity in the sunset days of Kibaki's rule. On the other hand, the founding President, Jomo Kenyatta, died in 1978 while in office, therefore leaving his Vice-President, Moi, to take over the leadership mantle of the ruling party, Kanu.
Nonetheless, the situation is different this time round for the Fourth President. Mr Kenyatta, who ascended to the throne in 2013 aged 52, is still "fairly young" and politically active. And having handed power to President William Ruto, his former Deputy President who was not his preferred successor, Kenyatta feels obliged to fight for political space and arm himself against a possible onslaught from his former friend-turned-political foe.
Dr Henry Wabwire, a commentator on political affairs, believes the retired President has solid justification for staying on the political stage. This is particularly the case considering Ruto's not-sofriendly history with the Jubilee Party, which elbowed him aside during his second term in office as DP: "There is a sense in which he (Ruto) appears vengeful, as demonstrated by his orchestrated manouevres to raid the Jubilee kraal. Only Kenyatta can stand in his way – at least he cannot openly confront the retired President.
If there was no Kenyatta intervention, today the whole of Jubilee would be gone to Ruto and Kanini Kega would be the confirmed Secretary-General".
Yet still, there are those who opine that the President should save face and his dignity by disengaging from the battles over ownership of Jubilee, which are getting uglier by the day. Former Nyeri Town MP Ngunjiri Wambugu is among those who believe Kenyatta is above the fray and should accordingly concentrate on private affairs and any global assignments.
But some close allies of the retired President's believe the current onslaught is personal and he must fight back. David Murathe, who serves as Vice-Chairman of the faction allied to Kenyatta attributes the scheme to take over Jubilee to "forces enjoying the backing of the State". He believes that Ruto is keen on politically vanquishing Kenyatta in revenge for sidelining him during the last lap of their term of office and declining to back his candidature.
But, perhaps more poignantly, the motivation behind Kenyatta continuing to hold on to Jubilee is that he may find room to rise above again politically and offer a challenge to Ruto. Jubilee is the sole visible political vehicle with top leadership from Mt Kenya, and pundits believe this is reason enough to make the President uncomfortable.
There is also a possibility that Kenyatta is hanging on to this political outfit as a platform to shield himself against a political and even economic onslaught targeting his private establishments. During street protests called by the opposition in March, for instance, individuals believably persuaded by leaders from President Ruto's United Democratic Alliance stormed the Kenyatta family's Northlands farm in Thika, Kiambu County, and made away with hundreds of prize sheep.
In the meantime, the retired President's resistance seems to paying off as he is gradually winning over some public sympathy. A set of politicians from the Mt Kenya region is now calling for sober and respectful treatment of Mr Kenyatta.
They include former Agriculture Cabinet Secretary Mwangi Kiunjuri and lately Murang'a Woman Representative Betty Maina, who incidentally succeeded Chege in the last polls.
The one-time Gatundu South MP could also be a beneficiary of whispers that are gaining ground in Mt Kenya that the high-profile appointments in the Ruto Administration are skewed in favour of individuals from the Rift Valley at their expense. The assumption here is that the active presence of the Jubilee Party is important and strategic should disgruntled Kenyans who have been backing the Kenya Kwanza government decide to withdraw their support.
And this precisely explains why the retired President won't let go of the Jubilee Party just yet. Some have even suggested that if the going gets tough, then Kenyatta should be encouraged to register a splinter group, say Jubilee-Asili, Jubilee-Fresh or New Jubilee, as has been the fashion in the history of Kenya's highly competitive party politics.
During the reintroduction of multiparty politics in 1992, the main opposition movement – Forum for the Restoration of Democracy (FORD) – was split into two factions: Ford-Kenya, allied to Jaramogi Oginga Odinga, and Kenneth Matiba's Ford-Asili. The party was later split further into a third unit – Ford-People, under whose ticket former Head of Civil Service Simeon Nyachae vied for the Presidency in 2002.
There have also been Narc and Narc-Kenya, headed by ex-Cabinet ministers Charity Ngilu and Martha Karua respectively.
But taking a leaf from these instances, according to Wabwire, would be a mistake as Kenyatta would be playing into the net of the Chege-Kega Jubilee faction and their perceived political sponsors.
The political analyst argues that the design behind the moves against Kenyatta is to frustrate him out of the leadership of the party. The party might have shrunk in membership, political might and even finances, but the battle for its control is beyond the physical. It is symbolic, and it is about power – which Kenyatta cannot be seen to cede to Ruto.
Credit: Source link