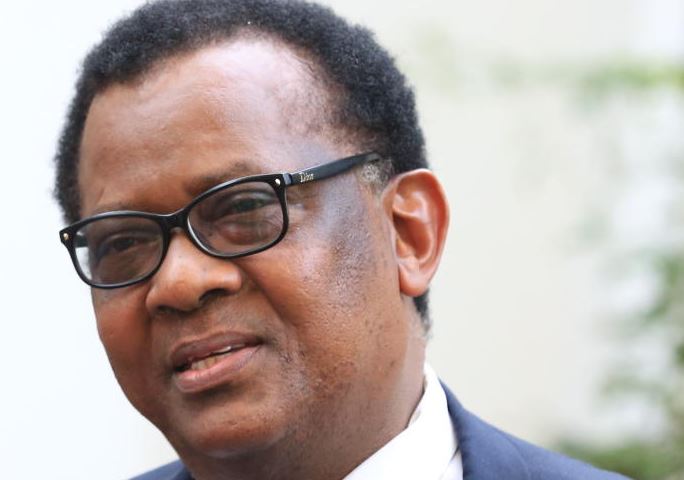 Admirers of Phillip Nzamba Kitonga mostly talk about his humility.
They marvel at how impressive it was for a man who once held the future of the country in his hands, while driving constitutional reforms.
"We would walk along Waiyaki Way where our offices were, to look for lunch, always on foot. Nobody would imagine he was chairman of a commission," says Abdirashid Abdullahi, who served with Kitonga at the Committee of Experts (CoE) on constitutional review.
Asked to sum up what made Kitonga (pictured) stand out, his colleagues and friends struggle to put a word to it. For some, he embodied the seriousness that the commission represented. At a time the country was polarised along tribal lines, one of Kitonga's roles was to come up with a draft constitution that would heal the nation from the hurts and pains it had gone through in the 2007/08 post-election violence; and this he did without fear or favour.
Heavily political
"It would have been easy for him to lean on one side. The process was heavily political, but he never allowed the many external voices to distract him," says Atsango Chesoni, who was also a member of the commission.
Then there are those who knew the other side of Kitonga. The man loved his drink chilled, and often easy conversations would flow when spending time with his peers.
He relished slow African music; a mix of Kwaito and Rumba. Sometimes rhythms and blues, or country music would do. His very close friends say he was naughty and would crack deep jokes laced with legal jargon that only people in his profession would get.
His food of choice was mostly well-made chicken with ugali. In between those bites, he would mostly talk about the cases he had handled at the peak of his law career, before he became Law Society of Kenya chairman, at a time the institution was a globally-recognised force.
"He was a fun guy. Most people do not know it, but he was extremely hilarious. Since I heard of his death, I have been replaying the interesting conversations we had," says Bobby Mkangi, who also worked at CoE.
Mr Mkangi tells of an incident in Mombasa where they had gone for deliberations during the drafting of the constitution. After an easy evening of mnazi and dance, it was time to leave the pub. When they stepped out to get a taxi, most of the drivers recognised Kitonga. They hiked their rates to almost triple the normal amount. Kitonga shook his head and walked on. Not even the random calls of  "chairman!" from the drivers made him stop.
Frustrated by the attempts to swindle him, he jumped into a tuk-tuk and off they went, to the surprise of the taxi drivers.
"They could not believe that a well-known chairman of the Committee of Experts would choose a tuk-tuk as his means of transport. But that was Kitonga for you; he never allowed people to take advantage of him," says Mkangi.
Rarieda MP and lawyer Otiende Amollo says one of the less-mentioned pleasures of Kitonga was his passion for football. He was instrumental in forming Wakili-FC, a football club for lawyers that was founded in the late 1990s.
"He even played in the club for a while. He loved the game. We have lost a great man," says Mr Otiende.
When news of his death came on Saturday evening, streams of messages of condolences flowed on social media and off the net.
"He's the reason I went to law school. Our close friendship and his pro-bono representation of the poor inspired me to become a lawyer," wrote Prof Makau Mutua on Twitter.
Fred Chisuma recalled walking into Kitonga's law firm when he had a civil suit and getting fascinated at the attention he got. "I was not rich. But he listened to me and even gave me a glass of water when I got emotional about the case," says Chisuma.
President Uhuru Kenyatta described Nzamba as a constitutional law stalwart and a patriotic Kenyan with unmatched legal prowess. "We all remember and are forever indebted to Nzamba and his Committee of Experts for midwifing the 2010 Constitution and for his many exploits as a lawyer of high standing," the President eulogised.
Opposition leader Raila Odinga praised Kitonga for consistently interpreting the Constitution to make sure it grew with the people.
Kitonga's greatest undoing, his colleagues say, was his intolerable patience.
Ekuru Aukot, who was in the CoE, recalls the many days they had conflict of ideology, and how Kitonga sat through it all without losing his cool.
"He hated controversy, and he did everything to avoid getting into conflict," said says Prof Aukot.
Otiende says the experts would violently disagree intellectually, and Kitonga would watch it all without uttering a word. "The fierce arguments, the walkouts, the sulking, the heavy air of suspicion that sometimes engulfed the room as they discussed the course of the constitution; he bore it with stride. Sometimes, we would tell him to take sides. He was chairman and we felt he needed to show his might when things went down. He never did," says Otiende.
The only time he lost his cool, Mkangi recalls, was when a columnist wrote that Kitonga's team was idle and a waste of taxpayers' money.
"He had laboured on the document, held several meetings. He developed a bad back and had to get orthopedic chair because of the long hours he sat working on the article. He was offended," says Mkangi.  Through it all, his ability to forgive easily came to fore.
Welcomed media
Journalists remembered him as the man who always welcomed the media to his office, and broke down legalese in the most basic language.
He leaves behind a legacy of fighting for justice; embodied by the motto of his law firm F?at j?stitia ruat cælum – let justice be done though the heavens fall. Let justice prevail.
To his peers, the fact that his body first lay in a small mortuary in Machakos, solidifies his humility in life and in death. The body was yesterday transferred to Lee Funeral Home in Nairobi.
Credit: Source link