It's in a tiny, dusty, outback Australian town you've never heard of where one of the world's great sporting spectacles takes place.
My nose is pressed firmly to the window beside seat 11A, the final row of our chartered flight which contains just 23 passengers. This aircraft is tiny. Knees-in-your-chest tiny. Bang-your-head-on-the-ceiling tiny. And stepping into the lavatory is as difficult as fitting a three-seater couch through a standard door frame, where a moderate understanding of trigonometry is required.
As we duck under the clouds for the first time in almost three hours, our captain's muffled voice interrupts the grumbling of our Saab 340's twin engines to announce we've begun making our descent. Really? I see nothing. No airport. No buildings. No roads. No cars. No people. Just red dirt all the way up to the horizon.
A middle-aged lady sporting denim everything has been sat next to me throughout our journey, fixated on the crossword book betwixt her golden jewelry-laden fingers. She's been stumped on 14 across for at least 20 minutes now, only ever breaking focus from the page to skip a song in her aptly named '70s Road Trip' Spotify playlist. Eventually she gives up on 'Irish Exclamation' and stuffs the book back into her grey satchel, before removing her earphones and confessing, "this has been a life-long bucket-list item." It's certainly a theme that is to become more and more apparent as the weekend progresses.
Our plane's wheels soon grip what seems to be the only bitumen for miles, before we complete the world's shortest taxi to something almost comically named a terminal. Suddenly, our modest ride feels like an Airbus A380 compared with the dozens of light aircraft scattered around the landing strip. With the cabin door finally released, one by one we file out to a greeting of blazing sunshine, swarms of flies and an actual tumbleweed. Welcome to outback Australia.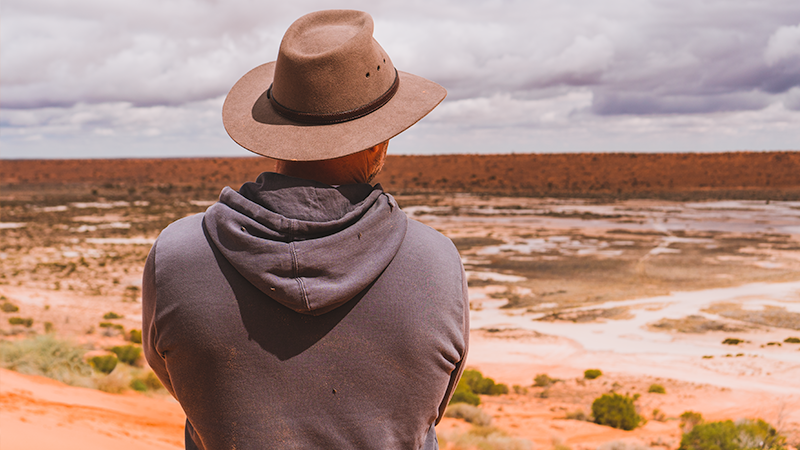 Until last week, I had never heard of Birdsville – a sleepy Queensland town located in the south-east corner of the intimidating Simpson Desert, over 1,100km from the nearest Australian capital city. I use the term 'town' quite loosely, too. There's the iconic Birdsville Hotel pouring pints of the ever-popular Great Northern lager, a family-run bakery dishing up piping-hot curried camel pies, and a seemingly unnecessary police station, given just 115 people call this place home. Outside of that, it's cracked earth and immaculate red sand dunes that resemble the world's grandest Zen Garden.
But this is no ordinary weekend in rural Australia. We've each made this journey for the famed Birdsville Races, a two-day horse racing carnival — dubbed by locals as the 'Melbourne Cup of the Outback' — which, as I'm about to discover, is as Australian as Vegemite, lamingtons and cork hats.
It might just be the most unique sporting event in the world.
---
IN THE SPRING of 1882, a group of 150 local thoroughbred owners and stockmen converged on the South Australia-Queensland border. Their idea was simple; a one-mile handicap horse race on the sun-kissed dirt of the Australian Outback. With no stalls, the race would begin by the dropping of a hat, and see the horses thunder down a straight-lined track towards the winning fence post.
That inaugural race was run on the western side of Birdsville and crowned the 'Border Handicap'. Bedouin reigned supreme, netting W&W Hood and connections a cheque for 200 pounds, funds that had been generated by public subscription. The following day, local newspaper The Brisbane Courier declared the event a raging success, scribing; "we shall probably hear of many more gatherings." Locals knew then just how special this could be and were determined to turn it into something more than a one-off race meet. They gathered in town at Burt and Co.'s iron store, forming the 42-member 'Border Jockey Club', as well as selecting racing stewards and appointing a working committee. A date for the second edition of the race was set, as was the foundation for what would become an iconic tradition.
"It's unique, as you never know what you're going to get when you come to outback Australia. It pulls at the heartstrings, and once you come along and experience it, and see all the people, it becomes an annual pilgrimage," says Birdsville Race Club's long-time vice-president, Gary Brook. "The Birdsville Races have become not only a bucket-list experiences for racegoers and travellers, but trainers and jockeys alike. It's a testament to how this event continues to grow year-on-year."
Today's prize pool may have swelled to AU$240,000, and the race moved to the now iconic south-east location, but little else has changed. Majestic thoroughbreds circle a dusty, red dirt track under the watchful eye of the blazing orange sun, hovering in the distance. Bookmakers stand on platforms frantically scribbling odds onto chalkboards as half-intoxicated individuals throw cash in their direction. Even the Fashions on The Field remains vastly unchanged.
Continuing these 140-year-old traditions all adds to the charm, nostalgia and mystique of a trip to the Birdsville Races.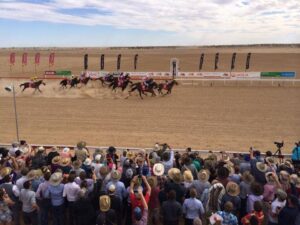 Josh Fleming knows this part of the world as well as anyone. For over two decades he has been the man tasked with calling the Birdsville Races, his unmistakable voice projected to the millions of people who tune in each year. He's been to Birdsville more times than he can remember, yet is still overcome with goosebumps every time he returns to the racetrack.
"This is God's country. The real Australia. You just don't have any place on earth like it."
– JOSH FLEMING, BIRDSVILLE RACE CLUB CALLER
"It's the adventure," Fleming tells ESPN. "To get away from home and get away from reality, out to the real Australia. It's a wonderful part of the world and it's great to keep coming back. It really is very special for so many reasons, and it means so much to so many people."
---
ON THE OUTSKIRTS of town, a 'Welcome to Birdsville' sign stands tall, greeting the few vehicles which rumble through. It proudly states that modest population figure of 115, with a cheeky +/- 11,000 next to it in parentheses.
"In the summer, outside tourist season, you can go two months and not have to get out of your pajamas. It's a quiet place where everyone knows everyone and not much happens," Birdsville's lone police officer, Stephan Purcell, tells me, as we take a drive through Adelaide Street in the heart of the town. "Then all of a sudden it's race weekend, like now, and it's bloody hectic!"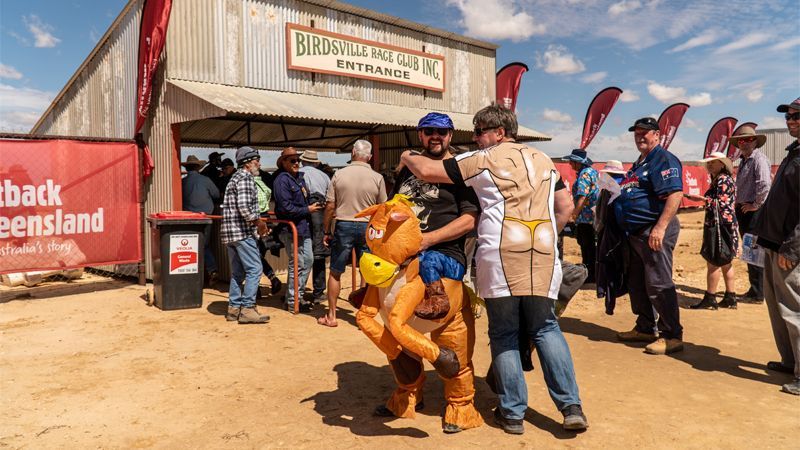 In early 2015, the unique job opportunity of being the only police officer in a 400 square kilometer area opened up, and Purcell, who had enjoyed stints in Melbourne and the Sunshine Coast, jumped at the chance. He had never visited the region, nor did he know much about the town, but the hunger for what he describes as a "sea change" saw him dive into the total unknown. With such a low crime rate in the Australian outback, Purcell spends the majority of his time assisting with car accidents and conducting search and rescues, as well as "making sure the tourists are getting through." But it's a different story when winter transitions to spring, and attention in this part of the world shifts to the Birdsville Races. It's not uncommon for the town's population to multiply by close to 100.
For many, the Birdsville experience begins days, sometimes weeks, earlier, when punters from all over the country load four-wheel drives and utes with the holy trinity of liquid essentials — fuel, beer and H2O — before embarking on the daunting trek into the unforgiving Australian outback. They cram tents, sleeping bags, blow-up mattresses, gas bottles, hot plates, flashlights, and everything else required to brave the extreme elements into their vehicles, which look as if they've been through a mud carwash by the time they're spat out in Birdsville.
It's a logistical nightmare for the town, which can only offer four walls and a roof to around 5% of visitors. The rest? Well they make do by either staying in caravans or camping in 'Tent City', also known as the Birdsville Cricket Ground.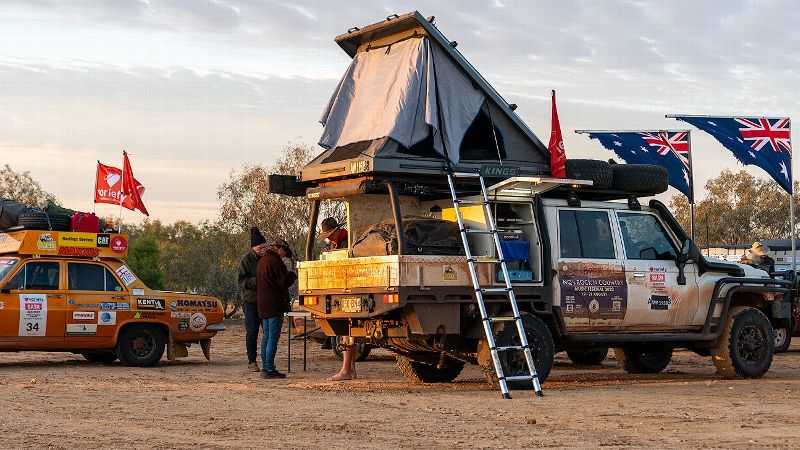 It's now 4 p.m. on Thursday, 48 hours out from the feature race, and Birdsville has just about completed the transformation from blink-and-you'll-miss-it town to the wildest party destination in the Australian outback. After slaloming our way around a sea of sunburnt punters who had invaded the main road, we arrive outside the pub — the undeniable focal point of Birdsville. It's already heaving with tourists, who all seem to have received the same memo for cowboy fancy dress.
The Birdsville Hotel is the kind of old-school Aussie watering hole where craft beer is off-limits. The kind that encourages muddy boots to be worn inside and one which proudly displays a large rack of well-worn stubby holders — each belonging to a thirsty local — behind the bar. You won't find a pool table or jukebox, either. Wine barrels double as tables, the ceiling resembles an antique store, chocked full of dusty relics, and wall space is taken up with a mixture of grainy town photographs from yesteryear and road signs reminding you of just how far you are from civilization.
Purcell gives me his best bobblehead impression, acknowledging almost every person stationed at the pub's white picket fence-enclosed wraparound balcony, while his mobile phone buzzes uncontrollably in the center console. For someone tasked with overseeing such a rambunctious crowd, he is almost worryingly relaxed, but that in itself is an indictment of the Australian outback, where a care-free attitude is not just a way of life, but something which is necessary for survival.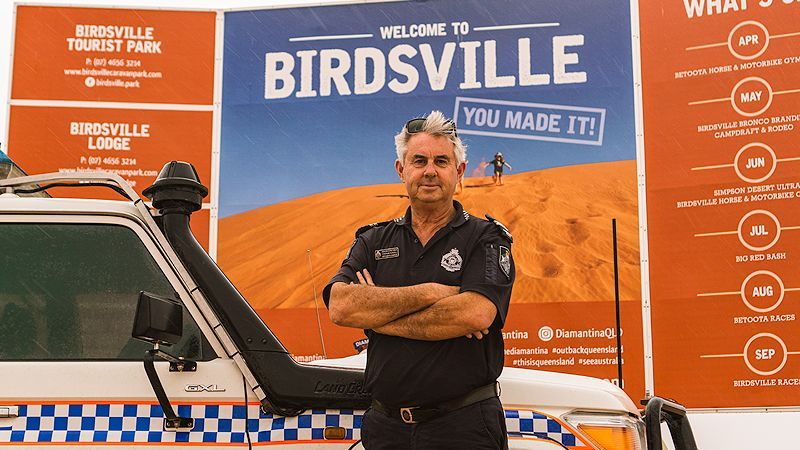 "As the years have gone on, I've learned to enjoy it more and not worry about things," he tells me. "The local district office is up at Mount Isa, which is about 700km away, and I send in a request for support. This week we have 12 officers down here that are helping me out. I might even be able to get some sleep!"
Purcell's phone jolts to life yet again; this time he reluctantly reaches down and answers. A smile flashes across his face, and the conversation lasts all of 15 seconds before he hangs up, chuckles and informs me; "I'm going to have to run, we've got a female streaker in town."
---
A SEA OF beer can-clenching, rowdy folk in flannelette shirts and cowboy hats are huddled in near darkness at Fred Brophy's feet. The Australian outback icon is fitted out in his customary red shirt, faded blue jeans and dark brown boots, crouching on a raised platform and beating a bass drum as old as he. He pauses for a moment before barking; "who wants a fight!?" His legendary spruiking sparks raucous cheers, as one by one, overly ambitious punters high on Dutch courage throw their hands towards the sky, accepting his challenge.
Each brave, soon-to-be amateur boxer is then escorted up a rickety wooden ladder to join Brophy and answer his series of rapid-fire personal questions, as the drum continues to be pounded and tension rises. This 'rallying cry' is how each one of Brophy's shows commences, and once half a dozen volunteers have been found, those remaining part with AU$45 and pour into his cauldron for a truly unique Australian experience.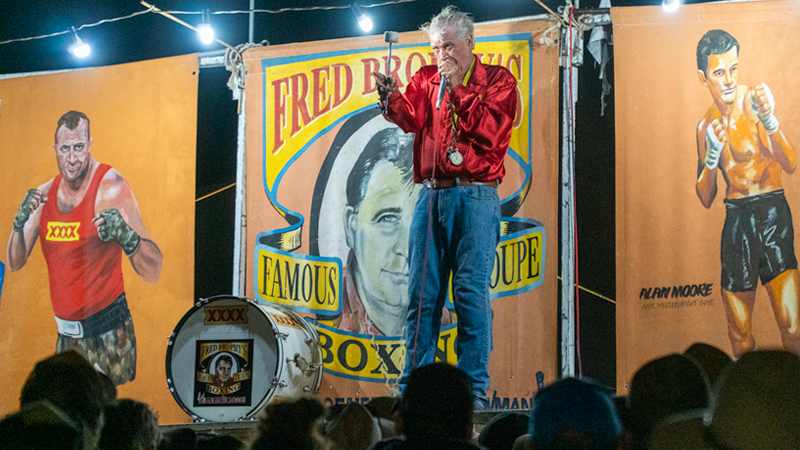 Fred Brophy's boxing troupe — a travelling circus which offers everyday Joes the chance to punch and be punched, all in the name of entertainment — is the last remaining legal boxing tent in the world. And just like salt and pepper or shoes and socks, Brophy and Birdsville is a pair made for each other.
"We fight anyone," Brophy tells ESPN in his no-nonsense, grizzled tone. "We don't care who they are or what reputation they got. If they're pros, or whatever, we don't care. But if they do that cage fighting … if those UHF, or HIC; Kentucky Fried Chicken, I call them. If they do that to my blokes, we'll do it back to them."
Brophy has lived one helluva life.
Born in Perth to a trapeze artist mother and circus operating father, Brophy was hustling for cash by the time he could stand on his own two feet. He developed a taste for violence at a young age, fighting other local children in his father and uncle's boxing tent which toured Queensland, the warm-up act to the adult bouts. He's been "shot with a double-barrel shotgun" more than 100 times, had spears thrown at him, cut parts of his own fingers off in a failed attempt to escape from prison, received an OAM (Order of Australia) and runs multiple pubs, along with the famous travelling boxing tent, of course.
"Out here you get flies, you get dust, you get rain and you get wind. But you get a lot of friends for life. It's a real, 100% Australian experience."
– FRED BROPHY, LEGENDARY AUSSIE OUTBACK ICON
"It belongs to Australia," Brophy declares as he points towards the red earth under his feet. "Tent boxing is an Australian tradition. A show that celebrates everything about the outback and I'm proud of it."
When you set foot inside Brophy's boxing tent, you may as well be hopping into Doc Emmett Brown's DeLorean. It's a throwback to a time in Australia when the term 'political correctness' had no meaning. Men smoke cigars and drink brown liquor, while women are referred to as 'Sheilas', in a non-ironic way. For some, the Brophy experience is a reminder of what the nation once was, while for others, it's a history lesson, highlighting how far we've come as a society.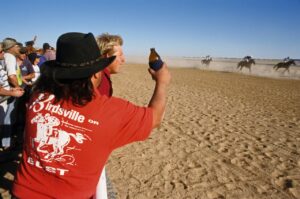 With Johnny Cash's "Ring of Fire" blaring through tinny, plastic, retro speakers, Brophy steps to the centre of the fighting mat and summons 'Beaver'. "She comes from King's Cross, where the women are tough and the men are pretty. She's got hairs on her legs that would spear a rat, that's how tough she is," Brophy warns her opponent, an unassuming mid-20s carpenter from country New South Wales. After a few minutes of Brophy's theatrics, the pair touch gloves and begin dancing in the ring. It begins quite tame but quickly escalates into a brawl, with each punch thrown receiving a roar of approval from the capacity crowd.
Beaver, also known as Brettlyn Neal, has been a regular on Brophy's boxing roster for 12 years. She works in tandem with the likes of 'Digger', a six-foot-six army veteran, and 'Chopstix', a Taiwanese immigrant, making true on Brophy's slogan "The boys from the Bush are back. We fight all comers," which is emblazoned outside their bright green tent.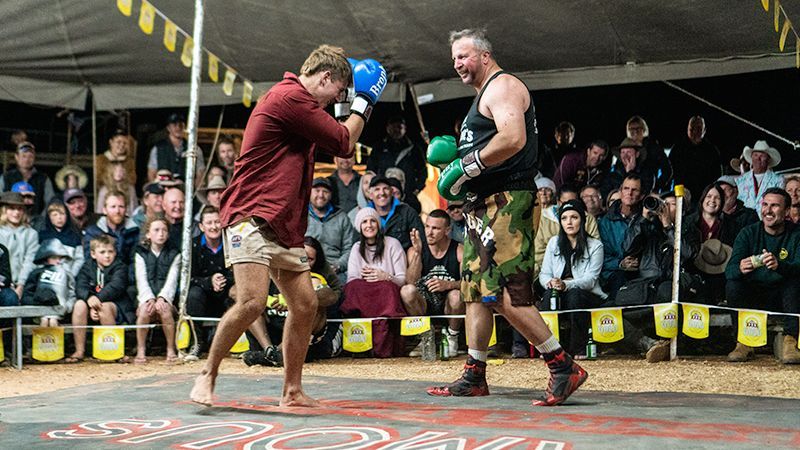 "Back in 2010, I was the security guard at the Birdsville pub and I saw this amazing tent, with lights up the front and a drum beating. I wanted to be a part of it," Beaver tells ESPN. "I went over and put my hand up [to fight]. I drew one and then won one. The third night I came back and Fred said 'you fight for me now'. I've been with him ever since."
Beaver has barely broken a sweat while her opponent looks as if he's just gone 12 rounds with Mike Tyson. He's hurting. Not even the wild encouragement from his entourage can spark a second wind. Beaver fakes left before stunning him with a brutal right hook, earning a second knock-down in as many minutes. "That's enough," Brophy shouts, while rushing back out onto the mat to check on the welfare of the battered carpenter. With a thumbs up given, Brophy raises Beaver's left arm in triumph, the tent again cheers in delight.
"I love fighting the blokes," Beaver tells me. "They're never going to win when they jump in, are they? If they hit you, then they're a wife-basher, and if you beat them, then they're a pansy. But at the end of the day we're here to give people an experience and make sure the crowd enjoys their night. It's entertainment. It's as simple as that."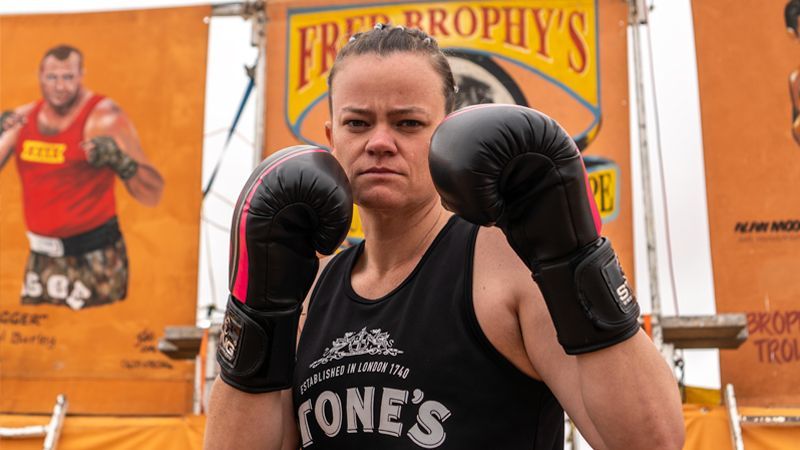 What would make someone volunteer to be pummeled and bruised, you ask? I was determined to find out and asked the man who had just tackled Beaver. "It's the experience. When are you ever going to get the chance to do something like that again?" It turns out that for the few who are able to get the better of their seasoned opponents fighting for the tent, a cash prize of AU$30 per minute survived can be pocketed.
Brophy's tent operates throughout the race weekend in Birdsville, staging shows each night in the days leading up to the carnival. It's a fitting precursor to the shenanigans that take place at the race track.
---
THE SOUND OF clapping hooves can be heard in the distance as Tom swivels around from the hillside bar overlooking the Birdsville straight and meets the gaze of Roy, who's perched in a tattered green camping chair, flashing the peace sign. "Actually, make it four," Roy shouts across the betting ring, having just emptied and crushed his last can of Queensland's iconic XXXX beer. Moments later, Tom shuffles back, flicking up plumes of red dirt in his wake, before receiving a warm reception for delivering more amber fluid to his great mate.
The mid-70s duo, affectionately known as the 'Booze Brothers', have attended every edition of the Birdsville Races since 2000. It's become an annual pilgrimage for these two Brisbane-based grandfathers, who quite literally suit up, don their matching jet black fedoras and shades, before setting up camp on the side of the race track and basking in everything the spectacle has to offer.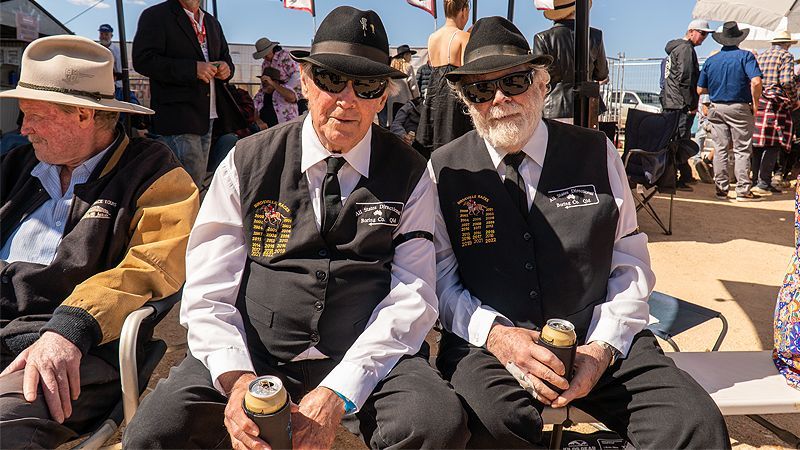 "It's like Schoolies for the over 50s," Roy chuckles, before snapping the ring off another can of beer and triumphantly raising it to his lips. "We wanted to start coming to something out of the ordinary, something different, and away from the city life. We came out the first year, and we really liked it, so we said let's come again. The rest is history."
For Tom, the "great leveler" is what makes Birdsville so special. "You never know who you're talking to; it might be a millionaire or a boundary rider. Everyone here is equal. Nobody is out to cause trouble and everyone's just here for a good time," he explains.
The Booze Brothers are minor celebrities in Birdsville, constantly posing for photographs and enthusiastically chatting to other racegoers. And at the conclusion of each meeting, they each take out a needle and yellow thread, and stitch the digits of the year onto their matching black vests. They're then stashed away for 12 months, until they can be worn in Birdsville again, almost as a badge of honour. "It's our tradition and I think it's safe to say we'll be doing this until the day we die," a defiant Roy tells me.
Tom and Roy are just two of the thousands of colourful, cheerful characters you'll stumble across at the Birdsville Races. Each one with a unique story but all sharing the same appetite for adventure and an experience truly like no other.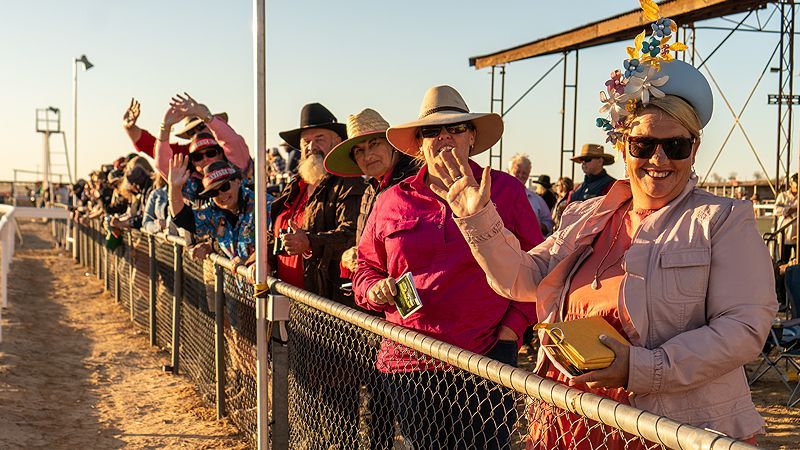 Down at the fence, adjacent to the track, I meet Peter McLean, a 50-year-old from country New South Wales. He proudly gestures to a beer can tower which he's been building throughout the day. "This is better than the Melbourne Cup," he declares. "It's the best spot in Australia, by far. All of my mates have been up here and told me how good it is, but it's even better." As McLean starts detailing his four-day journey to Birdsville, a folk guitarist pipes up behind us and belts out a tune.
"Yes, we're here in Birdsville, and I'm back for a week of fun.
I've made the trek over outback tracks to watch the horses run.
When they all line up for the Birdsville Cup, trackside I will be.
Yes, I'm back in Birdsville, and it's the first weekend in spring."
Later, I meet a Victorian woman celebrating her 60th birthday with a bunch of friends. She reveals some hardships and that a trip to Birdsville had been a life-long dream she can now gladly strike off her bucket-list. The group had travelled for a week to be there.
Another man in his thirties explains how he had repaired an engine issue on his four-seater plane that morning, before taking to the skies and setting off into the desert.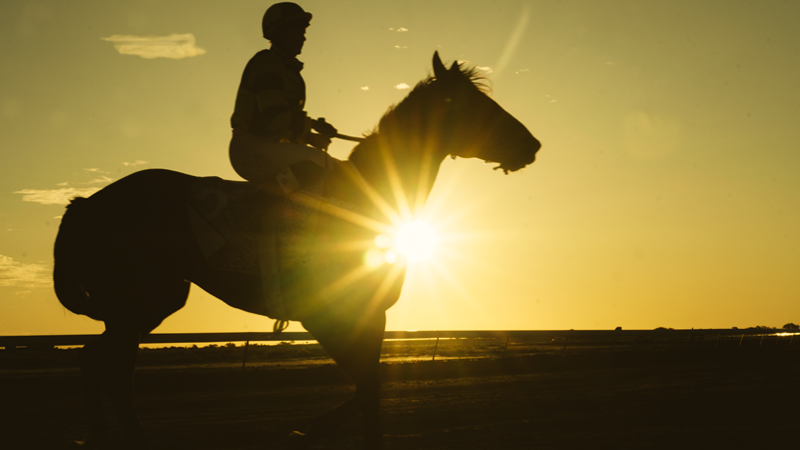 The Birdsville Races is a fry cry from your traditional thoroughbred race meet. It's an event where fascinators and champagne are passed on in favour of cowboy hats and beer cans. Those in attendance drink, dance and sing their way into the night. But despite the trackside rowdiness, there's a real sense of calm enjoyment among those in Birdsville. Everyone is there for one reason — to lap up the unique opportunity.
---
BROPHY BELIEVES "IT'S impossible to have a bad time in the Australian outback."
And while I'm not one for cliches, daggy taglines and wishy-washy catchphrases, there's something to be said about that, as well as Birdsville's slogan 'A long way from anywhere. But a great place to be!' which was plastered on the noticeboard inside that tiny airport terminal.
It is a long way from everywhere. Out here, you may, like me, find yourself with zero mobile phone reception. Working Wi-Fi is as rare as rain in these parts, which can leave you feeling a little isolated.
But that's okay. Because whether it's the blood, cheers and jeers of Brophy's boxing tent, horses thundering down a the straight with endless flat earth behind them, or the red dust that covers your boots, there is nothing quite like the Australian outback. And nothing quite like Birdsville."
If a trip to the Birdsville Races isn't on your sporting bucket-list, that bucket-list desperately needs re-writing.
---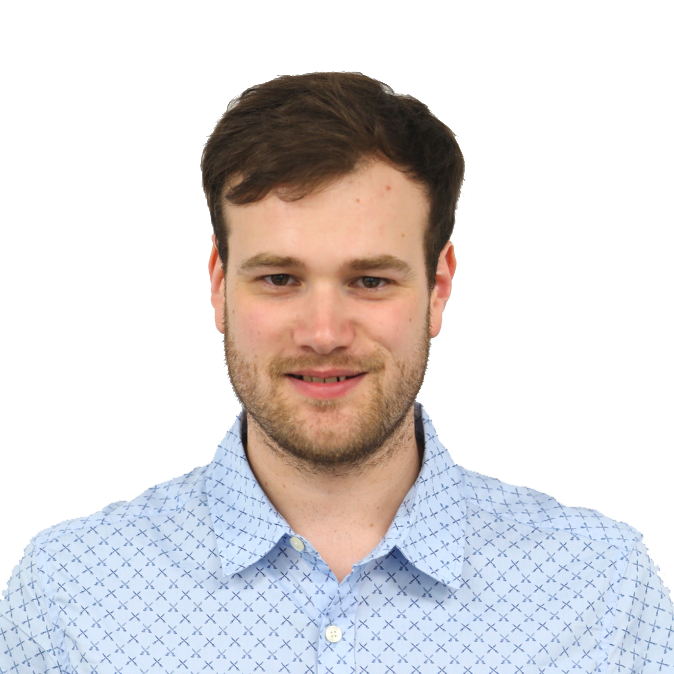 Credit: Source link