Last season, 536 players appeared in at least one match in the Premier League. Can you name them all? Of course you can't.
Manchester United's David de Gea and Tottenham's Hugo Lloris were the only two players to feature in all 3,420 minutes. At the other end of the leaderboard, Aston Villa's Wesley Moraes, Everton's Moise Kean, the West Ham United pair of Alex Kral and Daniel Chesters, and Manchester United's Alejandro Garnacho all clocked just a solitary minute, according to Stats Perform. Garnacho, somehow, appeared in two matches, but still failed to reach the two-minute mark.
Here's another question you can't answer: Among that list, who was the best and who was the worst?
To really do that, and produce a list that even begins to approach analytical rigor, you'd need to know how much every action a player takes on the field is worth, and then you'd need to watch every single minute of every individual player. You can't do any of that, though, because the dynamic nature of the game and the fact that most of what happens in a match happens off the ball means it has elided any kind of comprehensive value metric. You also can't do it because you can't see what all of the players are doing when you watch a game on TV. And you also can't do it because time is finite.
Now, despite all of that, it doesn't mean we can't try. Ahead of the 2022-23 season, I tried to create a rating for the top 97 players in the Premier League. It's not perfect; as the famous quote goes, "All models are wrong, but some are useful." Some of your favorite players from your favorite teams will no doubt be ranked too low, but it does a good job of at least grouping the most valuable players together and provides plenty to think about before and after the season begins.
Let's get started.
How it works
I tried to remove my personal opinions from the rankings as much as possible. That's impossible, of course, and the final rating is built around all of the assumptions I made about what should go into the model in the first place and what final results at least passed the eye test.
The biggest chunk of the ratings comes from the individual player ratings provided by the consultancy Twenty First Group (21G). These are top-down ratings; they look at team performance and then award players for that team performance based on what position they play and how many minutes they play. All of the unmeasurable things in soccer — grit, heart, clutch gene, off-ball movement, vision, chemistry, etc. — should get picked up in this type of modeling. After all, it rewards players for playing more minutes. Unlike American sports with playoffs, every Premier League match directly affects your chance of winning the title, so every minute you don't play is another minute during which you're not helping your team finish higher in the table.
Of the seven inputs that went into our rankings, three of them come from the 21G ratings. However, since soccer is still a long way from being solved, there will still be the odd great player on a bad team or average player on a great team. So, to account for that possibility, we're turning to Michael Imburgio's bottom-up DAVIES model, which sums up all of a player's on-ball actions and determines how many expected goals (xG) they added compared to the average player at his position.
So, one of our seven inputs comes from a player's total xG added in each of the past three seasons, with last year weighted more heavily then 2020-21, which is weighted more heavily than 2019-20. Then, another one of the seven inputs comes from the player's xG added per 90 minutes, weighted in the same way. While we want to reward players who play a lot of minutes, we also don't want to penalize players who have been injured or frequently get subbed out because their teams are dominating.
The final two parts of the rating come from the player's crowd-sourced transfer value on the site Transfermarkt. This is my least favorite part of the rating, but it helps to account for a potential decline or improvement due to a player's age — younger players tend to have higher transfer values — and since the ratings are crowd-sourced, they pull in a bit of the wisdom of the crowds that's absent from the other two models we've aggregated.
A couple of other notes before we get to the ratings: The only players considered were ones who appeared in the top 120 of the 21G ratings or in the top 75 of Transfermarkt's market values. To adjust for positional value, all keepers were awarded a zero for their xG added scores. And if a player was playing outside of the Big Five leagues, he was also awarded a zero for that particular season. That, in particular, penalizes new players like Liverpool's Darwin Nunez (at Benfica) and Manchester United's Lisandro Martinez (at Ajax), but I think it does a good job of accounting for the uncertainty over how performance from smaller leagues translates to the Premier League.
Due to all of that, these ratings are inherently conservative, valuing players who have done it consistently for a number of seasons. But more importantly, this also makes the rankings more interesting. If we were just ranking the 100 most talented players in the league, we'd just be listing off the rosters for Liverpool, Manchester City and Chelsea, filling in the gaps with the rest of the league. That's no fun. Instead, while these rankings do take into account team performance, they also value, say, a center-back who plays 3,000 minutes (hi, Conor Coady) for a mid-table team over a center-back who hasn't established himself as a full-time player for one of the best teams in the world (sorry, Ibrahima Konate.)
All right, enough of that. Let's get to the ratings, which we've grouped into tiers. This piece will have just one tier, the largest. Tune in on Friday for the rest.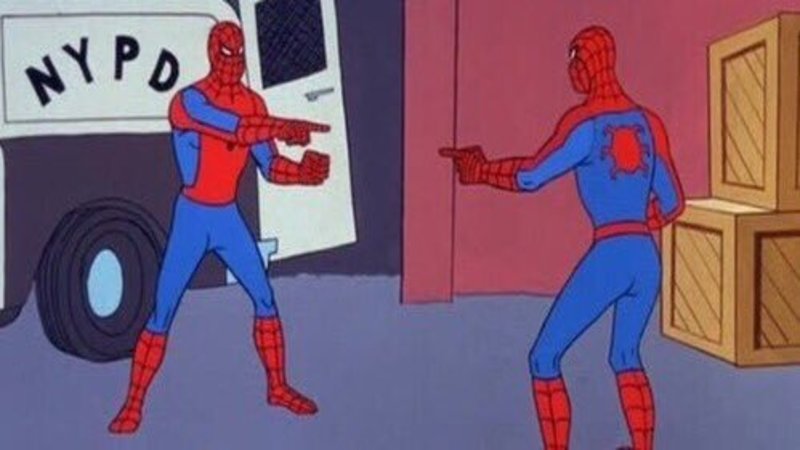 ---
The 'Spider-Men pointing at each other, except the opposite' Tier
97. Dominic Calvert-Lewin: 25, FW, Everton
This tier is filled with either exciting-yet-inconsistent youngish players, or boring-yet-ever-present Premier League veterans. A year ago, DCL was coming off a 16-goal season and backing up Harry Kane at the Euros. Today, he's on the outside of the World Cup picture looking in and leading the line for a team that seems destined for a season-long relegation scrap.
96. Dejan Kulusevski: 22, FW, Tottenham
It went under the radar because of his much more famous teammates and manager, but Kulusevski truly lit the league on fire after coming over from Juventus on loan in midseason. He scored five non-penalty goals and added eight assists in 1,261 minutes — per 90, that comes out to 0.93 goals and assists, which ranked behind only Kevin De Bruyne and Mohamed Salah last season.
Why isn't he higher, then? It was less than half of a season, he wasn't great with Juventus, and his underlying numbers (0.55 xG+xA per 90), while still impressive, were a good deal behind his elite overall output. Despite his ranking here — behind another Tottenham attacker not named Kane or Son Heung-Min — he should still be a first-choice player this season.
95. Sergio Reguilon: 25, DF, Tottenham
He has fallen out of favor with Antonio Conte, but hey, it's happened to the best of us. The Spaniard has now been a consistent and productive full-back for Champions League teams in both Spain and England. I think of him as a sort of poor man's Andy Robertson — a great outlet and secondary creator to pair with a more ball-dominant player on the other wing.
Reguilon might not even be in the Premier League by the end of the transfer window, but he's good enough for the top 97 as long as he's still around.
94. Kalvin Phillips: 26, MF, Manchester City
Will he be a starter for City? My guess is he'll start a good chunk of matches but won't be a primary option if everyone is healthy. Phillips is tough to judge, hence this seemingly low rating. He completed 82% of his passes over the last year — just in the 40th percentile among all midfielders — but Leeds as a whole completed only 78% of their passes last season. City, meanwhile, led the league at 88%.
T-93. Wilfried Zaha: 29, FW, Crystal Palace
The symbolic player of this tier, one who has completed the journey from "exciting-yet-inconsistent youngish player" to "boring-yet-ever-present Premier League veteran." Zaha all but guarantees you 2,500 minutes, above-average ball carrying, and a goal or an assist every third game. It doesn't fit at the top of the table, but at least half of the teams in the league could use a player like that.
T-93. Aaron Cresswell: 32, DF, West Ham
Think of him as a poor man's Trent Alexander-Arnold — he's capable of some decent passing and some dangerous balls in the box, but he's not going to be screaming up and down the sideline. Cresswell has played at least 2,700 minutes in each of the past three seasons — and in the past two, West Ham have established themselves as arguably the best team outside of the Big Six. He gets credit for playing a prominent role in that.
91. Wilfried Ndidi: 25, MF, Leicester City
He's the kind of player whose value comes from what he allows other players to do. In past seasons, Leicester could play a midfield with James Maddison and Youri Tielemans because Ndidi would win every ball that got past them. But when you fill that kind of role — one that's firstly defined by your presence — you have to be present. And Ndidi's minutes played have declined in each of the past three seasons.
90. Conor Coady: 29, DF, Wolverhampton
He basically never touches the ball. Seriously, look at this statistical snapshot from the site FBref: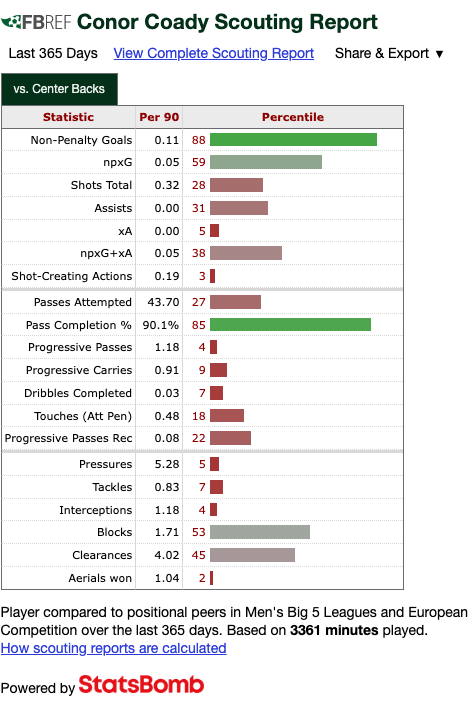 And yet he has played at least 3,300 minutes in each of the past four seasons. He has started 38, 38, 37 and 38 matches over the stretch. That consistency and reliability alone is plenty valuable, and Coady has been the central center-back for what's typically been one of the best defensive teams in the league. It seems like he's not doing much, but he must be doing something right.
89. Robert Sanchez: 24, GK, Brighton
It's only a matter of time until a bigger team signs him, right? At just 24 — a relative toddler in goalkeeper terms — he's already established himself as an above-average shot-stopper in the Premier League. Plus, he claimed 12% of the crosses he faced this year (97th percentile) and he's comfortable with the ball at his feet.
If De Gea doesn't fit Erik ten Hag's preferred goalkeeper prototype at Manchester United — and it's hard to imagine he will, long term — then someone should make a phone call to Sanchez. Just don't try the fax machine.
88. Gabriel Martinelli: 21, FW, Arsenal
You could make a case that he has the highest ceiling of any Arsenal player and, much like Kulusevski, I expect him to play more than another player from his team who's slightly ahead of him on this list. The main reason he isn't higher is that he's played fewer career Premier League minutes than Coady played last year alone. However, he's yet to play a game since turning 21, and he's still averaged a goal or an assist every other game.
Martinelli has the outlines of the prototypical press-happy, goal-scoring forward that every elite team seems to require nowadays. If he stays on the field, there's a pretty good chance he eventually fills it out.
87. Marc Cucurella: 24, DF, Brighton
He's played at least 3,000 minutes in each of the past three seasons, and all of them for above-average defensive teams, first in Spain with Getafe and then in the Premier League last year. But he could be playing for Man City or Chelsea soon. Like City's Kyle Walker, he's kind of that half-center-back, half-full-back type who doesn't get forward much, contributes to build-up play and advanced possession, and then does more capital-D defending than you expect from full-backs these days.
T-86. Ivan Toney: 26, FW, Brentford
This one confused me the most, mainly because Brentford weren't in the Premier League until last year and then Toney put up seven non-penalty goals and five assists in his first top-flight season. But he was the best attacker on a team that finished 13th, and although the pure production doesn't look great, he does a little bit of everything outside of that — defense, progressive passing, etc. — which adds up to an attacker who is more valuable than his goal-or-assist-every-third-game makes him seem.
T-86. Rodrigo Bentancur: 25, MF, Tottenham
He's just a really solid midfielder who does a little bit of everything other than score goals. Tottenham were nearly a goal-and-a-half better with him on the field last season compared to when he was off, but he's never played 70% of his team's minutes in a single domestic campaign.
If he can become an ever-present member of their midfield this year, he'll likely rise up these rankings, just like Spurs will in the table.
84. Tyrone Mings: 29, DF, Aston Villa
Consider him the mirror image of Coady: both are reliable, respectable Premier League pros who can anchor a midtable team, but one of them can appear invisible at times while the other is impossible to ignore. Mings is always either throwing his body around in the opposition penalty area, blocking shots in his own box, or throwing one of his opponent's bodies around in his own defensive third.
Like Zaha, there's no real place for this type of player toward the top of the league, but he's still a valuable contributor for almost anyone else.
83. Aaron Ramsdale: 24, GK, Arsenal
After a really hot start to the 2021-22 season, Ramsdale went into the freezer for the second half of the year. Overall, he ended up right near average, as Stats Perform's model credits him with saving 0.49 more goals than expected.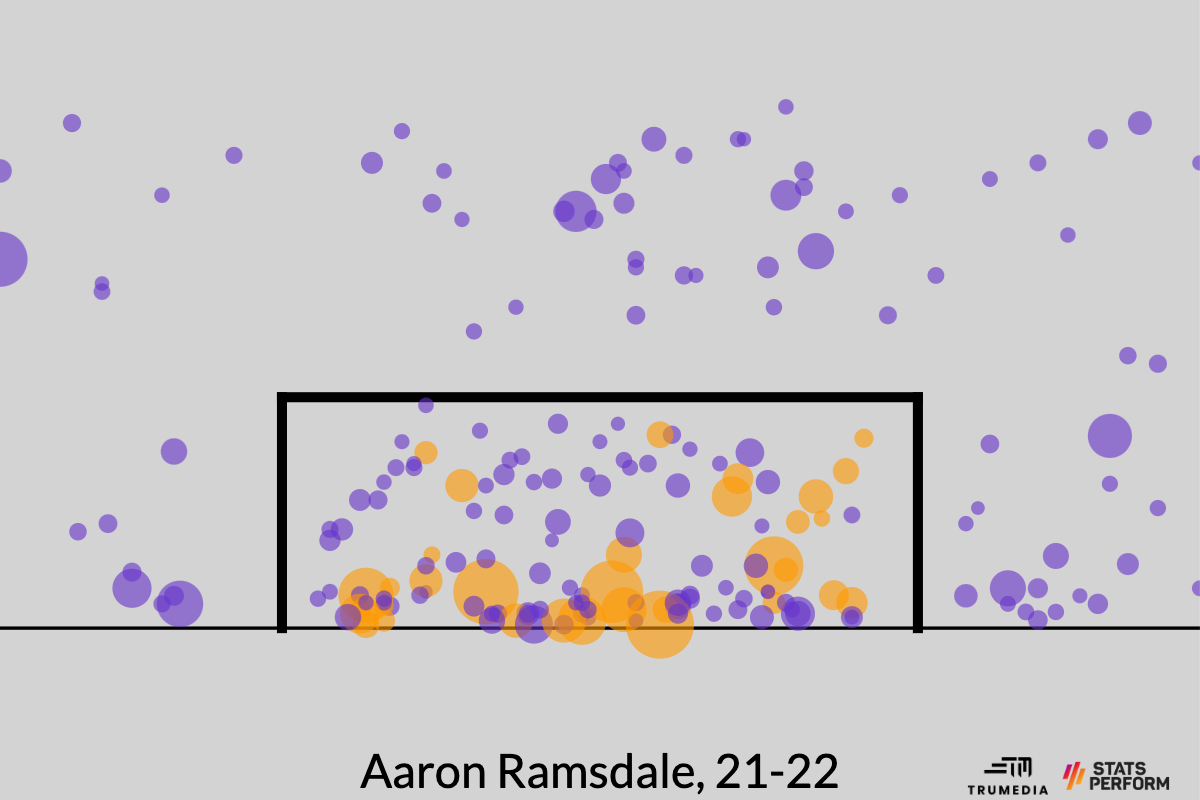 Of the pair of 24-year-old keepers in this tier, I prefer Sanchez, but Ramsdale deserves a portion of the credit — beyond just his shot-stopping — for Arsenal's improvement last year.
82. Emile Smith Rowe: 22, FW, Arsenal
If — for some bizarre reason — I had to pull one player off of this list, it'd probably be ESR. The majority of his impact last year came from scoring 10 goals on shots that were worth, according to most models, right around six xG. We shouldn't expect that kind of finishing to continue.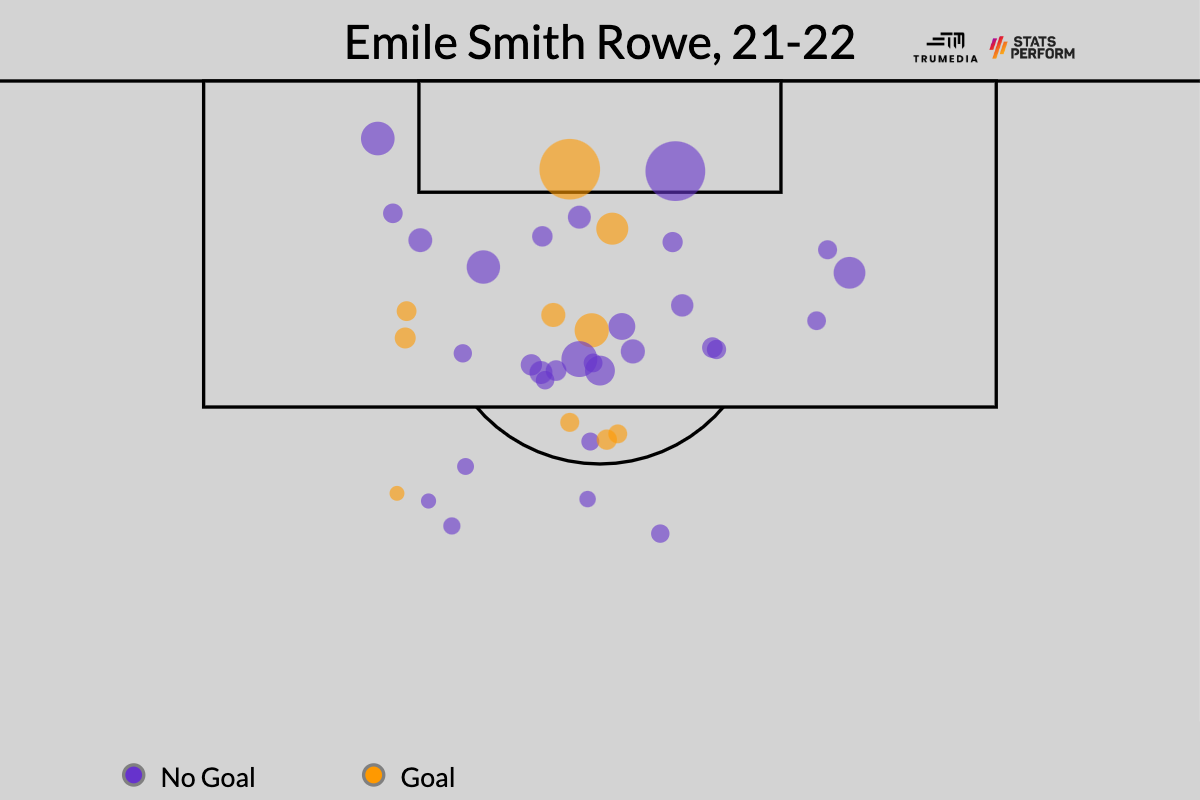 Outside of the goals, he didn't consistently affect the game in other ways, and Arsenal performed a lot better when he was off the field. There's still plenty of room for improvement, but Martinelli and some of the other Arsenal attackers to come are all better players right now.
81. Bruno Guimaraes: 24, MF, Newcastle
I don't know, man. He looked like one of the best players in the league as soon as Eddie Howe started playing him:
He wasn't involved on the ball in build-up play like he was at Lyon, but he was a ball-winning star who scored or assisted a goal every other game. While we're still going to need to see him hold up against a full season of the rigors of the Premier League, he has "best midfielder in the league" potential.
80. Ruben Neves: 25, MF, Wolverhampton
His shooting is still absolutely terrible. Since joining Wolverhampton, he's taken 80 shots with an average xG value of 0.03. In other words, his average shot has about a 3% chance of becoming a goal, while the Premier League average last season, per FBRef, was 10%.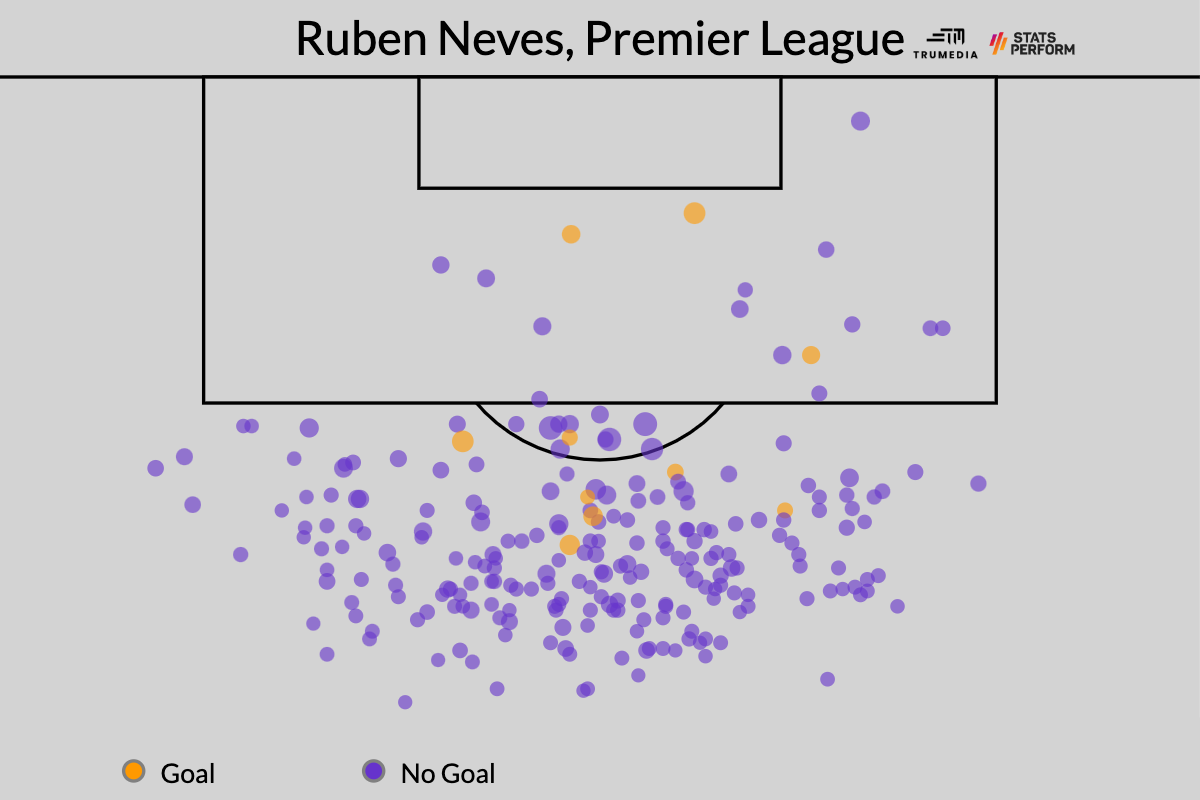 However, he's been a midfield stalwart for Wolves since they got promoted, averaging about 2,850 minutes per season. Combine that with some league-average ball-winning skills and above-average passing, and you've got one of the more reliable midfielders in the league.
79. Richarlison: 25, FW, Tottenham
He's a defensive worker who wins a bunch of balls in the air and has produced goals and assists, pretty consistently, at a rate of about 0.4 per 90 minutes since coming to the Premier League. That maybe doesn't quite mesh with the general perception of Richarlison as a star player, but he should be a decent fourth option for Spurs.
It likely won't happen — and I'm pretty sure it shouldn't — but I can't stop thinking about the idea of Conte trying to turn him into a wing-back.
78. Lewis Dunk: 30, DF, Brighton
Brighton were sort of your stereotypical lower-tier Premier League team during the Chris Hughton era, sitting back, countering and grinding out results. Under Graham Potter, their closest stylistic comparison is … probably Manchester City? And despite those styles requiring vastly different kinds of center-back skills, Dunk has been ever-present under each of them.
Outside of the Big Six, he has simply just been one of the most reliable players in the league over the past five years.
77. Luke Shaw: 27, DF, Manchester United
Shaw's true level is probably somewhere between his 2020-21 season (one of the best left-backs in the world!) and his 2021-22 season (uh, buddy, what are you doing?) Since leaving Southampton in the summer of 2014, he has broken the 2,000-minute mark in league play just twice, and Manchester United's acquisition of Tyrell Malacia from Feyenoord this summer seems to be a recognition of that fact.
76. John McGinn: 27, MF, Aston Villa
In a slightly different timeline, he'd be absolutely killing it for Bayer Leverkusen or RB Leipzig. McGinn has that kind of frenetic, vertical game that would fit right in at any number of clubs across the Bundesliga. Instead, he's a relatively unheralded Scottish midfielder for a midtable Premier League team. He's been good for about 3,000 minutes and a goal or an assist every four matches since debuting in England's top flight.
Throw in some ball-winning and aggressive passing, and he has played a vital role for Villa as they reestablish themselves as a presence in the Premier League.
75. Hugo Lloris: 35, GK, Tottenham
He might have finally hit the cliff last season. After producing above-average shot-stopping in just about every Premier League campaign of his career, Lloris conceded 39 goals from 38.5 xG, per FBref. But even with that decline in performance, Tottenham still got average shot-stopping from a keeper who played every single minute of the season. There's plenty of value in that.
74. James Ward-Prowse: 27, MF, Southampton
After kind of waffling around the fringes of the Southampton XI for years, Ward-Prowse has played at least 3,200 minutes in each of the past three seasons. In fact, he played every single minute in both the 2019-20 and 2020-21 seasons. He's not making a huge impact in open play — otherwise, the team would be better — but he's probably the best set-piece taker in the entire league. While Southampton have slumped down the table in recent years, Ward-Prowse's dead-ball threat is one of the only things they've been able to rely on, week in and week out.
73. Marcos Alonso: 31, DF, Chelsea
Another Spanish "left-back" who might not be in the league by the end of the transfer window. We use quotes because Alonso is honestly more of a center-forward than a full-back. He pops up all across the penalty area and then wreaks havoc. And can take a great free kick. He can't really play in a back four, and his presence needs to be accounted for by other players. In a weird way, he's the kind of player who isn't good enough to be on a bad team, but on a good team that can cover for all of his limitations, he can still provide plenty of value.
72. Michail Antonio: 32, FW, West Ham
Just like everyone expected: the guy who was playing wing-back in a relegation scrap a couple of seasons ago became the key center-forward (with 13 goals in 46 games last season) for a team that has had legitimate aspirations of qualifying for the Champions League in each of the past two years.
71. Ollie Watkins: 26, FW, Aston Villa
The number of non-penalty goals Watkins has scored over the past two Premier League seasons: 23.
The combined number of players on Manchester City, Manchester United, Chelsea and Arsenal who have scored 23 non-penalty goals over the past two Premier League seasons: 0.
Okay! That's Part One. Check back on Friday for the rest of the tiers and Nos. 70-1 …
Credit: Source link