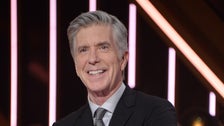 Tom Bergeron isn't tip-toeing around how he feels about being cut from his role as longtime host of "Dancing with the Stars."
The star tweeted in July that after "an incredible 15-year run," he'd been fired. His co-host Erin Andrews was also fired.
On Wednesday, "Good Morning America" revealed who would be starring in the 29th season of the reality series; unveiling cast members such as Chrishell Stause from "Selling Sunset," rapper Nelly, former NFL player Vernon Davis, ice skater Johnny Weir, and "Catfish" host Nev Schulman.
Fans of Bergeron noticed at some point later in the day that he had quietly updated his Twitter bio to pay homage to (and subtly diss) his former hosting duties. It now reads: "Former Co-Host of 'Footwork With the Famous.'"
Also on Wednesday, Andrews told Extra that her removal from the show was "a surprise" and that she still talks to Bergeron all the time.
"I text Tom, like once a week … and the dancers as well. That's a family," she said. "I danced on the show and then worked on the show for so many years. I always call it a 'Dancing with the Stars' mafia — once you're in, it's really hard to break away. That's a tight-knit group." 
She went on to call Bergeron both the "show's ballroom quarterback" and the "end-all, be-all of that show."
Andrews isn't the only one who feels that way. Amid the news of the new cast, many Bergeron fans on Twitter expressed how upset they are, with some saying they won't be watching the show now that he's not the host.
#DWTS For the 1st time ever, I won't be watching. What's Tom Bergeron on..I'll be watching that instead. This is probably this show's final season.

— Patti * (@patti_1956) September 2, 2020
Why on Earth would @DancingABC get rid of Tom Bergeron the year they bring on Johnny Weir and Carol Baskin?? I can hear his jokes now. So disappointed he won't be hosting.

— Leah Shirey (@LeahStarrH) September 2, 2020
So sad I won't be watching! I like some of the stars in the lineup & I will miss the dancers ? but i cant watch with Tara (whom I can't stand as a host!! She did HORRIBLE on AGT!!) in place of @Tom_Bergeron & @ErinAndrews it wont be the same! ABC made a HUGE mistake! ?

— Martha (@MarthaMoore326) September 1, 2020
The new season of "DWTS" begins on Sept. 14 and we'll be sure to keep an eye on Bergeron's Twitter for any additional updates.

Credit: Source link