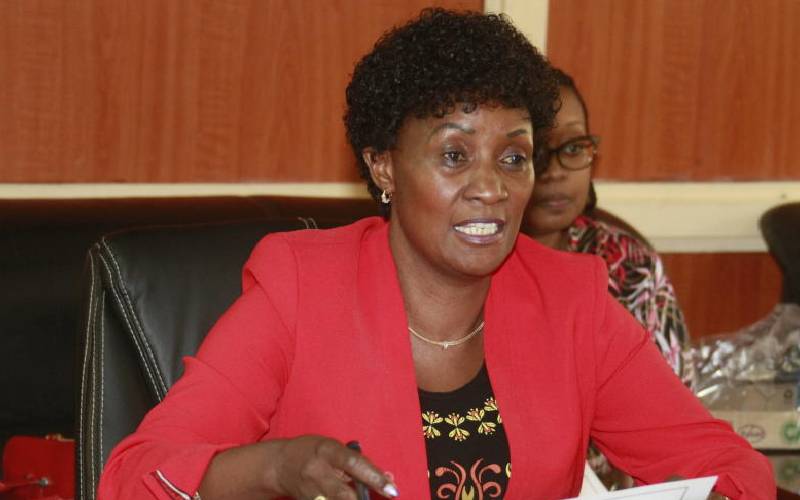 Education
Some tutors have been taking home huge pay after database wrongly elevated them to higher grades
Teachers who irregularly gained from higher salaries in the last three years under the Sh54 billion pay rise will have the additional money recovered starting July 1.
It has emerged that the data used to reward some teachers in management positions was not properly captured, leading to over-payment. Irregular salary raise
Those to be affected are senior teachers, deputy headteachers and headteachers who were irregularly elevated to those position during 2017 data capture by TSC county directors.
The directors presented the data before the roll-out of the 2017-2021 Collective Bargaining Agreement (CBA) signed between the commission and the teacher unions. "It has been established that some of you provided inaccurate and misleading data leading to erroneous conversions," said TSC Chief Executive Officer Nancy Macharia.
SEE ALSO: Headteachers want exams postponed
Some teachers were elevated to higher grades reserved for administrators.
It also means teachers serving as deputy or senior teachers were wrongly captured as headteachers.
Dr Macharia said there were cases where staffing levels exceeded optimum establishments contrary to staffing norms. Following the roll-out of the CBA, the salaries of all teachers were immediately adjusted to reflect the promotions.
Under the new grading system adopted by TSC, all teachers who were in job group G were moved to B5, equivalent to job group H.
Moved up
SEE ALSO: TSC pleads for more cash to hire teachers
Those who were in job group H were moved to C1, equivalent to job group J. TSC said all senior teachers who were between job group G-K were moved to C2, equivalent to job group K.
All deputy headteachers in G-L were moved to C4, equivalent to job group M. All headteachers who were in G-L were moved to C5, an equivalent of job group N and all headteachers in M and N were moved to D1, an equivalent of job group P. It emerged that some ordinary teachers had their names captured in data presented to TSC as administrative staff, hence unduly drew higher salaries.
Finer details of the CBA revealed that the lowest paid chief principals under grade D5 (T-Scale 15) take home Sh121,814, as the highest paid chief principal earns Sh157,6567.
Senior principals (T-scale 14), who fall under grade D4, should earn between Sh109,249 and Sh118,169. Principals who fall under grade D3 (T-scale 13) were moved to a salary scale of between Sh93,850 and Sh102,807.
Deputy principals under grade D2 (T-Scale 12) were also moved to a new salary band of between Sh82,717 and Sh87,900.
SEE ALSO: Kenya short of 50,000 teachers, says State
Senior masters II, deputy principals III, senior headteachers and curriculum support officers I, who fall under grade D1 should now earn Sh74,703 and Sh82,717.
In a terse circular dated June 3, to the TSC county directors and sub-county directors, Macharia attached the list of all teachers captured in the data serving as institutional heads for fresh listing to weed out undeserving ones.
"You are required to carefully study the list and identify teachers who are not correctly placed or are not performing administrative functions yet their names appear as such in the database," she said.
Credit: Source link